VENUE: The Lark
ADDRESS: 267 Given Terrace, Paddington, Brisbane
PHONE: 0422612995
How long have you been bartending? 6 years.
How did you get involved in bartending? My elder brother got me a gig when I needed some cash and it seemed like a good way to keep out of trouble. It wasn't.
Where have you worked previously? The Press Club, Byblos and now very comfortable at the Lark.
ADVERTISEMENT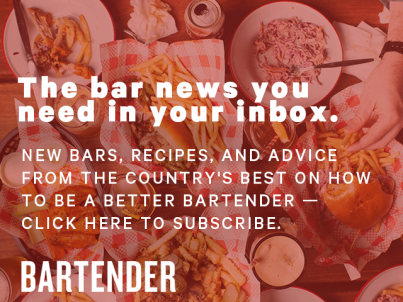 &nbsp
What's been your favourite bar to work in? I had a lot of great times in all of them, but I'd have to say the Lark.
What do you enjoy most about bartending? Everything.  The knowledge, the history, the flavours, the patrons, the chat, the drinks and most important, the service.
And dislike? Dirty bar mats, bin juice and running out of Tequila.
Can you tell us some of your favourite bars to visit? Of late, I was really impressed with the Rum Diaries in Bondi.  The boys run a tight ship.
What drink do you most enjoy making? Why? Hard to say. When you see the twinkle of anticipation in a customers eye and the look of satisfaction when they get exactly what they need – then I'm enjoying myself.
What is your number one bugbear with customers? People who don't wait to be seated.  You can't miss the sign, its right there when you walk in.
Describe your fantasy bar? Small, intimate and plush.  Smelling of rich mahogany and many leather-bound books.  Loads of whisky and aperitifs.  Small but tight-knit team, with an emphasis on customer service.  Kinda sounds like the Lark.
Who would work behind your fantasy bar? Can't go past the one and only Ryan Noreiks.  And myself of course.
Name some of the mentors in your career? I'm so lucky to be learning in a time with so many great role models. Gentlemen like Mark Stephens, Graeme Grimshaw, Barry Chalmers, Mat Hewitt, Manuel Terron, Marco Faraone, Perry Scott and so many more.
What attributes make a great bartender? Understanding, being humble, knowledgeable, creative, energetic and being able to talk underwater doesn't hurt either.
Tell us one of your trade secrets? It wouldn't be a secret would it? A smile costs nothing and can mean everything.
What is the best piece of advice you could give to someone new to bartending? Before everything else, be hospitable. That's why it's called hospitality.
If you could have a drink with one person (alive or dead) who would it be? Why? Churchill. Dude knew how to do it right.
If you were to be something other than a bartender, what would it be and why? Tough one.  Toss up between Batman, a ninja or a late night talk show host. Because I'd be awesome at all of them.
Finish this sentence; the industry needs more… Of a focus on customer service and a passion for providing that service.
And less… Pokies, people with something to prove and more government excise increases on my booze.
Can you tell us one of your signature drinks, with ingredients and method?
Resheph
30ml Plymouth Navy Strength Gin
30ml Plymouth Sloe Gin
5 ml Tio Pepe fino Sherry
2 dashes orange bitters
Method: Stirred down and served straight up. Garnish with an orange twist.
If you were stranded on a desert island and could wish for one drink what would it be and why?
A bottle of the finest Champagne.  Cos that's how I roll.