Photography: Rob Palmer
ADVERTISEMENT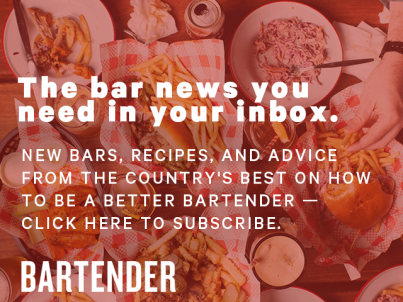 &nbsp
The Knickerbocker's life starts in Boston appearing in drinks lists and newspapers around the 1850s. During the 1850s and 60s the Knickerbocker was quite the popular summer drink and this little beauty was included in several drinks manuals of note including  Jerry Thomas's How to Mix Drinks in 1862, William Terrington's Cooling Cups and Dainty Drinks in  1869, and Harry Johnson's New and Improved Bartender's Manual in 1882. Unfortunately 1882 is last year that this cocktail appears in print for a significant period of time with the final word belonging to a writer for the New York World who admonishes; "in the resume of what is good to drink in the summer-time the Knickerbocker should not be forgotten."
Strong, balanced between sweet and sour and a lively colour this is a fun a little classic is a summer tipple that we really have been missing out on. We can look at the Knickerbocker as a sort of punch a great-granddaddy to the tiki drinks of the mid-19th century – Dave Wondrich in Imbibe suggests that you "think of it as an 1850s Mai Tai – similar drink, different island."
It is important that you don't confuse a 'Knickerbocker' with a 'The Knickerbocker Cocktail'. The Knickerbocker Cocktail is basically a dry martini with the addition of sweet vermouth. Legend has it that this drink was created at the Knickerbocker hotel in New York in the early 20th century.
The term 'Knickerbocker' itself, traces its origin back to the Dutch settlers who came to the New World — and especially to what is now New York — in the 1600s. Specifically, it refers to the style of pants the settlers wore; pants that rolled up just below the knee, which became known as 'knickerbockers' or 'knickers'.  Through history, the Dutch settler 'Knickerbocker' character became synonymous with New York City. It was one of the city's most popular symbols of the 19th and early 20th centuries; therefore it is not surprising that a cocktail bears the name around this time. You may also be familiar with the New York 'Knicks.'
RECIPE:
Knickerbocker  à la Monsieur
(In the 19th Century there were 'his' and 'hers' variations. This is a 'masculine' version).
60ml Virgin Islands Rum
15ml Orange Curacao
15ml Raspberry Syrup (house-made is best)
30ml Lime juice (or lemon)
Method: Add all to a goblet. Fill with crushed ice and garnish with a slice of orange, a slice of pineapple, and fresh raspberries.
Recipe adapted from Ted Haigh's Vintage Spirits and Forgotten Cocktails.