First of all was this your first visit to Australia?
Yes, it was. Well overdue.
What has been your impression of the Aussie bar scene and bartenders?
The key thing here is there is a strong bar culture and community which means there are endless possibilities to develop. Bar scene in Sydney and Melbourne is very progressive and the ability to focus on flavour enriches the experience for the guests and customers. The localised quality and access to such a range of ingredients and products means the bartenders can develop and experiment much more. This leads to a more educated consumer eventually and so the standard of product develops into a far more interesting overall experience. I did find there were a few who I met who seemed to be almost encyclopedic in their knowledge of drinks and feel that a reality check might bring them back to earth, but on the whole the high end city bars and cocktail lounges are impressive and standards of service are entertaining and exciting. There is no hang up on what people should be drinking (i.e. Scotch whisky is for older gentlemen) and this allows me to talk to be productively about luxury brands such as Chivas Regal and Chivalry. Long may it last.
ADVERTISEMENT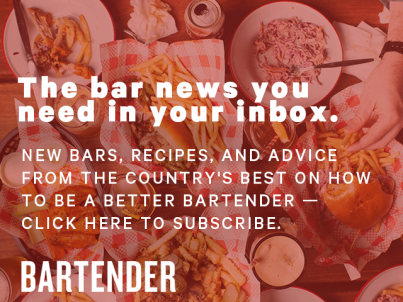 &nbsp
How did you think the Sydney Chivas Studio held up to those around the world?
All of them are very unique and different in so many ways. It is testament to the quality of the consumer that relates so strongly to the overall Studio experience. Sydney was the most impressive Chivas branded event I have ever experienced. The tier has been raised very high.
How did you get involved with Chivas Regal and become their global brand ambassador?
Six years ago I won a competition by CLASS magazine (UK trade mag and at the time The Bartender Bible) nationwide to find the Best Bar Team in the UK. From 500 we were shortlisted to two. (not bad when we were up against the likes of Atlantic, Milk and Honey and Lonsdale) It was sponsored by Chivas Regal. Whilst we were doing the final round (had 2 hours to build the full bar experience in a Scottish castle) I managed to do some research into how the brand built it's reputation on quality, lifestyle and luxury. Six months later I was approached to become their ambassador. The role was somewhat undefined at the time but over the past four years I have tried to interpret what it is that brings it to life in different countries and communities. Everywhere is different and I hope my understanding of how to develop the accessibility of the whisky and how to aspire luxury to consumers is appreciated everywhere.
What is the best aspect of your job?
Every day is so different – My passions for food, culture, travel and of course drink are accessed through my appreciation of Chivas Regal. I have to try and understand each of the different drinkers and consumers in countries all over the world. We share each others experiences find better ways to enjoy Chivas Regal responsibly.
And the worst?
I am the only person who has my knowledge and experience to my specific job which means that some countries are more advanced in cocktail culture and others not, it can get a little frustrating especially when bartenders are not that experienced. I could show them the cocktails but unless they properly understand the history of alcohol, cocktail culture and the different spirit categories I know the cocktails will not have consistency once I have gone. I really need the operators to invest more in their staff training. This is part of my job and essentially the messages are the same, it is all about maintaining the quality and luxury perception of the brand, Chivas Regal.
And finally, if you could share a drink with anyone dead or alive, who would it be and why?
Difficult as their are many but I suppose it would have to be Noel Coward – quintessential Englishman. English playwright, composer, director, actor and singer, known for his wit, flamboyance and what Time magazine called "a sense of personal style, a combination of cheek and chic, pose and poise".
I would love to discuss his experience over the time period and the people he was acquainted with the likes of Marlene Dietrich, David Niven, Michael Caine to name but few. His understanding of the eccentric gentleman. How in all his plays there was a character whose persona highlighted all these qualities was something I found would be truly inspirational. Life and times in the roaring 1920's, the times of Gatsby and Gershwin and more importantly the 1950's where dressing for dinner and the original 'Cocktail Hour' was the precedent in society for the theatrical interlude of the perfect evening. One of his famous drinking quotes, 'Let's drink to the spirit of gallantry and courage that made a strange Heaven out of unbelievable Hell, and let's drink to the hope that one day this country of ours, which we love so much, will find dignity and greatness and peace again.'
Play his music on a summer evening and indulge in a large Chivas style Manhattan, dress accordingly, wax your pencil moustache and enjoy…..