Walk In Gin
By Andy Ives
Photography by Sandy Greenway
ADVERTISEMENT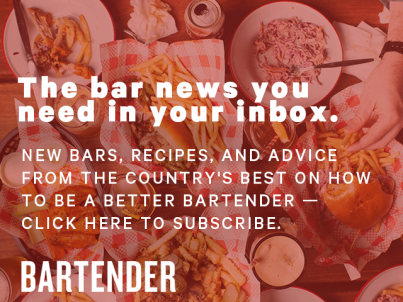 &nbsp
Let me say first off, to save a flood of corrective comments, that yes, I know a gin and tonic is not technically a cocktail. At least it isn't when served in a glass, but what if it is atomised and suspended as a cloud in a tiny room and inhaled by intrepid cocktailians in boiler suits? I'll leave that distinction to 4Bars readers better qualified than I to comment, but the chaps at Bompas and Parr, a London based duo who describe themselves as 'food architects' have built such a thing, and they call it the Hendricks Walk In Cocktail.
In an ordinary looking shop just off Carnaby street, Bompas and Parr, who's normal line of work includes producing bespoke jelly moulds and scratch and sniff cinema productions, got together with fellow eccentrics Hendrick's Gin to hold an event that had London's licensing inspectors scratching their heads.
Having filled a machine usually put to work generating clouds for tropical green houses with Hendrick's and tonic, they then piped the resulting vapour into a tiny basement room, lit with a single bulb and thumping to exceptionally bad 80s tunes. Guests were provided with fetching white boiler suits to prevent trendy Diesel jeans from getting sticky and encouraged to breathe deeply for up to, but no longer than, 45 minutes.
To be honest, I visited the Walk In Cocktail on a Saturday evening that was following hot on the heels of a fairly epic Friday night, and as such standing underground in a hot room in a cloud of gin steam was about as far from where I wanted to be as it's possible to get. Having said that, it was certainly something new in the molecular mixology gamut, and I can imagine the fragrant, cucumbery cloud would have been a gas (yes, I know) had I been on finer form. Certainly the pretty young things that were there on their own dollar seemed to be enjoying themselves.
I'm not sure how long one would have to stay mid-mist to get a gin buzz going, we were ushered out after half an hour or so, a measure I would guess designed to placate a liquor board that didn't know quite what to make of the whole thing. However the 4Bars photographer for the night later told me that her camera tasted of cucumbers (I don't know what prompted her to taste it either), and I woke up the next morning with yet another hangover to a pillow that smelt of gin, so there was definitely a boozy lining to the cloud. It was a challenging weekend if I'm honest.