By Mark Ward
Wow…we're finally back in Sydney after the 'Fear & Loathing in Australia' cocktail tour of the country.
May 11th: Brisbane Bound
Fresh from the plane we hot footed it to Sky Room to get set up for the evening. Lucky for us, Justin, Nathan with Ryan Noreiks had the entire event prepped, planned and well on the way to be set up for the evening.
ADVERTISEMENT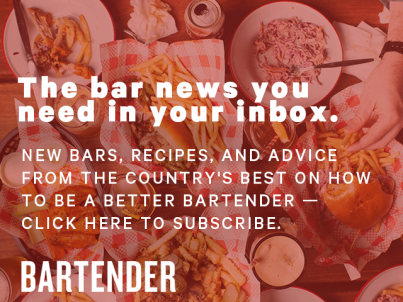 &nbsp
Sky Room was our hosting partner for the evening based on the second floor overlooking the hub of Brisbane's entertainment precinct. The venue is finished with some Danish inspired furniture and a great wrap around balcony. The bar has to be one of the best designed bars, tailored to ensure that the bartender doesn't have to move for anything – from a holding pen to being able to reach up to 72 bottles, to the personal refrigerated draws, there is no need to move from the comfort of your service spot.
The event had great attendance from venues such as Libertine, The Lark, Bowery and Palazzo Versace with Ryan's number one fan there for the evening… his Mum!
Once drinks were underway, guests realised why they were there – from Ryan's Havana 7 'Bell Boy' (Havana 7 with Honey water, pineapple and Tio Peppe sherry) to Perry Scot's 'Quince sour' (Tezon Anejo, his home made Quince Liqueur, fresh quince and fresh orange) and then last (but not least) of the evening was Nathan's Chivas 18YO creation also containing Pedro Ximenez Sherry, Peychaud's bitters an a pernod spray. The quality of the drinks was unbelievable and every one of them was enjoyed to shouts of 'One more…One more!
The evening was wrapped with toasts and birthday wishes to the cocktail whilst listening to Aretha Franklin and Amy Winehouses' 'Rehab'!
May 12th: Way Out West
Slightly jaded, but bright eyed and bushy tailed we set off to Perth; 'most isolated city in the world'. Once we got past the flight, with no conversation and my two companions snoozing all the way, we were welcomed to 25 degree heat and clear blue skies; yep, a warm welcome from WA.
The evening's event was held at Luxe Bar's outdoor venue – 'bamBOO' and they certainly pulled out all the stops for the evening – red carpet, a stage with a bar on it , a full production team and all the support from local bartenders and all the past and present contributors who have made Luxe such an institution – Sam Astbury, Macca and Andy Freeman with his team.
 Drinks were well presented under the spot light with Mark McKenzie whipping out an Havana 7 'Malecon Swizzle' (Lime juice, Falernum syrup and mineral water), Cameron Emerson was inspired by Chivas 18YO with 'Dale's Stone Sour' (Lime juice, pineapple juice and honey water) and James Spencer who not only made a sensational sipping Tezon Añejo Tequila elixir (Pernod rinse, Lillet and orange bitters) but also matched it with the chef's Salmon risotto ball with a tequila hollandaise sauce.
Once the formalities were out of the way, everyone was encouraged to head to the main bar to enjoy the delightful tunes from 'Maul Palone' whilst Sam Astbury and Jason Crawley entertained us all with their break dancing moves – the caterpillar in particular… (Don't worry we caught it on video!)
May 13th: Melbourne Madness
 By now we were feeling very jaded and very tired with not a jigger of conversation between the travelling trio. But we were Melbourne bound for the official closing of World Cocktail Week on Australian shores, and the opening of 1806's amazing vintage cocktail equipment exhibition, so we all knew we were in for a treat. We weren't let down either, and for those of you in Melbourne, the exhibition is not to be missed – not only the largest in the Southern Hemisphere, it is spectacular to see how time has influenced design with the apparatuses we use everyday.
The team at 1806 were beaming with pride, donning hats and moustaches for the evening for what will be a great month ahead for them. The drink service was run to military precision by Stacey, showcasing Michelle Morrow's Havana 7 'Coco Draquetico' (Lime juice, mint, white cacao and a ginger beer float) Jason Chan's Tezon Añejo 'Yellow Bird' (DOM Benedictine, lime juice, saffron syrup and the black salt rim) and Tim Wastell's Chivas 18YO 'Morning Glory Fizz' (including his home-made, three day prepared Raspberry syrup, Absinthe, lemon juice, egg white and soda water).
The overall support for the event program has been incredible and we're really excited to start planning next year. So look out Australia, because we'll be bringing an entourage with us and looking forward to some twists and break dancing flips!
Thanks to all of you who attended and the support you have given the Museum of the American Cocktail for 2009.
Mark Ward is the creative director of Yakusan and the foreign ambassador for The Museum of the American Cocktail.