Bartender magazine 'Internationalist' contributor, Philip Duff, is not just a man of many witty words but also the jetset bar guru behind Amsterdam's new door 74.
door 74 is a Valhalla for connoisseurs of champagne, fine cocktails and elegant service. Following a six-figure renovation that included the Netherlands' very first imported pressed-tin 1920s-style ceiling, the former garage workshop offers all-seated late-night grown-up drinking, with exceptional drinks and background-volume jazz being the order of the day.
Ringing the bell at the unmarked door near Rembrandt Square admits you to a low-lit den of comfy leather booths in dark wood accommodating an eclectic mix of bartenders, chefs, media people, beautiful ladies, charming gentlemen and dirty rotten scoundrels of both sexes. New guests are usually referred by those who have already become regulars.
The cocktail list is updated four times per year. After the wildly successful Autumn 2008 theme of 1930s cocktail playboy Charles H. Baker Jr., Winter 2009 emphasised dark spirits and strong flavours, while the current Spring menu has many lighter, more refreshing drinks with hints of the fruits ripening and the sap rising. door 74's menus have been viewed and downloaded more than 3,000 times and in it's short existence door 74 and it's bartenders have already been featured in The Observer ("The World's 20 Best Hidden Bars") Time Out ("Exclusivity Without Snobbery"), The Washington Post and KLM's global in-flight magazine ("Amsterdam's ultra-cool 1920s-style bar").
ADVERTISEMENT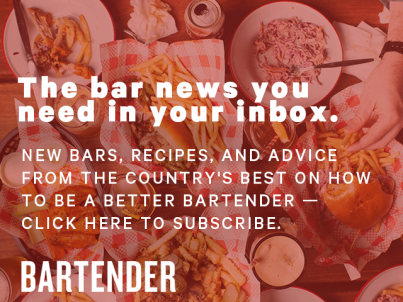 &nbsp
Mr. Duff, a former karate instructor, motorcycle courier and marketeer, is a bafflingly well-respected globe-trotting bar consultant and cocktail expert, has won awards around the world for his drinks expertise and speaking skills and was once deported from Yugoslavia, although not actually in handcuffs.
Duff: "We wanted to open the bar that was missing from the Amsterdam night life: no booming music, no crammed-in crowds of people, and very good drinks until deep in the night. I was greatly inspired by bars like Milk & Honey (NY), Le Lion (Hamburg) and Rum Trader (Berlin). door 74 is all about the same things those bars do so well: great fun, fine drinks, pleasant surroundings and charming people."
door 74 gratefully receives it's guests from 2000h onwards from Tuesday-Saturday; until 0300h every night and until 0400h on Friday and Saturday. The ten bar stools are always reserved for walk-ins: the booths, ranging from the intimate 2-person Number 30 to the massive 8-person Number 40 booth, may be reserved – for free – in advance.
For reservations phone : +31 (0)6 3404 5122