And the Manhattan's neglected siblings
Of the five boroughs of New York City, history has only neglected poor old Staten Island when it comes to having a cocktail named after it. Of the other four we have all heard of the Manhattan and a few more of us might know a Bronx, but what about The Queens Cocktail and The Brooklyn?  Neither of these drinks may have achieved the immortality of their siblings on Manhattan Island but that shouldn't mean they aren't worth a whirl.
Finding reliable sources for the Brooklyn and Queens cocktails is not easy. While unearthing the origins of most classic drinks is anything but simple, these two are lacking the necessary popularity to for their story to be well documented. What we can be certain of, however, is that they start to make an appearance in the years following the Repeal.
Dusting off a recipe from David Embury's The Fine Art of Mixing Drinks we get the feeling that the Brooklyn ( The Queens Cocktail doesn't even get a mention)  didn't leave a lasting impression on him: "…even in Brooklyn there are at least five to ten times as many Manhattans consumed as there are Brooklyns. Try them both and you'll understand why."  We can guess that Embury feels that dry vermouth isn't a natural partner to Bourbon or rye, but if you had a go at making last month's Scofflaw Cocktail you'll know that there are exceptions. Regardless of whether the Brooklyn's formulation works or not the addition of hard to source Amer Picon (a bitter cordial made with orange, gentian, and other ingredients) makes the concoction rather difficult to recreate.
ADVERTISEMENT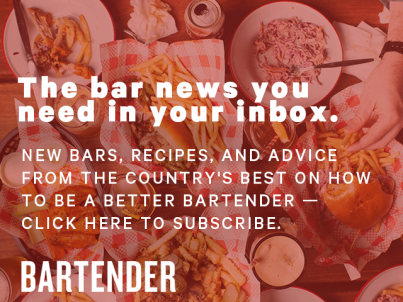 &nbsp
"Even in Brooklyn there are at least five to ten times as many Manhattans consumed as there are Brooklyns. Try them both and you'll understand why." – David A. Embury
A modern tribute to the Brooklyn's ever waning fame is the Red Hook credited to Enzo Errico while tending bar at Milk & Honey in New York circa 2005. Red Hook, an area in Brooklyn once noted for its rather rough working class population of longshoremen, is now a gentrified neighbourhood with an equally classy cocktail to match. Errico substitutes the Brooklyn's dry vermouth and Amer Picon for Punt e Mes; Carpano's bitter-sweet Italian vermouth. Married with a slug of maraschino liqueur and a dose or two of rye, The Red Hook is a perfect choice for a Manhattan drinker wanting to change things up a little. Of course, a bar spoon maraschino liqueur (not to be mistaken for the neon coloured juice from a jar of cocktail cherries) is a fabulous addition to any Manhattan variation.
If you are a stickler for classics, however, or just wish to see whether Embury's sentiments are justified grab a bottle of Amer Picon (Torani Amer is meant to be a good substitute)  and give the Brooklyn a whirl.
The Brooklyn Cocktail
60ml Straight rye whiskey
20ml Noilly Prat dry vermouth
2 Dashes Amer Picon
2 Dashes Luxardo maraschino liqueur 
Method: Add all ingredients into a mixing glass. Stir with ice and strain into a Martini glass. Garnish with a cocktail cherry. 
Recipe adapted from The Fine Art of Mixing Drinks by David A. Embury