Watch all the action from World Class on the official video – just click play!
After a year long global competition which saw 6000 bartenders from 24 countries shake, stir and pour their way through national heats, just 18 remained to go head to head in three days of World Class challenges last week. Aristotelis Papadopoulos of Banquet in Thessaloniki, Greece claimed the overall title after impressing the most recognised names in the business – Dale DeGroff, Salvatore Calabrese, Simon Difford, Peter Dorelli, Gary Regan, Hidetsugu Ueno – with his exceptional mastery of cocktail craft.
Congratulating the winner of the inaugural global Diageo Reserve World Class competition, dubbed the "Liquid Oscars", Global Reserve Brands general manager Rudy Paoli said: "World Class is a truly international celebration of cocktail culture – the flair, creativity and craft of the bartender and the appreciation of great spirit brands and their heritage. Aristotelis Papadopoulos represents all of this and we would like to congratulate him on this fantastic achievement."
Gary Regan, spirit and cocktail expert and World Class judge, commented: "What's most impressive about Diageo Reserve World Class is how every aspect of the craft of bartending has been examined by the different challenges and judges – it's the most thorough bartending competition I've ever encountered, pretty incredible. I've learned something from every one of the 18 finalists, 21st century bartenders are so creative."
ADVERTISEMENT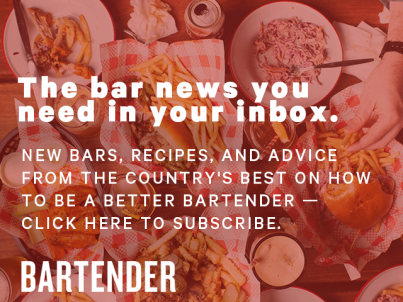 &nbsp
The international bartending community and cocktail aficionados from around the world have been following the finalists' every move 'almost live' on www.weareworldclass.com and as the celebrations began in London tonight, World Class Master of Ceremonies and star chef Marco Pierre White, commented: "The bar is the most important aspect of any hotel or restaurant and it's time that bartenders receive the same acknowledgement as chefs".
"Aristotelis was the perfect choice for the first Diageo Reserve Brands World Class Bartender of the Year – the elder statesman of the group, he is the complete bartender – incredibly knowledgeable, passionate about his craft and a humble, charming man – a great role model for the young guys to aspire to." said Dale DeGroff, World Class judge, widely acknowledged as the 'King of Cocktails'.
Diageo Reserve World Class was developed to educate and inspire bartending talent to create exceptional cocktails, service and experiences. "The bar is one of the greatest theatres in the world," says internationally renowned bartender Salvatore Calabrese of FIFTY London. "Being a bartender is about understanding people and knowing how to meet their expectations. This wasn't about luck, it was about skill – World Class is not just a competition; it is raising the industry bar."
Using the premium liquids of the Reserve Brands portfolio, the finalists showcased their skills in six World Class Challenges, from Classic Cocktails and Canapé Pairing to Theatre and Cocktail Mastery. The six individual challenge winners represented the UK (Ryan Chetiyawardana, Bramble Bar), Dubai (Felix Hartmann, Burj Al Arab), Belgium (Noach Van Damme, L'Apereau), Cayman Islands (Khi Leonard, The Westin Casuarina Resort & Spa), Japan (Mari Kamata, The PeninsulaTokyo) and Russia (Rustambek Narzibekov, City Space).
A lifestyle book will be published with the winners in September to celebrate the craft of bartending and the current vibrant global cocktail culture. The book will be a globetrotter's guide to the best cocktails from around the world using the finest spirits.
Read on for the official results:
DIAGEO RESERVE BRANDS WORLD CLASS BARTENDER OF THE YEAR 2009
Aristotelis Papadopoulos, Banquet
Thessaloniki, Greece
THE DIAGEO RESERVE BRANDS WORLD CLASS CHALLENGE WINNERS
WORLD CLASS Canapé Matching Challenge
Winner: Felix Hartmann, Burj Al Arab, Dubai
Testing their ability to balance flavours and textures, finalists chose from six different canapés to create a cocktail to complement their chosen dishes.
WORLD CLASS Market Challenge
Winner: Ryan Chetiyawardana, Bramble Bar, UK
A test of ingenuity and ability to adapt, finalists had 30 minutes to collect fresh ingredients from a luxury market place and were then given 20 minutes to create a cocktail out of their chosen produce.
WORLD CLASS Ritual and Cocktail Theatre Challenge
Winner: Mari Kamata, The Peninsula Tokyo, Japan
Using their imagination and sense of theatre, finalists selected a bottle from the Reserve portfolio and created a unique service ritual to bring the qualities of the spirit to life.
WORLD CLASS Speed and Taste Challenge
Winner: Rustambek Narzibekov, City Space, Russia
Employing their speed and skill, finalists created a round of 8 well-known cocktails in the fastest time possible. They were required to use the full array of mixology methods: building, muddling, stirring etc. The cocktails were sampled to ensure correct balance of flavours.
WORLD CLASS Classic Cocktails Challenge
Winner: Khi Leonard, The Westin Casuarina Resort & Spa, Cayman Islands
A thorough examination of the bartenders' knowledge of mixology and pursuit of perfection, each of the competitors were tasked to make three cocktails from a list of 20 signature, classic cocktails.
WORLD CLASS Cocktail Mastery Challenge
Winner: Noach Van Damme, L'Apereau, Belgium
Using their mixology craft and knowledge, finalists presented the winning cocktail that they created to win their national final. They were then asked a series of questions on the Reserve Brand spirit they used and why it works so well with the ingredients they chose.