Interview by Simon McGoram
Owner of Time to Vino in Darlinghurst, Clint Hillery, gives us the skinny on managing your wine stock.
Why should a bar owner pay attention to how their wine is being stored?
You really are going to shorten the life of your wine if you don't store it properly and that's dollars. Also you are going to disappoint customers. We see here that people are a lot savvier than they used to be so they know when a wine is oxidised and they know when a wine is corked. We're lucky with the customers that we get because they're really here to appreciate and drink wine. I'm assuming that when these same customers go to another bar they're going to want wine in good condition. I mean, the sort of questions we get are a lot more in depth than just "is this wine oxidised?" I think they'd pick that up very easily.
ADVERTISEMENT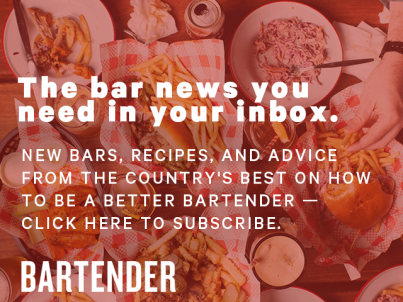 &nbsp
What is the best way to ensure that your wine stock is kept in its best condition?
For a small place like us, we can't afford a proper cellar. Anything that is expensive we tend to store off site; we'll even use places like wine arc. They're a company that cellars wine for you. You can but a small 60 bottle bin or something like that or a whole garage sized place; kind of like self storage but for wine. And there are quite a few of these sorts of places around town these days.
That's for our expensive stuff, but for everything else it's about high turnover. So most of the stock that you see here will only last a week or so. We make sure that we are constantly rotating, purchasing minimal, and changing our wine list regularly. Otherwise, if you are talking about wines by the glass then you have to start looking at wine preservation systems.
You wines that aren't big movers we tend to do 'focuses' on them or include them in a wine flight or match them to food on our menu. If that doesn't work open a bottle and run a tasting with your customers. Often your wine suppliers will give you a bottle to do just that. You might keep selling it by the bottle, but on a busy night open one and let people try it and you'll be surprised how many people start buying it once they are confident that they like it. People are much more likely to fork out their hard earned dollars for a bottle of wine if they know what it tastes like.
For larger venues would you say it is worthwhile investing in a temperature controlled wine fridge?
I think that they can be good, but you have to have the money. They cheaper ones that I've seen are very difficult to work with and are quite temperamental. Perhaps the best system I've seen is Gazebo Wine Garden's Enomatic wine system, but for something like that you're looking at $60K which is more than our total fit-out cost.
What do you do about wines by the glass? Do you use a system to increase their shelf life?
We use Vino Fresh which is a little hand held nitrogen spray, but overall we're pretty lucky as we do have good turnover. We date sticker our wines as well so we know if something has been opened for more than a couple of days. We're big on staff training too so they can check the wines prior to service. Vino Fresh is particularly good for sparkling and was recommended to me by the three-hatted Marque restaurant. You need to have special stoppers – they're the expensive thing – but otherwise it is very easy to use.
What about those little hand held pumps – do they do anything?
I don't think they do anything. You might get an extra day out of them, but they are so painful to use.
What about the more advanced vacuum systems like Le Verre Du Vin?
I think that they are really an automated version of the same thing. They are alright for champagne though as they maintain the pressure, but for still wines I don't believe that they do a lot; again maybe just another day or so. Are they worth the money you need to pay for them or worth selling your wine list to a supplier to get one for free? You're better off just turning over your stock more effectively.
Typically how long will an open bottle of wine last for anyway?
Well it depends. Two or three days is probably the max. But even then I'm talking about younger more vibrant wines. The more aromatic the wines gets the less time they are going to last, and same with older wines too. But if you've got a nice young vibrant red it can look better after two days sometimes; it really opens up and shows its true character. Just keep checking the wines.
How can you tell when a wine is oxidised or has some cork taint?
I guess with any sort of wine fault your staff first need to know what the wine looks like when it is good before they can understand when the wine is bad. Oxidising – with a white wine you're starting to get bruised fruit characters, you're starting to get towards the more nutty spectrum of things. If it smelt like apples when you first opened it and now it smells like rotten apples there is a fair bet that the wine is past its best; it really does start to progress through those sort of flavours. Reds tend to get a lot earthier, duller and again that rancid nutty character.
Of course there is a whole spectrum of other faults. There's cork taint or 'TCA'; sometimes it just takes away the aromatics and leaves nothing on the nose. So if you're thinking that wine is boring, that's maybe when you should take a proper look at it. When the cork taint is bad it's wet cardboard or moth balls almost; it's pretty distinct.
It can be difficult to pick until the wine warms up or the customers might just not enjoy it, because it could just be dull or boring. Again your staff really need to know what the wines taste like when they're good.
You need to go off your customers reactions a little. If they do seem disappointed it may be worth offering to check it for them.
How do you deal with a customer that complains about the quality of a wine, but after you check it you find no fault?
I only had that situation a couple of weeks ago. The customer was certain that the wine wasn't good, I checked and just to double check got another staff member to check it, and the wine was exactly as it should be. We just went back and explained that that was the style of the wine, and that we'd happily open them another bottle for them to try, but it is going to look very similar and recommended a different style. Check what sort of style they were looking for, maybe they didn't want that earthy character in the wine but were after something with more fruit.
I see no issue, if you're 100 percent about the wine, in going back and explaining that and offering something new. You do have to use a little bit of tact in being careful not to offend the customer. There is no point in being arrogant about it; wine can be something that people get a bit nervous about.
What about Sherries, Vermouth and aromatised wines? A lot of people believe that these don't go off, but that's not the case is it?
No not at all. With these wines in particular, more often that not, can be gone before you've even opened the bottle. They could have been cooked on the way over if they weren't sent in refrigerated shipping containers. This is a really important one, wines like Manzanilla and fino Sherry should be fresh and vibrant. Obviously with sherry you are going to get an oxidised/ nutty aroma so it does take a little more practice to pick when the wine is past its best. But really with the finos, especially, they almost have a character like the ocean; really fresh, minerally, but as they get older they tend to head more towards the oloroso style and the amontillados on the nose. When they are young really shouldn't have much of that, maybe just a hint of almond, but really not into those richer sherry characters.
So you need to watch that you're moving these wines, but fortunately sherry is great to cook with so you can always give it to the chef; never waste wine! The only thing that you can't use is corked wine; that taint can come through in the food. Even oxidised wine is fine to use because when you cooked with wine you're accelerating the oxidisation process anyway. You often end up with better quality sauces as you are using good quality wine.
You can visit Clint at Time to Vino at 66 Stanley Street, Darlinghurst
Phone: 02 9380 4252
www.timetovino.com