Sven Almenning, Director of Behind Bars, will receive the Outstanding Contribution award at the Bartender Magazine Australian Bar Awards next Wednesday, 23 September. This award is not a competition but is decided at the discretion of the Publisher, David Spanton, to acknowledge someone in the industry who is doing great things.
So before he takes the stage next week we thought we would give you a little insight into Sven's career and how he went from Norwegian Naval Officer to the Company Director of Behind Bars.
After graduating high school, Sven applied to the Royal Officers Naval Academy, where over 3000 applicants applied for only 100 positions. He made it through, became a 2nd Lieutenant and served two years aboard a frigate, "playing war games and blowing shit up".
He then spent over a year backpacking across the States, New Zealand, Australia and Asia at the age of 21. It was during his travels through California that he had his first bartender education – attending the International Bartenders School, where he learnt such classic drinks such as Fuzzy Navel, Banshee and Velvet Hammer. His first bartending gig was in Auckland for an events company specialising in themed parties (and themed bartenders). When he returned to Norway he split his time between working bar in Olso and Bergen, and selling time share
ADVERTISEMENT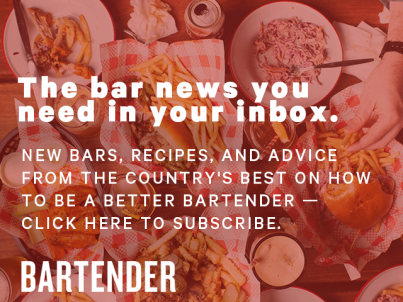 &nbsp
In 1999 Sven came back to Australia to study for three years.  In 2000 he was one of the first bartenders working at Establishment when it opened. After some travelling in 2002, Sven came back to Sydney and ran a couple of nightclubs – the bar formerly known as Blueberries and Peppermint Lounge were among these.
After getting too old for the late nights, he and his "oh so lovely and clever wife " started a vodka import business in 2004, while he also put some time in pushing the pen around at the Spanton Media Empire on a part time basis.
After a random JW Gold gig gave him the foot in the door at Diageo, Sven began slowly working his way into the business, proving himself to be a much needed on-premise resource with an insight into the trade. He took over the role of Brand Manager for RESERVE Brands when it was first launched in Australia, but when it became clear that a number of other brands (such as Smirnoff and Johnnie Walker) were looking for some on premise help, Sven took the plunge and went full time with his consultancy company Behind Bars Industry Services.
Starting out in their spare bedroom, Behind Bars was set up to provide the much needed trade communication that had only just started being recognised as being an asset for drink companies. After a busy couple of years, Behind Bars was really able to take the concept of an On Premise Communication agency to a new level when they were awarded the contract to manage and execute the Alchemy Program on behalf of Diageo.
Using this opportunity to take the professionalism of bartenders seriously, the Alchemy Program allowed Behind Bars to recruit some of Australia's leading bartending talent as trainers. Working with the concept that by sharing the knowledge and experience of these top personalities through training, bartenders Australia wide would see reason to take pride in their work, Alchemy seeks to improve the industry as a whole.
As well as managing the Alchemy Program, Sven's role as director also sees him developing and overseeing activities such as the World Class comp execution, Smirnoff Copper Cup, the annual BarShow stand for Diageo and JW Blue dinners and tastings amongst other things.
Above all else, its Sven's passion for the industry and his dedication to the betterment of bartending that has made him eligible for the Outstanding Contribution award. He knows the bartenders, he knows his drinks and he works day and night to do the best he can for the industry he loves. Big congrats to Sven, and of course, his wife, Amber and their whole team at Behind Bars.