Nearly 130 bartenders from around the country and two gruelling days of competition to find our top mixologist
The Top Three
WINNER: Chris Hysted, Black Pearl, Melbourne
ADVERTISEMENT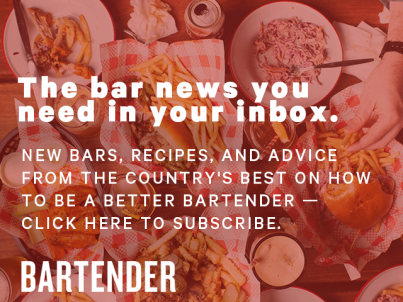 &nbsp
2ndPlace: Sebastian Reaburn, 1806, Melbourne
3rd Place: Jason Williams, Blue Diamond, Melbourne
The 2009 Australian Bartender Magazine Bartender of the Year Competition(sponsored by Club Suntory) brought out the best of Australian bartending talent in a competition that tested their knowledge of the backbar with a gruelling written exam, their ability to serve a customer, their savvy at identifying the ingredients in a cocktail in a blind tasting and their skill at presenting and creating two signature cocktails to a panel of esteemed critics. To say it's nerve-wracking doesn't quite do it justice.
The comp started back in March when we called on bars from around Australia to dob in their best bartenders. Votes flooded in and nearly 100 bartenders came to Zeta Bar at the Hilton Hotel on Monday, 21 September to sit a gruelling written exam covering everything from the date of World Cocktail day to the ingredients in a Georgia Mint Julep. Several competitors wowed the markers when they managed scores over 85 per cent!
Only the Top 20 made it through to the next round; a 'mystery round'. This year the bartenders had to mix up a round including a Martini, a G&T and a Stoli and Soda. Our three judges then watched on with eagle eyes testing their hygiene, selection of drinks and efficiency. After stepping behind the bar, the palates and olfactory senses of our competitors were put to the test. In 07 we did dark spirits, last year we did white spirits. So what did we come up with for 2009? Well, for a bit of a curve ball the bartenders had to identify the ingredients in two cocktails – one a classic Manhattan with rye whisky and orange bitters, and one an original featuring Cuervo 1800, Chartreuse Yellow and agave nectar.
Once the mystery round was complete, the scores were tallied up to determine the Top Ten. It was great to see bartenders from around the country making this elite list, in fact, the competition was so tight that our Top Ten had to be extended to a Top Eleven.
First thing on Wednesday morning, crowds flocked to the Bar Mixology Theatre at Sydney BarShowto watch the ten finalists compete. And the nerves were apparent. Not only did the bartenders have to compete in front of an audience packed with their peers but they also had to make their drinks in front of some of the world's foremost drinks experts who were sitting front row. The judging panel for this year included Club Suntory Manager Nigel Weisbaum, Bartender Magazine Founder David Spanton, Sun Herald Social Writer, Amy Cooper, Florian Iro from Mozart Distillerie, and Bartender magazine editor in chief, Amy Spanton.
The top three were announced at the Bartender Magazine Australian Bar Awards on wednesday night and was by far the most anticipated award of the entire event. Chris Hysted from Fitzroy's Black Pearl took out the top prize. When accepting the award, Chris displayed the some of that confidence on stage that had impressed the judges and crowd alike in the competition earlier that day. Second place went to last year's winner Sebastian Reaburn  from 1806, Melbourne, and third place went once again to consistent performer Jason Williams from another Melbourne venue Blue Diamond.

The Top Eleven (in no particular order):
Winner: Chris Hysted, Black Pearl, Melbourne
2nd Place: Sebastian Reaburn, 1806, Melbourne
3rd Place: Jason Williams, Blue Diamond, Melbourne
Ryan Noreiks, The Lark, Brisbane
Nick Edwards, The Lark Brisbane
Chris Denman, X&Y, Brisbane
Chris Hysted, Black Pearl, Melbourne  
Martin Lange, Sling Lounge, Brisbane
Lee Potter Cavanagh, Victoria Room
Tim Wastell, Blue Diamond Melbourne
Adi Ruiz, Seamstress/SweatShop, Melbourne
Michael Edmonds, Blue Diamond, Melbourne
The 2009 Bartender Magazine Bartender of the Year Competition sponsored by Club Suntory formed part of the Bartender Magazine Australian Bar Awards. All events are held in conjunction with Sydney BarShow 09. www.barshow.com.au