As part of the City of Sydney's 'Laneway Revitalisation' program October 1, 2009, till January 31, 2010, will mark 'Laneways By George' a public art program which amongst other things will see a bar pop up on Underwood Street in Sydney's CBD.
Seven Metre Bar is a project by artist Richard Goodwin, landscape architect Adrian McGregor and programmer Russell Lowe and is comprised of a sculptural and audio-visual installation on Underwood Street that "celebrates inaction on climate change with a drinking bar built inside the detritus of our age of progress and rampant capitalism."
The installation includes, boats, cars and street signs impossibly suspended above and around an actual working bar. It attempts to portray the chaos that would ensue should the water level actually rise by seven metres due to global warming as some experts have suggested it might.
The bar itself is co-ordinated by the team behind yet to open, but much anticipated 'small bar'; Grasshopper.  Each of the four partners in Grasshopper has an exceptionally broad range of experience.  Martin O'Sullivan is a PR and Bar operations expert, from such exclusive venues as the Lincoln, Ladylux and Goodbar. Others of you might be familar with include John Toubia; Australia's first "Mixellier" (a mixologist come sommelier), making his mark in the cocktail scene at Water bar, Bayswater Brasserie, Zeta bar, and the Ivy Den. He then moved to Aperitif to be trained as a sommelier under Charles Leong. 
ADVERTISEMENT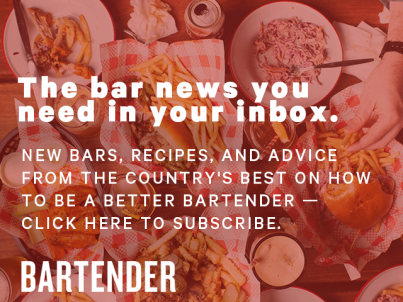 &nbsp
Classic French/English trained chef Richard Duff, former senior chef of Bibendum, London and Mrs. Jones, Melbourne adds his expertise next. 4bars.com.au has been informed that he will be the first aid officer on site at Seven Metre as there is no kitchen.
Last, but certainly not least is Belinda Lai, a restaurant/general manager with over 15 years experience in front of house operations in hatted restaurants within the Sydney and international restaurant scene including Sushi e, A Tavola and Neil Perry's Spice Temple.
"She is the black pearl and the brains and ideas behind all our movements" comments O'Sullivan.
Designed by Toubia, the list of innovative cocktails will include a Greenhouse Punch, a CFC and a Global Warning Tsunami, all of which will be served in 100 per cent recyclable drinking vessels, such as screw-lid jars and take-away chip buckets. Handy since the pop-up bar has no plumbing!
With Absolut throwing their weight on board Toubia informs us that the bar will be strictly casual with an easy drinking vodka dominated beverage offering.
"This will not be the sort of bar you come to to sip on a 23 year old rum," Toubia informs us.     
The bar will cater for 50 -80 people and be open from 5-10pm four nights a week. There are promises of 'virtual weather' as part of this installation which will react to the number visitors present. Make sure you get down there and check out this impressive installation at bar.