On Monday 12 October Merlin Jerebine from Melbourne's 1806 created this year's greatest mix at the 21st annual Suntory Cup cocktail competition. 
The Suntory Cup resiliently stands as one of the longest running cocktail competitions in Australia and Monday night saw the competition return to its roots in an '80s-themed extravaganza at Sydney's Argyle Hotel.
The Argyle were amazing hosts serving a diverse array of cocktails to Club Suntory members in equally amazing '80s outfits over a night of retro mayhem and mixology. Six finalists were flown in from around the country to shake, build and muddle it out in front of an independent judging panel to choose the best-tasting drinks for the 2009 Suntory Cup title.
Club Suntory challenged first Australia's bartenders back in July when all members were invited to get shaking and submit their original 'mix' using a minimum of 45mls from Suntory's ever-expanding portfolio including this years addition of the Remy-Cointreau brands.
ADVERTISEMENT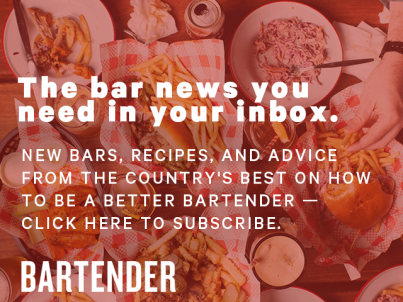 &nbsp
Suntory Cup focuses on the drink itself, judging the appearance, taste and aroma, rather than the bartender or their status and offering up and coming bartenders a level playing field to demonstrate their skills.
Hotly contested this year, Club Suntory had 459 new cocktails entered into the 2009 Suntory Cup Cocktail Competition. These entries came from 247 members, all of them vying for the chance to take out the ultimate prize of a European bar and distillery adventure of a lifetime with $1,000 spending money.
This year the judging panel included Alexx Stuart (nee Swainston) from Finer Points, Tim Wastell, bar manager, Blue Diamond, Melbourne (and the 2009 Bar Manager of the Year at the Bartender Magazine Australian Bar Awards), Emma Hammond, general manager, The Bourbon, Sydney and Simon McGoram, editor, Australian Bartender magazine.
As the competition is focused on how the drink tastes, an additional 40 Club Suntory members got to cast their vote as official judges tasting all six finalists' drinks and picking their favourite cocktail.
Immediately after the votes were taken the officials, finalists and spectators enjoyed complimentary cocktails and gathered to see the finalists presented and the worthy winners announced.
Merlin Jerebine from 1806 in Melbourne finished in first place with 50 percent of all votes and was awarded a cheque for $1,000 for his 'Punch de Chevalier' cocktail.
Shane Cowell from Melbourne's Canary Club finished in second place for his 'Santiago Sling' taking home $500 in winnings with Ben McKew from Melba's on the Park, Surfer's Paradise following closely behind in third place with his cocktail 'The Sourpuss' winning $250.
After the official announcements, crimped hair, leg warmers and stonewash were whipped into a frenzy to the sounds of '80s retro cover band 'Flashback', as spectators and competitors partied late into the evening sipping cocktails, whilst raising over $1000.00 for the Starlight Children's Foundation. 
'Punch de Chevalier' created by Merlin is made as follows:

 20ml Green Chartreuse

25ml Remy Martin VSOP

15ml Crème de peche (Peach Liqueur)

30ml fresh lemon juice

15ml Sugar syrup

Add all ingredients into Boston glass. Shake and strain into an ice filled highball and garnish with two lemon wedges
The 2009 Suntory Cup Finalists
Wes Morgan, Tokyo Tiki Style, China Doll, Sydney
Sarah Miller, Jeni for Jeni, Niche Bar, Perth
Quynh Nguyen, La Reina del Caribe, Marble Bar, Sydney
Shane Cowell, Santiago Sling, Canary Club, Melbourne
Merlin Jerebine, Punch de Chevalier, 1806, Melbourne
Ben McKew, The Sourpuss, Melba's on the Park, Surfer's Paradise