When Stan Vadrna applied to come to one of my Cocktails in the Country workshops in 2005–that's the year that my jumbled records indicate–he told me that the reason he wanted to join the class was because, and I quote, "Knowledge is God."  And Stan Vadrna is certainly a guy with a huge thirst for knowledge.
I found it hard to believe that someone would travel from Slovakia to come to one of my classes, so when he first applied I insisted that he send me a $100 deposit to secure a space.  That's the last I'll hear from this guy, I thought.  Three days later I received an email from Stan telling me to pick up the C-Note at a specific branch of Western Union that is located in a supermarket no more than 10 minutes from my house.  The man was serious.
Since that time Stan and I have become close friends.  He has trained in Japan, tended bar in Manhattan, and he's gone on to international acclaim as one of the world's very best bartenders, and along the way our paths have crossed time and time again, often at trade events, but also at the Slovakia Bar Awards in 2007, when Stan helped me get a gig as a judge, alongside the Wonderful Winchester, and in 2008 I was very proud to be co-best man, with the fat-washing Eben Freeman, at Stan's wedding to Yasmin.  We're good buddies, Stan and I.  Soul mates, I think.
We had a little free time in Bratislava during the Slovakia event, so Stan and I sought and found a great tattoo artist, and invested in a little of his handy-work.  I had an image of a sun, surrounding a yin-yang symbol that could be mistaken for sea waves–all my tats are connected to water–and Stan got his Japanese mantra, ichigo ichie (ITCH-igo ITCH-ee-ay), engraved on his forearm.
ADVERTISEMENT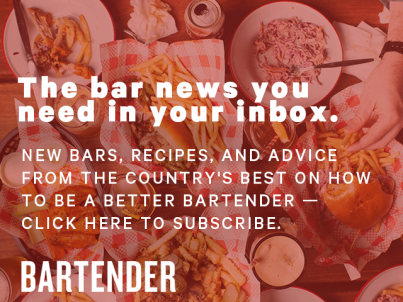 &nbsp
Ichigo ichie is a Japanese phrase that's connected to both Zen Buddhism and to the Japanese Tea Ceremony.  It can be translated in a number of ways, since subtleties can be lost in translation, but to Stan Vadrna, it means "one encounter, one opportunity."  He takes it with him whenever he's behind the bar, so when a customer is lucky enough to walk into a bar where Stan Vadrna is holding court, (s)he will always be treated to the most attentive service.  Stan knows that he has but one chance to impress his guests, and he takes advantage of this opportunity by always being the best he can be.  Stan Vadrna is a bartender in every sense of the word.  Stan Vadrna walks the path.
If all of us bear this in mind when we're behind the stick, we can make this world of ours a far better place.  One encounter at a time.
I'm going to digress for a moment here to bring you a little wisdom about "being the best that you can be" that I found in Don Miguel Ruiz's book, The Four Agreements. In this fabulous tome Ruiz reminds us that our best today might not always be as good as our best was yesterday, so don't go beating yourself up if that's the case. Just do your best and be happy about it.  Okay, back to Stan.
Lest you think that Stan Vadrna is one helluva serious dude, I should tell you about the time when he and I were behind the bar together at Painter's, my local joint in Cornwall-on-Hudson.  He was preparing drinks for two people at the end of the bar who had just bumped into each other.  "What are you making, Stan?" I asked.
"Ah, the man.  The man just have dinner, so for him I make nice digestivo cocktail,  He will like this." Stan told me in his thick Slovakian accent as he stirred his creation.
"And for the woman?" I enquired.
"For the woman," said Stan, "I make drink that's full of sexual tension."
Ichigo ichie, Stan, ichigo ichie.
gaz regan
ArdentSpirits.com and The Worldwide Bartender Database