He Owns the Night
Nightclub personality Michael Delany-Korabelnikov on the industry, Third Class and new project Sorry Grandma!
ADVERTISEMENT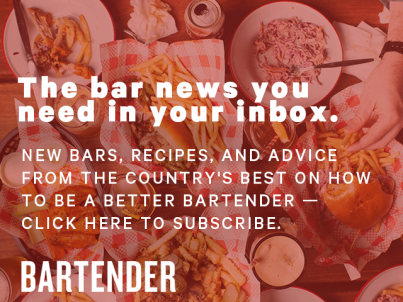 &nbsp
Interview by Simon McGoram
How did you get first get involved in the hospitality industry?
I have loved music and going out all my life and I worked in bars when I was studying Fine Art. I did some interiors for some bars and clubs before I was offered a share in misty in exchange for designing and building the bar.
After about a year there I sold out and put together a group of friends to create honkytonks.
What venues have you been involved in over the years?
I've been involved in misty, honkytonks, Third Class, and Sorry Grandma! Simon Modra, who brought me into the Sorry Grandma! project has worked on Q Bar (Melbourne/Sydney) and Sugar in Adelaide.
What has been your favourite venue to work on?
honkytonks was fantastic to build and very exciting putting together the concept, which combined the best elements of a great cocktail bar and an underground music club; and seeing it work so well. Sorry Grandma! has that same kind of excitement, albeit on a much larger scale. Both venues seem to have appeared at the right time in the right place and filled a gap in the landscape.
What has been your proudest moment in this industry?
My speech at the Bar Awards in 2006.
What excites you about the bar/nightclub industry?
This industry is very important for people. It is in our venues that people define themselves, meet their friends/lovers, build businesses and lose their marbles. We have a duty to these people to make that experience the best it can be… and I really appreciate the honour of that responsibility.
What positively bores you?
Trends.
Tell us a little bit about your latest project, Sorry Grandma! and how it came about.
The venue has a 24 hour licence and, having been a nightclub for about 20 years it has a classic 'nightclub' feel about it that is uncommon today. I was brought into this project by Simon Modra, and together we refitted the venue, developed our product and opened the doors. The basic concept is always to make the best club with an attitude of its own and a great product. Obviously that relies upon pulling together the right elements and people to make that possible, and we have been lucky in that respect.
Do you have any business partners that have contributed to this venue?
The venue is owned by Peter Iwaniuk, who is a maverick of the industry in Australia. Under his auspices I established the venue with Simon and we work very closely with Andee Frost (music director), Adam Beaupeurt (promo/marketing) and Daniel Irwin (general manager).
What lessons have you learnt from previous projects that you've been able to apply to this new venue?
Take the P & L seriously.
What were in biggest challenges you had to overcome in opening Sorry Grandma!?
Honestly Sorry Grandma! has been the easiest club I have opened. The venue had an existing licence and we were fully funded so, as I have said, we were lucky with our team. I guess the biggest challenge was attempting to do something cool and boutique (that would not be too hard to pull off in a 300 person venue) and translating that into a 700 person venue without looking like a schmuck.
What sets your venue apart from other Melbourne bars and nightclubs?
Well we are big but not too huge, very comfortable with good service and products, we have a good mix of dancefloor and hiding places and we play forward thinking music that is not chin-strokey, but all about the party.
In terms of design we are not about slick surfaces, leds, off the rack furniture… we want to create an atmosphere that leads to a great experience for the customer. We have an underground attitude but operate overground.
Where to next? Are there plans for more venues in the future?
A 1600 person venue in Sydney Road, Brunswick called The Baroness of Brunswick that will be an Israeli hummus restaurant, nightclub and band room.
Michael's Top Five Tips for a Budding Bar Operator
1.      Make sure all the legalities, compliance issues, licence, permits, etc, are in place so that your business doesn't get tripped up by an overlooked issue.
2.      Don't use interior designers – all your surfaces, fixtures and fittings will look the same as everyone else's.
3.      Be aware of industry and musical trends, take them on board but don't follow them blindly.
4.      Choose your team wisely, nurture and reward them well.
5.      Don't listen to too much advice… trust yourself.
This interview featured in the September issue of Bartender magazine.