13 Burton Street, Darlinghurst, Sydney
02 9380 7002
www.pocketbar.com.au
By Simon McGoram

Pocket Bar is a compact Sydney offering that has quickly snaffled itself a loyal following. One of the latest conscripts to the small-bar-revolution-that's-not swelling its ranks in the Darlinghurst/Surry Hills area, first time owners Karl Schlothauer and Christophe Lehouk have made the most out of the new(ish) primary service authority (PSA) that came into effect after the much talked about 'small bar' licensing reforms. Pocket joins the ranks of venues likes Sticky and Low 302 both of which are bunkered down on just on the other side of Oxford Street just a stone's through from this new venue.
While the small bar revolution is certainly gaining steam as the City of Sydney and the OLGR have started to communicate effectively Karl noted that when they applied for a license; "we were advised that because this whole small bar licensing thing had been rushed through so quickly don't bother going for that because they're still trying to catch their tail and you'll just get caught up in a whole bunch of things."
ADVERTISEMENT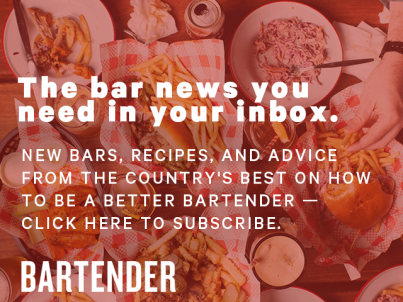 &nbsp
Always planning on serving food the decision to go for a restaurant license (under the new 'On-premises licence') has proved to be a winning concept. "Originally we wanted to do pizzas, just because our background had nothing to do with food and all that and we thought that any monkey can make pizzas really," explains Karl. "Then when it came down to it we didn't have the space and we didn't have the gas come into the building; we didn't have anything. Then old Frenchy [Chris] says let's do something simple; let's do crepes. I think there's only one other crepe joint in Sydney."
Since opening the doors in June everyone has now had a turn in the Kitchen cooking crepes. "We thought that it was going to pick up slowly and that we'd have time to hire people and to slowly get everything in order, but that wasn't the case," Chris comments.
But, Pocket isn't just a place you go for food but rather a whole pocket-sized package of offerings with a concise cocktail list, impressive back bar, funky but laid back surroundings, impressive murals, eclectic sounds and even a decent cup of Joe.
"We're not tyring too hard to impress anyone," begins Karl; "we're just trying to be ourselves. So people come here because it is pretty casual, the owners are behind the bar pouring drinks or in the toilets emptying bins. We like to think that we don't portray a sort of pretentiousness; we don't have any door people or dress regulations; we're just easy going."
From the on-set limited budgets have pushed the duo to move more towards substance over style with the bar, furniture, fridges and even kitchen fittings being built by hand or purchased off eBay.
"People spend a shit load of money on their venues only to find that customers lose interest in their venues after three months because some new flash joint has opened up. You can just attract that sort of crowd that looks for the new place instead of the locals. The crowd we're going after aren't really in to that sort of stuff they just after somewhere casual where they can come in their underwear if need be and just hang out."
Despite low-budget surrounds Pocket's space has had some serious work put into it. Sam Ragoli from Studio R put in the Architectural work while the Karl and Chris worked hard on construction with what advice they could garner from friends and family. The result is an inspired combination of exposed brick and baroque furniture which has been juxtaposed with post-modern/pop art inspired murals, stacks of National Geographics and the odd toy soldier; the effect is slightly eccentric, but oh so refreshing.
The artwork was commissioned by a friend of the owners one Steve Garrow whose brief was to 'popy' while being a bit satirical at the same time. The murals are a striking slightly grungy feature of a bar that we're going to resist calling 'oh-so-Melbourne' – Sydney is claiming this one as its own.
Pocket's journey for the duo did have a bumpy moment or two. The pair applied for their liquor license before signing a lease in a bid save some time. Despite their gambit OLGR closing for three weeks at Christmas and other serious hiccups meant that by March this year they were running out of free rent time with still no sign of license approval.
"We didn't have a lot of money," explained Karl, "but we thought, fuck it; we'd rather go broke and have an illegal bar than go broke and just have an empty space. So we started building then I think we were about two weeks away from completion at the end of May when I decided to check online at OLGR and found that there was an approval for us."
So as luck would have it for both Sydney drinkers and the duo alike Pocket is now trading steadily and is open seven days with breakfast and lunch, as well as dinner and drinks on offer from Tuesday through Sunday. Determination and optimism have carried Karl and Chris through trying times – and optimism is certainly something they're promoting at their tongue-in-cheek site 'Pocket Optimism'  – www.pocketbar.com.au/optimism.