Bartender Magazine Most Influential Party from mediasauce on Vimeo.
Melbourne bar operator Vernon Chalker tops Bartender magazine's Most Influential List in association with Diageo's Alchemy
Leaders of the Australian bar industry gathered at Melbourne's Match Bar & Grill last night to find out who topped the list in Bartender magazine's inaugural Most Influential List in association with Diageo's Alchemy. Melbourne's most flamboyant and dedicated bar operator, Vernon Chalker, owner of the the iconic Gin Palace, and co-owner of Madame Brussels and Collins Quarter took the number one spot, with Sydney's most famous hotelier and the brains behind Ivy and establishment, Justin Hemmes, taking second place.
The Most Influential List is a celebration of the Australian bar industry by Bartender magazine and was presented in association with Diageo's Alchemy. In November, Bartender magazine and 4bars.com.au announced the Top 50 Most Influential Bar Personalities based on hundreds of online trade votes from around the country. The list included people from all walks of the Australian bar industry including owners, designers, bartenders, brand managers, writers and trainers; anyone involved in the Australian industry. Click here to see the Top 50.
ADVERTISEMENT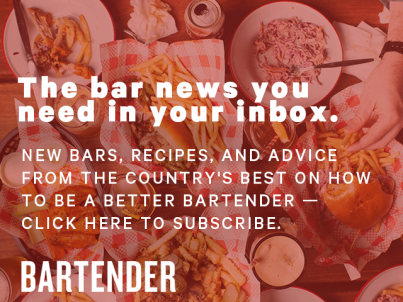 &nbsp
Last night, the Top 50, as well as their friends and work colleagues and of course the 'Melbourne Massive' gathered at Match Bar & Grill to find out who made the Top Ten. The list (which you can read in full below) includes bar owners, bar managers, trainers and consultants and is a great collection of people who have helped to shape the Australian bar industry over the last decade. They are far and away some of the most passionate people in the bar industry including the likes of; Phil Bayly, tequila aficionado and owner of Café Pacifico; Alex Ross, former owner of iconic cocktail bar Ginger and the only female on the list; and Maurice Terzini, who brought Melbourne charm north of the border with his iconic venues Icebergs and North Bondi Italian Food.
Bartender magazine Publisher, David Spanton, said of the event: "We think this a great new initiative that really rewards those people who help make the bartending and hospitality industry a great place to be."
Make sure you're following 4bars.com.au to check out the video footage  from the event and click here to see the gallery.
The Top Ten
Vernon Chalker, Gin Palace, Madame Brussels, Collins Quarter, Melbourne
Justin Hemmes, Merivale Group – Ivy, Establishment, Sydney
Jason Crawley, Mixxit Programme, Sydney
Phil Bayly, Café Pacifico, Sydney
Sven Almenning, Behind Bars, Sydney
Fraser Short, Keystone Hospitality, Sydney
Sebastian Reaburn, 1806 and Mixology Management, Melbourne
Maurice Terzini, Icebergs, North Bondi Italian Food and Giuseppe Arnaldo & Sons, Sydney & Melbourne
Alex Ross, Match Bar & Grill and Ginger, Melbourne
Michael Delany, Honkytonks, Sorry Grandma! & Third Class, Melbourne