Jim Meehan, co-owner of New York's worst kept secret – the speak-easy style cocktail bar Please Don't Tell – lays it on the table at Sydney BarShow 09
Interview by Simon McGoram
ADVERTISEMENT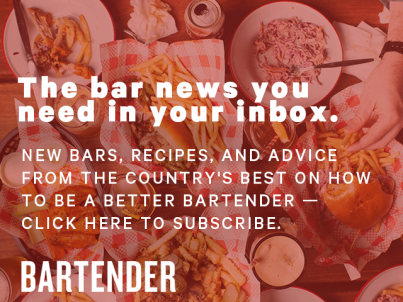 &nbsp
What are your first impressions of the Australian bar scene (albeit over the hectic schedule of Sydney BarShow Week)?
"Well I mean for me, I've been to London Bar Show, I just did Paris Bar Show, I've done Tales and New York Bar Show and as a show this reminds me a lot of London and as a scene – I just think it's incredible… there's a bunch of really talented Australian bartenders in New York so I obviously knew that there was a culture here.
But if I look back on this experience there was a drink that I had a Hugos Bar Pizza – it was a Beefeater 24 Gimlet with house-made lime cordial and an Amer Bière and lavender tincture – it was just beautiful. I've been very impressed with the bar scene and the level of what's going on over here. It's been great."
So can you tell us the story behind Please Don't Tell?
"I think if anything that it's been thrilling to see the interest that we've gotten, but I firmly believe that the bar will better tomorrow and next week than it is now…"
"Well PDT I opened as a consultant. At the time I was working at Pegu and Gramercy Tavern. You got numerous consulting opportunities working at Pegu most of which I turned down, but this was a little bit too good to be true. It was a bar located just a 10 minute walk from my house, it was a space that I walked into and fell in love as soon as I saw it…
At the time, I mean the cocktail scene in New York has just grown really exponentially throughout the course of the last few years. When there was just Milk & Honey, no-one left, no-one went out to train. When Flatiron opened same thing – no-one left because there were only two cocktail bars. Once Pegu opened Audrey was the first person to sort of hire and train staff that then went out to train other bartenders. And what we've seen since the opening staff left Pegu is the scene – instead of growing in addition – growing exponentially.
When PDT opened it was the beginning of the sort of tipping point in the city. That being said when we opened there still wasn't a ton of cocktail bartenders around to hire.
I think with PDT we've grown. We opened up with butcher's aprons, T-shirts and a 12 drink menu and just evolved and evolved and that's had to do with the people I've been working with and just a lot of things. It's and organic process.
I think if anything that it's been thrilling to see the interest that we've gotten, but I firmly believe that the bar will better tomorrow and next week than it is now…
So I'm enjoying staying involved not moving on to the next process – not opening two more bars and really trying to make this bar as good as it can be."
Well that might answer this question which is: What's next? Are there plans for other PDT styled bars?
"I think that Crif Dogs and PDT are such a great concept. I don't think we really understood what we were doing when we opened. I mean it was as simple as there was a space available next door and the hotdog stand had a liquor license. Let's open a bar… Serving deep fried hotdogs on a plastic plate next to sophisticated 13 dollar cocktails – that sort of balance between something that's simple and fun and something that is a little more serious, but understated – has been a great concept for us. But as far as moving forward goes it's a lot easier to open another hotdog stand than to open another PDT.
"Serving deep fried hotdogs on a plastic plate next to sophisticated 13 dollar cocktails… has been a great concept for us."
I take my hat of to Sasha and Jonathan Downey and all the people that have found a way to open up numerous cocktails bars, but sadly enough one cocktail bar equals one giant headache and two cocktail bars equals twice as giant a headache as the first one.
It is truly one of those things where I have to go to the bar everyday. There's always a trip to some specialty store, the green market or my distributor is out of something so I have to go bring a bottle from home or go to the store. So I'm not rushing to open my next place."
PDT is often referred to as a 'speakeasy style bar'. What exactly does this mean?
"That's a great question. When we first opened – basically in the East Village of New York the community board has stopped approving liquor licenses – there's a freeze on liquor licenses. The hotdog stand had a liquor license. The owner built a bar next to it and found a creative legal way to extend his liquor license from the hotdog stand into the bar. That being said there is a separate door to PDT, but if we'd used the separate door we wouldn't have been able to use that liquor license. So the phone booth entrance is really a sort of extension of Brian's twisted sense of humour. The way the bar came about wasn't us consciously thinking hey let's open a speakeasy – it came about because we wanted to utilise this space as a bar.
For the first few months people kept saying you guys are a speakeasy and I'm thinking to myself no, we're not a speakeasy. A speakeasy is an illegal bar that serves crappy bathtub-gin based cocktails and that's not what we are. But I came to a point where I realised that identity is equal parts what you think you are and what other people think of you. So OK we are a speakeasy, but we're a modern speakeasy. So a modern speakeasy could be characterised as a place that's quiet, a lot of the 'speakeasies' in New York take reservations, there's certainly a throw back to classic cocktails, there's a style to the place, and there's a soundtrack to the place. What we've stumbled upon was a tipping point, at least from a concept standpoint in… really in the world."
Now you picked up a couple of gongs at this year's Tales of the Cocktail in New Orleans for Best American Bartender and World's Best Cocktail Bar for PDT. How did that feel?
"To be honest? I now get more shit from my friends than ever before. So now I walk into a bar and they go "Oh! It's the greatest bartender in the world!" and I'm like I was the bartender of the year it doesn't even mean that I was the best at anything. Based on who I am… it's crazy!
You know when someone says that you are running the best cocktail bar in the world or that you are, among the other bartenders that were nominated, the bartender of the year in America that 45 minutes on stage at Tales of the Cocktail, besides from my wedding and a few other moments… It's incredibly gratifying to have worked hard and be recognised for what you do.
That being said, it comes with a price and the price is to go back and… I think one of the worst things you can ever do is read your own press and believe what other people are saying about you. So it's flattering when someone says it, but you can't believe it and if anything you need to go home and try to live up to it. So I don't spend too much time trying to be the best bartender in America or run the best cocktail bar in the world.
But that being said… it was nice."
What is it exactly that you look for in a bar when you're out on the town?
"I think that if I went into every bar and ordered a Martinez then I would be an asshole. So I think that the first thing that I do when I walk into a bar is try to pick up on what the concept is and what these guys are going for.
I think that service is incredibly important; people being friendly, people being attentive. I can tolerate bad cocktails all night long if the service is good.
I look to let people sort of show me as a customer what they're doing as opposed to trying to impose what I want from that bar."