Chris Hysted
VENUE: Black Pearl
ADDRESS: 304 Brunswick St, Fitzroy
PHONE: (03) 9417 0455
Career:

How long have you been bartending?
Just over two and a half years.

Where have you worked previously?
Yering Station Winery in the Yarra Valley… and Video Ezy Healesville! Oh and a brief weekend stint at The Beresford with the boys!
ADVERTISEMENT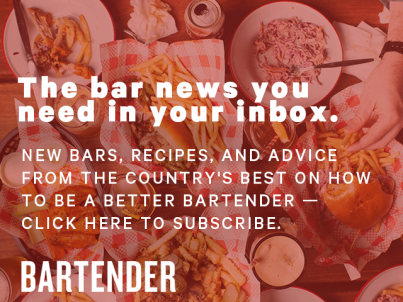 &nbsp
What is your proudest moment behind the bar?
Without doubt winning Bartender of the Year this year. It's extremely humbling considering everyone else who competed.
And most embarrassing?
Being in the presence of Greg Sanderson's shake in the middle of service.
Favourites:
What's been your favourite bar to work in?
Hmmm Black Pearl…?

What's your favourite bar gadget?
My Chat. That and our "Don't be a Dick" Red Card we use to cut off our closest of regulars!

What's your favourite movie?
Fight Club
What's your favourite song? At the moment?
Scumbag Blues – Them Crooked Vultures
Do you have a favourite joke? How does it go?
Q: How do you kill a circus?
A: Go straight for the juggler!
Drink:

What is your favourite product to work with at the moment and why?
Sloe Gin! Come summertime the flavours and natural tartness you get from it make it my favourite ingredient. That and banana liqueur of course.
What products do you think will be hot over the coming year?
Really excited to see how Applejack goes this year, especially with the onset of summer I can see some really exciting (and classically styled) cocktails making a presence on lists.

What do you drink to… Quench your thirst?
Cider. More often than not topped up with a wee bit of Bourbon.

…Impress a lady?
Bourbon charged with Cider.

…Unwind after a long shift?
Probably a Stonefence…
If you could have a drink with one person (alive or dead) who would it be and why?
My Grandpa Bob – from what I've heard we would've got along like a house on fire.
Can you tell us some of your favourite bars to visit?
Sweatshop, 1806, Bar Flavour @ Club  85, Hugos Bar Pizza. I was also introduced to the Victoria Room this BarShow and that would have to be one of my new favourites!
Finish this sentence: I think blue drinks are… now socially acceptable again thanks to the hard work of fellas like Jason Williams and Adi Ruiz.
Other Stuff:
Can you juggle, perform any magic tricks or have any other unusual talents?
Facebook Hi-Jacking. Actually Nathan Beasley could be just plain strange. That and I also play pretty mean air guitar.
What was the last book you bought?
Does the October edition of Rolling Stone count?
Hypothetical situation: If you were are super model and made the finals for Miss Universe what would your cause be?
The Ron Burgundy Memorial Society for the Resurrection of the Sleazy Moustache.
If you were to be something other than a bartender, what would it be and why?
More than likely doing something design based. You know, putting that degree of mine to good use!