The big, bad vodka kid on the block
By Simon McGoram
ADVERTISEMENT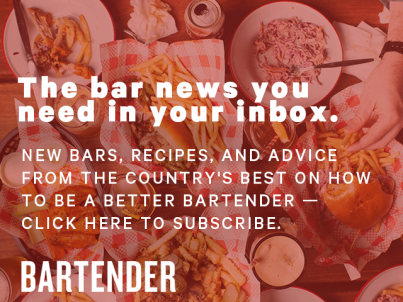 &nbsp
Photography by Rob Palmer
In the grand scheme of things vodka has really only graced the Western palate in more modern times. Sure the clear stuff was around, but it really wasn't until the 1940s and '50s that the stuff really took hold in the US.
Unfortunately for vodka this late start means that there are relatively few vodka cocktails that we really deem as 'classics'. Sure there are drinks like the Flame of Love Martini, The Bloody Mary of course, the Cosmopolitan has definitely earned its stripes too and then there are simple mixed drinks like the Big Lebowski's favourite tipple the White Russian.
While these are all great drinks we should really have a huge number of standout classics of the vodka persuasion, especially due to the spirits mix-ability. Unfortunately it is exactly this versatility that has seen mixed vodka tipples come and go the ones that stick around have captured the imagination of a generation (like the Cosmopolitan) or have weight added to them with a decent back story  (The Flame of Love Martini) and then there's nothing that beats a memorable name (the Bloody Mary and the White Russian).
When it comes to the mix being presented in this issue we're lucky enough to have a combination of both name and narrative explained directly from the drink's creator Kevin Armstrong; a mixologist of note from the Match Bar Group. The drink was served up by the team at Match Bar & Grill, Melbourne only last month at the Most Influential List party and it went down a treat. Here's what Mr Armstrong has to say:
"As for the East 8 Hold Up; it's got a slightly interesting if not a little silly story behind it.
The first aim was to put some cocktails on a new Milk & Honey menu that stylistically were served in a more traditional way but actually had real consumer appeal. All the previous menu writers had written old school menus just for the sake of it and lots of the drinks just never sold and just weren't very good. The world needs more good vodka cocktails and clearly it was a good move because they sell loads of them!
Secondly, and the best bit, is how it got its name. I've lived in E8 for ages and when I moved there it was rough as nuts so hold ups were pretty frequent, however, Sam Jeveons and I went out one night and I was heading home in a different direction so dropped him off in a taxi. He was walking through towards Hackney and stopped off to take a leak. He dropped his trousers and whilst pissing this guy came up behind him, stepped on his trousers (which were down by his feet) and told him to hand over his wallet. It was also the beginnings of something we now know as the Hackney reach-around! Essentially though, Sam ended up chasing this guy down the street, trousers around his ankles and his belt wrapped round his fist. Premium funny and also a vintage East 8 Hold Up. Hence the name."
East 8 Hold Up
40ml Ketel One Vodka
20ml Pineapple juice
15ml Aperol
15ml Sugar
15ml Lime juice
5ml Passionfruit syrup
Step One: Squeeze some lime juice and add it to your shaker
Step Two: Add your sugar syrup and passionfruit syrup
Step Three: Add the pineapple juice
Step Four: Add Aperol
Step Five: Add the vodka
Step Six: Add ice and shake "as though seven demons were goading you to it."
Step Seven: Strain into and ice filled Old Fashioned glass and garnish with pineapple and a lime wedge.
To see the cocktail presented by Hamish McShane from the Bayswater Brasserie, check out the January 2010 issue of Bartender magazine. To subscribe, click here.