The theatre, the dancing girls and a dash of cold blooded murder
By Simon McGoram
Photography by Rob Palmer
I've always been a fan of a good story and of a good gin drink too. The Florodora (often spelt misspelt in bar books as the 'Floradora') is a great marriage of both these wonderful things and so is not to be passed up in these pages. Here's how the story goes:
ADVERTISEMENT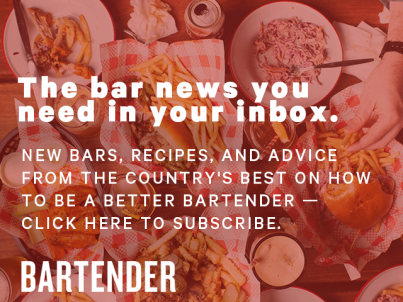 &nbsp
Once upon a time society ladies loved nothing more than for a skilled barkeep to apply his attentions to the creation of a new beverage for their imbibing pleasure. More oft than not these tipicular fixin's would be named after something that garnered the lady's interest such as a popular Broadway show.
One such show was Florodora which according to Eric Felton's How's Your Drink was a "comic trifle" that was imported from London to New York in 1900. While maybe not particularly high-brow, the piece was enlivened by the addition of some fresh faced dancing girls known as the Florodora Sextette.
"The Florodora girls did well for themselves" explains Felton, "establishing a chorine career path – marrying the millionaires – that was to become a stock theatrical gag."
Perhaps the most beautiful of the lot – one Evelyn Nesbit – eventually married the heir to the Pittsburgh coal fortune, Harry Kendall Thaw.
"It was a marriage that would lead to murder" Felton ominously informs us.
During Florodora's run on Broadway the teenage Nesbit attracted the nefarious attentions of one Stanford White – perhaps New York's most famous architect of the time having designed mansions for the likes of the Vanderbilts and the grand public works like the Madison Square Garden.
"White had a particular taste for young show girls, and a kinky Belle-Epoque notion of a good time: In his towering Madison Square Garden aerie, he would sit a naked Nesbit on a red velvet swing and watch her glide through the air" writes Felton.
A few years later and Nesbit is married to Thaw. He is, of course, none too happy to learn of the young Nesbit's naïve frolics. On the evening of June 25, 1906, Mr. and Mrs. Thaw attend a performance of Mamzelle Champagne at Madison Square Garden's rooftop theatre. Spotting that White is at the performance too, they get up to leave. As Mr. Thaw passes White, however, he promptly pulls out a revolver and puts a bullet through White's eye.
The event is the 20th century's first 'crime of the century' and sensational trial follows with Thaw managing to succeed in his pleading for derangement doing a stint at the State Hospital for the Criminally Insane like a villain out of a Batman comic.
Well, as alcoholic beverages often do, The Florodora survived the scandal and was perhaps even strengthened by this sordid tale being widely available over bar counters for the next 50 years.
As for the drink itself: If raspberries are at a premium try to by a pack of frozen berries to make your syrup. Cover the berries in castor sugar and leave over night. Add half the amount of water as sugar to the mix gently and gently heat till fully dissolved. Strain, allow to cool then bottle. Too much work? A good raspberry liqueur – a framboise – may be substituted in a cinch.
We've gone for really spicy ginger beer for this one, but if you like it tame throw in traditional ginger ale instead.
The Florodora
45ml Hendrick's Gin
20ml Raspberry Syrup
15ml Lime juice
Fever Tree Ginger Beer top
Step One: Freshly squeeze your lime juice and add it to your shaker
Step Two: Add your home made raspberry syrup
Step Three: Add your gin
Step Four: Add ice and shake briskly
Step Five: Strain into an ice filled highball
Step Six: Top with ginger ale
Step Seven: Stir gently and garnish with fresh raspberries and a lime wedge
To see this cocktail presented by Pierre Faljoun from Ivy, check out the December '09 issue of Bartender Magazine. Click here to subscribe.