229 Darlinghurst Road
Darlinghurst, Sydney
www.eaudevie.com.au
Well it's here and it's making waves: Eau-De-Vie, the bar by the dynamic Behind Bars duo – Sven and Amber Almenning, has already been subject to rave consumer reviews – and you thought it would just be an industry bar!
Eau-De-Vie tucked away at the back of the Kirketon Hotel on Darlinghurst road isn't the sort of gin joint you'd stumble across by chance – I'm going to avoid throwing terms like 'underground' and 'speakeasy' at it because these folks won't be flying below the radar. And there's a few of reasons for this: Namely they serve superlative cocktails and great bar food they also have a cracking team delivering stellar service. Finally – and I'm not going to say décor, the amazing range of liquor nor the antique cocktail shakers, glassware and other bar paraphernalia (though this is all dandy too) – what is most striking about this venue is something that the majority of bars in Sydney lack: A bar that you can sit at and engage in good old fashioned conversation with the barkeeps while they mix fine concoctions by skillful manipulation of jigger, beaker and flask.
ADVERTISEMENT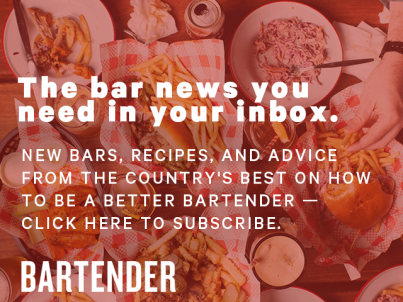 &nbsp
This lack of seating in proximity to the bar is perhaps endemic of the lack of 'small bars' Sydney has on offer, but it has lead to culture where it is almost impossible to have a drink by yourself or strike up a conversation with a fellow cocktail imbibing punter. Most bars have their patrons neatly partitioned as far from bar as possible. Not so Eau De Vie where the bar is king – you couldn't escape it if you tried.
If you do visit plan on staying for a while as the team lead by Barry Chalmers (Ex- The Bowery and Sky Room, Brisbane and the Theme magazine UK Bartender of the Year in 2005) is top notch including Elle Wormald from Tokonoma, Max Greco from Bayswater Brasserie, Phil Gandevia from Victoria Room and Barry's countryman Calum Lawrie from Edinburgh.
Highlights from the cocktail menu include: The Smoky Rob Roy, which is a mix of Talisker and Lagavulin Scotch whiskies, sweet vermouth and cigar infused Zacapa 23, finished with a mist of Laphroaig quartercask and a bourbon infused cherry; and their signature Dark'n'Stormy made with Havana Club Especial, a proprietary spiced rum mix, house-made ginger beer and "other secret ingredients". Make sure you check out the "Cocktails for Sharing" section too which includes "The Lady's Leg Cosmopolitan" served in a Ketel One Citroen with home-made cranberry sorbet and Grand Marnier that's served in a  Lady's Leg Cocktail Shaker from the 1930s.
On the culinary side of things, Eau-De-Vie offers a small menu mezze style plates including jamon, buffalo mozzarella and dips by Leigh Laird, formerly of Pyrmont's Flying Fish. Food certainly isn't the main focus of the venue but the offerings will keep you imbibing cocktails well into the night.