A magical little number from the Savoy's godmother of bartending
By Simon McGoram
Photography by Rob Palmer
Bars come and go: Hospitality has ever been a fickle industry. London's iconic Savoy Hotel, however, and the American Bar along with it (as it was christened 1893) has stood the test of time.
ADVERTISEMENT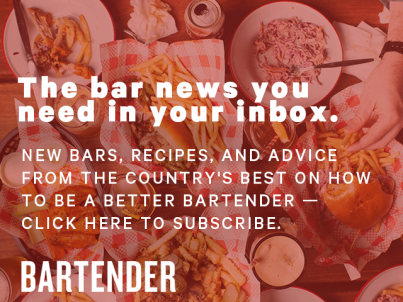 &nbsp
If you are a bit of a cocktail enthusiast too you have no doubt heard of Harry Craddock's The Savoy Cocktail Book – one of the greatest collections of drinks receipts of all time. Craddock, an American, fled Prohibition in 1920 to take up his craft in London at the Savoy Hotel. The book, first published in 1930, has inducted Craddock and indeed the American Bar into the cocktailian hall of fame, but not all the recipes in this work were created by Craddock – far from it.
Whilst many were borrowed from the great bars, hotels and clubs from around the world a small few also owe their conception to one Ada Coleman or 'Coley' as she was know. Coley was a female star in a world of male bartenders and was in no small part responsible for the American Bar's rise to fame during the first quarter of the 20th Century. Appointed as bartender in 1903, Coley eventually made head bartender and certainly was so by the time Craddock turned up in 1920. For five years Craddock was forced to remain in anonymity dispensing drinks from the back service bar whilst Ada remained the public face.
During her time at the American Bar, Coley made cocktails for the likes of Mark Twain, the Prince of Wales, Prince Wilhelm of Sweden, and Sir Charles Hawtrey. It was for Sir Hawtrey (the actor and playwright who was mentor to the great Noel Coward) that Coleman invented a beverage going by the name Hanky Panky.
Before you get too excited about the racy name, keep in mind that in Edwardian England the term 'hanky panky' didn't have the same libidinous connotations as it has today, but was rather used to describe black magic or an evil trick. The term comes from the Romani (Gypsy) term 'hakk'ni panki' meaning "the great trick" and is similarly linked to another familiar term 'hocus pocus'.
Luckily for us Gaz Regan has long been a fan of the Hanky Panky and some years ago Gaz and Mardee Haidin Reagan dug up this little gem from England's The People newspaper from 1925. In this piece Coley herself explains the drinks creation and christening:
"The late Charles Hawtrey … was one of the best judges of cocktails that I knew. Some years ago, when he was overworking, he used to come into the bar and say, 'Coley, I am tired. Give me something with a bit of punch in it.' It was for him that I spent hours experimenting until I had invented a new cocktail. The next time he came in, I told him I had a new drink for him. He sipped it, and, draining the glass, he said, 'By Jove! That is the real hanky-panky!' And Hanky-Panky it has been called ever since."
Hanky Panky
45ml Beefeater 24 Gin
45ml Punt e Mes (sweet vermouth)
2 dashes Fernet Branca
Orange Peel
Step One: Add your sweet vermouth
Step Two: Add your gin
Step Three: Add two dashes of Fernet Branca
Step Four: Add ice
Step Five: Stir until diluted
Step Six: Strain into a chilled coupette
Step Seven: Garnish with an orange twist
This cocktail featured in the February 2010 issue of Bartender Magazine. The drink was presented by Natalie Ng from Café Pacifico in Sydney