The Magnetic Man
Insight into why success is attracted to Melbourne's most affable bar operator – Vernon Chalker
ADVERTISEMENT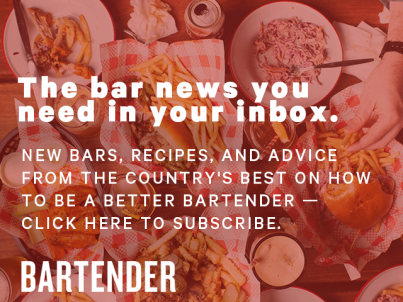 &nbsp
Interview by Simon McGoram
Selected photography by Dave McKelvey
After snaring Operator of the Year (multiple venues) at the Australian Bar Awards in September 2009 and then snatching the top spot in the inaugural Most Influential List in December, Bartender mag saw fit to catch up with this leading Aussie bar industry personality to search for the secret behind his success.
When did you start off in the hospitality industry?
"In 1982, I moved from my hometown of Nathalia in Northern Victoria. I was 18 years old, and I started work as a banquet waiter at The Wentworth Melbourne Hotel (now Sofitel) in Collins Street."
What inspired you to open Gin Palace in 1997?
"I started a catering company in 1991 that operated the café at the Malthouse Theatre.  When the liquor licence laws changed during that decade the opportunity arose to open a business where the focus could be solely on drinks without food.  My idea was to provide service like a restaurant, rather than expecting guests to go to the bar and order drinks. Of course I wanted it to be sexy and luxurious too.  And I wanted to build a fabulous stock of spirits, Champagne and old Aussie reds.  We currently have over 40 brands of gin."
What is it about Gin Palace that has made it go the distance?
"I think we are still here because we have stuck to the original vision. I appeals to all generations. I always wanted Gin Palace to feel like it had already been there 100 years.  Our younger clientele, no doubt, would consider us very old school, but in a nice way.  Our long time regulars want the atmosphere to feel familiar and remind them of the fun they have had sipping Martinis over the years."
When did you start working on Madame Brussels?
"It was around March 2005 – the State Government has just announced that smoking will be banned in bars from July 2007.  I knew Gin Palace would be affected (our sales actually dropped 20% when the ban was introduced) and I felt the time was right to source a rooftop.  Most advice on retail would warn against such a location, no street visibility, three floors up etc, but we thought we could come up with a sexy enough product that would attract people via word of mouth.  Not too different to laneway bars really."
What had you learnt from Gin Palace that you were able to apply to this venue?
"I learned how to run a business properly, and comply with the myriad of regulations that businesses are confronted with.  I also learned how to build a great team. It is everything in hospitality to have a happy hard working team who understand and enjoy the vision of the venue."
What about Collins Quarter? How did that project come about?
"I was approached by the owner of The Courtyard Tavern.  He wanted to take on a partner to renovate and re-brand.  This included building a new building on the back of the Collins Street site. It was a great experience working with the architects and builders, and see it all come to fruition. It fits the laneway/tucked away allure enhanced by a golden location at the so called 'Paris End' of Collins Street."
Have you had any mentors over the years that have influenced your career?
"My Aunty Jenny has helped me with invaluable advice on how to run a hospitality business back of house.  She was the financial controller of a hotel group for over 20 years. Creatively, my collaborations with architect Michael A. R. Anderson have been amazing.  He designed Gin Palace and is my business partner at Madame Brussels. The many intelligent and talented collaborators I have worked with over the years, including all my past and present business partners, are a great inspiration.'
Tell us a little bit about the stellar staff you've had working for you over the years.
"When I opened Gin Palace, I thought I knew how to make drinks. I loved making Martinis, but I soon realised that, although through research I knew a lot about drinks, I knew very little about bartending. On opening night I had Murray Pitman behind the bar with a small crew. Most had trained in the UK where cocktails were making a comeback in a big way. I was working the floor and there I stayed. 12 years on and Murray and I are in business together catering at The Malthouse.  With Murray in the top job for so long (11 years) I had a great many talented people come and go wanting his job or, more outrageously, my job. They aspired to manage venues or own their own, and many have gone on to achieve this goal.
My greatest joy is working with those who have come back after working in exciting jobs all over the world. Ellen Turner who worked for five years at Gin Palace is managing Collins Quarter after five years away including a three year stint opening and managing The Glamour Bar in Shanghai. Ben Luzza is now general manager of Gin Palace after working two stints as a bartender/supervisor in between travelling and working in London and then managing Madame Brussels for three years.
Anyone who has met Miss Pearls (she embodies the very spirit of Madame Brussels) never forgets her. Without her in my life the question 'Who is Madame Brussels?' would have little meaning. I have a magnificent management team running all venues. Some have made a name for themselves already and some are soon to; Carly Haren, Estelle Guthrie, Nick Harris, Bec Dunn, Tom Scott and Sean Hastings (who has come on board to manage The Order of Melbourne).
The list of great people I have worked with is very long; Ben Wild worked at Gin Palace for years then helped me set up three new venues, Kane Daniel frustrates me with his knowledge and perfectionism and Sebastian Reaburn taught me about The Negroni. Many others inspired me over the years and have gone on to do great things. Some were touched by the 'Gin Palace Magic'."
Has the Melbourne industry changed dramatically since you opened Gin Palace? What is the most striking difference?
"I think the small bar industry is more professional now.  Bartenders can work in this industry and see it as a real career. When I started work as a waiter, my mother wasn't too impressed. Now she keeps a scrapbook. The industry has healthy competition and is loads of fun."
What would you say has been the most memorable moment for you over your career?
"Gin Palace 10th birthday party."
What do you love about the bar industry?
"The people and the drinks!"
Is there anything about the industry that grinds your gears?
"Flair bartending!"
How did it feel to be recognised as number one on the Most Influential List?
"I didn't know it was coming. The best thing was the energy the award created amongst my management team and staff. We are proud of the award, and also know how to have fun celebrating it."
Do you have any advice for budding bar operators?
"It's hard work. Remember, you are a business operator first and you have an obligation to provide secure employment for your staff. Start with a vision that pleases you; therefore, only open a bar that you would want to go to yourself. Strive to be the best at what you do without the need to say it. Respect the team and reward them. Finally; question the need for elderflower cordial."