One of the aspects of Sydney bar culture that we should really be celebrating is its growing diversity. Many attribute this to legislative changes like the new 'small bar license' and 'Primary Service Authority'. Personally I'd like to think that Sydney's (and indeed Australia's) drinkers are reaching a new stage of enlightenment. Drinkers are driving change by demanding a new breed of bar.
"I'd like to think that Sydney's (and indeed Australia's) drinkers are reaching a new stage of enlightenment."
Bars don't need to be all about flashing lights, bells and whistles. Plasma screens, the TAB and gaming machines while undoubtedly part of 'blokey' Aussie drinking culture don't need to be in every venue and that's what Parched March is proving to me. Sydney's scene is something we should increasingly be proud of. It's a major contributing factor to why I live here in the first place.
I've certainly been enjoying my month of celebrating the city's bar scene so far by visiting 18 different bars in 15 days. Some of these visits have been a fleeting and flirtatious affair – like my visit to Eau-De-Vie in Darlinghurst last Monday. (Don't worry Eau-De-Vie I'll be back this Wednesday night with Ms. Parched March herself – Amy Cooper – for a proper visit.
Here's Max Greco whipping me up a Dark 'n' Stormy with Eau-De-Vie's house spiced rum and their zingy house made ginger beer:
ADVERTISEMENT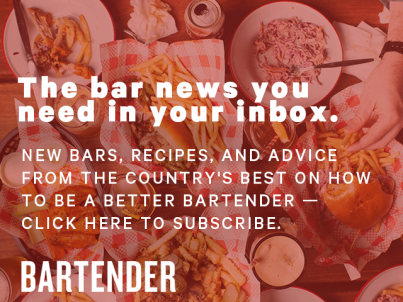 &nbsp
Some of my visits have been less fleeting like this one to The Lincoln later on this same evening. The Lincoln on Bayswater Road in Kings Cross was celebrating their third birthday in style showing off  their new cocktail list at the same time. The real pick of the bunch that night for me was the Blackthorn Cocktail a mix of sloe gin, sweet and dry vermouth, orange and Angostura bitters. Jean Munos (pictured below and centre) is The Lincoln's new bar manger and has rescued this one from the cocktail doldrums.
There were industry folk abound at the bash and even the DJs – Tim and Nick from the Tim & Nick Show – are old industry hands.
From two swank cocktail lounges on Monday night – Wednesday saw visit to an old favourite Sydney Pub: The East Sydney. This is a pub folks – a real pub. No stainless steel or aluminum joinery in sight. No pokies and no plasma screens. Every surface of the place tells a tale – from faded old liquor advertising to the worn wooden bar marking the passage of patrons elbows and countless schooners that have been rested upon it.
Sat at the bar, it is a joy to be able to order Guinness or Cooper's Sparkling on tap. As a little quirk of this venue you can also order Underberg Bitters (it's the only bar in Sydney where I've seen it) – an extremely bitter 'stomach bitters' that gives Fernet Branca a good run for its money.
Woolloomooloo has another joint not dissimilar to this place that I also hope I get to visit over the course of the month: The Old Fitzroy.  Sure this joint sells a cracking Laksa and has a wee independent theatre attached, but the similarity is not in terms of their offering, but in their philosophy: To celebrate diversity and break the mold of those kit-set hotels that still make up more than their fair share of Sydney venues.
Well that's all from me for now. Any more talk of drink will make me thirsty and I'm having a day off. Tuesday evening for me will feature The Beresford Hotel and Emmilou Lounge and Tapas Bar.
And remember don't be parched! After all it's March.
Visit the Parched March Facebook page here and donate to Amy's charity PetRescue.