By Amy Cooper
I'm over halfway through the Parched March odyssey now, and people often ask me how I feel. Answer: wonderful!
While it's certainly an amazing journey, 30 Bars in 30 Days is a goal easily achieved within a healthy, balanced lifestyle. We've been averaging two bars on our nights out, eating well on the way and during the day I've found my energy for exercise – yoga, running, dog walking and swimming – has remained undiminished.
Balance and variety is the way to go and speaking of which, we've found plenty to keep us fascinated as we travel around Sydney's bars.
ADVERTISEMENT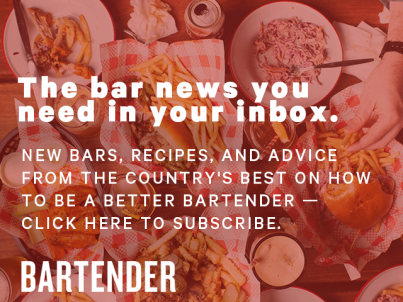 &nbsp
I really like Simon's point in his last blog entry here about Sydney drinkers becoming increasingly enlightened. It's true. We've met some interesting and informed characters in front of – as well as behind – the bars. A city's bar landscape is shaped by its drinkers as well as its venues and the typical Sydney bar customer is an engaging, increasingly educated creature – a far cry from the sozzled minority who make such sensational fodder for the anti-alcohol scaremongers.
"The typical Sydney bar customer is an engaging, increasingly educated creature – a far cry from the sozzled minority who make such sensational fodder for the anti-alcohol scaremongers."
MANLY
I love to combine the harbour with great bars, especially on a fine, sunny afternoon, and luckily Parched March sponsor Stuart Gregor and his team at Liquid Ideas agree.
To transport us to Manly, Stu enlists his best-kept secret: a water taxi helmed by a man known only as Don, who keeps an esky filled with cold beers and bubbles for his favourite customers.  Don whisks Stu, me, Stu's right-hand woman Jeanine and our guests Kate and Sally from Events NSW from the Commissioner's Steps at Circular Quay to Manly Wharf in suitable Parched March style – with a tipple to put us in the mood.
Manly Wine is the latest from Keystone's Gazebo family and has all the traits – a little taxidermy here, a lot of whimsical art there and the same extensive range of wines by the glass. All with ocean views and a beach vibe complete with colourful regular in a flowery sunhat. Our posse toasts our arrival on the north side with a delicious bottle of Dom Ruinart Blanc de Blancs.  The combination of bubbles and blue, blue sea is heady. Manly is Sydney in holiday mood and it makes us very happy.
Just a short stroll and we've moved from beach to Bavaria. Warm weather calls for a long, cold bier and they don't get much longer than those on the menu at Bavarian Bier Cafe at Manly wharf.  Mine's a Paulaner Premium Pils, a pale gold, crisp, dry drop made for sunny afternoons and sausage snacks.
Bier meister Reid Green talks us into a game of Schnapps Roulette and out comes a metre of Schnapps with traditional cowbell accompaniment. All but one of the drinks are butterscotch Schnapps. The drinker who doesn't get the butterscotch is considered the loser. We decide that the only point of this game is that it's fun.
Next door is Hugos Manly the sandy-footed sister of Hugos Kings Cross. With its timber lounges and cushions this place always feels like a beach house and I'll never forget the launch, when co-owner Dave Evans loaded his Kings Cross regulars on a ferry equipped with DJ and Hugos bar staff (to ease the transition) and shuttled them across the harbour and back. I'm convinced some eastern diehards never actually realised they'd been away.
Dave joins us for jugs of Hugos Punch (Beefeater 24 gin & Massenez Crème de Peche combined with passionfruit, grapefruit, fresh lime & topped with sparkling wine) and a margarita pizza to help soak up the spirits.
Don and his boat arrive but we haven't finished catching up with Dave so we kidnap him, pirate style, and bundle him and a bottle of his Hugos 2009 Pinot Grigio on board. Having plundered Manly and its inhabitants, we set sail for Woolloomooloo, where a surprise awaits.
Pop-up bars tend to live down laneways and in containers and other such grungy places, but here's one right on ritzy Woolloomooloo Wharf, beside the gin palaces and penthouses, at Otto Ristorante.  Otto's The Country Trader pop-up bar is here for a month. Furnished with cool eclectica from TCT's collection, the bar is another expression of TCT owner Geoff Clarke's passion for food, wine and entertaining. He's already known for his hearty dinners and parties at his Waterloo showroom and it seems natural for him to take the show on the road. It also seems natural for our posse to encourage his endeavours, and this chapter of Parched March ends with a beautiful sunset on the wharf, washed down with Campari and sodas.
As pop-up bars aren't permanent, I'm considering them 'bonus bars.' I still need to visit 30 permanent bars in 30 days. With latest additions Low302 and Emmilou (updates on those soon!) I'm at 16. Keep following our daily progress on Facebook here and remember: don't be Parched – it's March!