Photography by Rob Palmer
A Modern Day Classic Tequila Tipple
This month's 'How To' is inspired by the modern classic: Tommy's Margarita. The Tommy's Margarita is a creation by Julio Bermejo considered by many as the world's leading Tequila aficionado and Tequila ambassador to the US. This particular Margarita is one that he started serving in the 1980's at his father's restaurant the legendary Tommy's Restaurant and World's Best Tequila Bar in San Francisco.
Tommy's Restaurant was opened by Tommy Bermejo and his wife Elmy back in 1965. The joint is dedicated to serving authentic Mexican and Yucatecan cuisine, but most importantly it also houses the most extensive collection of 100% agave Tequilas outside of Mexico (nearly 300!). Julio has spent many years behind the stick and apart from his gift of Tequila knowledge to the masses there's also this fine beverage.
ADVERTISEMENT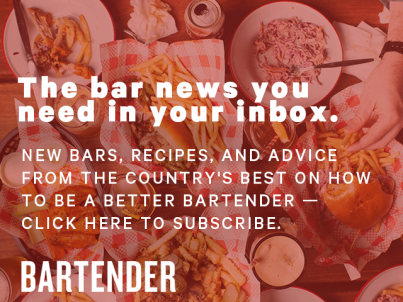 &nbsp
At Tommy's this Margarita is made in a blender, but before you cringe read on! When this drink was invented it was still entirely normal for a Margarita to be ordered as an alcoholic slushy type beverage (and for many this is how it should still be served!), indeed Tommy's still uses blenders to this day in preparation of a Margarita should it be requested. The preparation of the Tommy's Margarita, however, is a little tongue-in-cheek: The ingredients are thrown into the blender jug, but it is then shaken or rolled (using two jugs) instead of being blended. The result is the refreshing Tequila masterpiece that has grown a cult following around the globe.
Mucho Gracias Julio!
Handy Hints
Make sure that you use only the freshest lime juice when preparing this drink. If possible squeeze to order as lime juice can start to oxidise just 20-30 minutes after juicing.
Don't have any agave nectar? It can be found in the health food section at most local supermarkets or at specialist health food stores.
Agave nectar has the consistency of honey. Cut it with sugar syrup to make it easier to pour.
If you want to make it a blender like they do at Tommy's then make sure the lid is water tight or you'll end up wearing it!
You can see Julio making this drink himself courtesy of www.tequilaworld.com.au created by our very own Tequila maestro Phil Bayly.
Tommy's Margarita
Makes 2
120ml Sauza Hornitos or another
100% agave Tequila
90ml Lime juice
(approximately 2 limes)
60ml Agave mix
(50% sugar, 50% agave nectar)
Add your freshly squeezed lime juice to a blender jug. Add agave mix and Tequila. Add ice and put on lid firmly and shake. Pour into two rocks glasses.
Presented by Marko Vujanic
Ivy Pool Club
320/330 George St, Sydney
02 9240 3000
www.merivale .com