Exploring the liquid landscape in the clean and controlled city state

By David Spanton
My first visit to Singapore was a mixed bag to say the least. The trip included some all-time food highlights when I visited the city's street markets to an all-time drinking lowlight when I visited the home of one of the world's most famous classic cocktails.
But before I delve into these visits, let me throw in some facts about this city because I found the local laws and the general set-up pretty damn interesting.
ADVERTISEMENT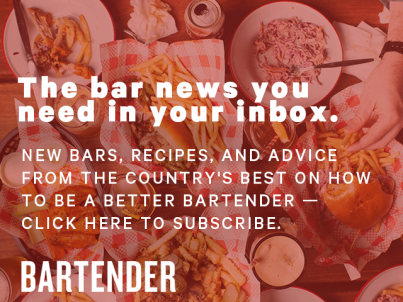 &nbsp
Firstly, this place is small! The whole country could fit into Tasmania three times over and is Asia's second smallest country. The modern history of Singapore starts in the early 1800's when an Englishman called Sir Thomas Raffles was instructed to establish an Asian port for the British Empire and settled on the Island of Singapore. Over the years it grew to become a major city port that has continued to this day. During the late 1960's the country's leading political party the People's Action Party (PAP) commenced a major modernisation programme to deal with poverty and lack of housing. This party has been in power ever since and are revered for turning this small nation around and providing one of the highest standards of living in Asia.
"The whole country could fit into Tasmania three times over and is Asia's second smallest country."
I was fascinated by the political set-up of Singapore. Everything is closely controlled in this town. It's the cleanest place I have ever seen with hard penalties for littering – a world away from the poverty and poor infrastructure of neighbouring Indonesia. The government controls how many cars can be on the road so traffic is kept to a minimum and people are encouraged to use their super efficient and cheap public transport. This comes in handy if you want to shop till you drop as this town is obsessed with shopping! There is literally high-rise building after building full of designer shops. And they all seem to connect above or below ground so you never have to face the 35 degree heat and 100 percent humidity!
I think one of the most interesting laws relates to real estate. The law stipulates that an apartment owned by a Chinese person for example can only be sold to another Chinese person to maintain an equal mix of any one religion or nationality in any one apartment block. This simply wouldn't be possible in an Australian style democracy, but it's interesting to see how the Singaporean government addresses modern city problems like racism, traffic, litter and crime. And while it can certainly claim the mantle of safety and modernity, it unfortunately lacks the personality that a bit of grit and grime can add.
Here are the highlights of my trip that include some fantastic food destinations that you really should explore if you're in town. I would have mentioned more good bars, but in my short time in this town I sadly I didn't find any more worth writing about.
Best Hawker Food: Golden Mile
Beach Road, Kallang
I remembered the Singapore episodes from two of my favourite TV shows – Anthony Bourdain's No Reservations and Bizzare Foods (check out the video below). I clearly remembered Bourdain visiting the Golden Mile Hawker's Centre and eating Sup Tulang, mutton bones (from Australia, I'm told) stewed in a spicy, sweet chilli, tomato sauce. I'm obsessed with weird food especially offal and this dish sounded right up my alley. There is very little meat on the bones so the best way to enjoy this dish is to use a straw to suck out the marrow from the bones while a little bread helps soak up the spicy sauce!
One other thing you have to try is the pure sugar cane juice offered throughout these food centres. These drinks are natural sugar hit and keep the locals going for hours. Makes sure you ask for it with plenty of ice as there is nothing worse than a warm drink in this tropical heat!
As a consequence of the Singaporean obsession with cleanliness and food safety, the government have moved the street food vendors off the street and piled them into these multi level open aired centres so they can be better managed and regulated. As exciting as the food stalls are and as grateful as I am that they adhere to such high food service standards, it does seem a bit of a shame that you can no longer see 'street food' on the 'street' like you can in Thailand, Indonesia and Vietnam.
Sin Huat Eating House
659 Geylang Road, Geylang
This place was recommended to me by Joel, the bartender at Tippling Club who insisted I try their signature dishes; the Fish Head Curry and the Black Pepper Crab. Incidentally, this is also one of Bourdain's 13 Places to Eat Before You Die. So I headed over there at lunchtime to sample their top dishes only to discover that the Fish Head Curry was only available at lunch and the crab only available at night!
I settled in with a few icy cold Tiger beer (their national lager) and ordered up the Fish Head Curry with a little extra spice as encouraged by the lady of the house. What came out could feed at least two people and was truly the most enjoyable curry I have ever tasted. I pride myself on enjoying things on the spicy side but this was hot with a capital H! You know it's hot when the waiter keeps asking you are you ok because you're sweating bullets. But I was in curry heaven enjoying one of my favourite all time food experiences. This place has charm and personality in spades and was rammed with people from local office workers, taxi drivers and the odd out-of-towner, like me. I decided to go for a stroll and head back later for the Black Pepper Crab which was amazing. This place is a must visit if you're in town.
Raffles Long Bar
1 Beach Road, Singapore
I was repeatedly warned not to go to this place, but how can you not pop in and sample such a great little piece of cocktail history. Let's be honest, there aren't that many old school bars still in operation that can lay claim to inventing a true classic cocktail that has stood the test of time.
Sadly this place has completely lost its way and become a tacky tourist destination living off the heritage of their classic drink while at the same time completely abusing it by serving up a mass-produced, sickly-sweet, train-wreck of a beverage. Cocktails are priced generally on the expensive side in Singapore and be prepared to fork out over 30 Aussie dollars to sample this bit of history in a glass. The bartenders work fast sending out tray after tray of Singapore Slings and have them lined up ready for the next unlucky punter while pouring up huge yard glasses of Tiger beer for the blokes in the bar.
"This place has completely lost its way and become a tacky tourist destination living off the heritage of their classic drink…"
Just over 20 years ago they introduced massive bowls of unshelled peanuts that are on all the tables and free for guests. The floor is literally covered with peanut shells like a monkey cage. I'm sure some punters would find this great fun but for me it just looked out of place in this beautiful 1920s plantation styled bar. Add to that the deafening sound of Johnny Farnham's greatest hits blaring from the speakers. Call me old fashioned, but I would prefer to see a place trying to stay true to its classic cocktail bar heritage with a much greater focus on quality drinks, service and atmosphere. How about a pianist or some simple jazz? They have the decor they just need to get rid of all the tacky crap.  Unfortunately, the world is full of loud yard glass swilling themed bars and this is the last thing a beautiful bar like this should have become! How many people would chop off their right arm to operate a bar with half as much history and style as this?
Another example close to home is Sydney's Marble Bar on George Street. I haven't been to the bar for over 12 months, but over the years I have had similar issues with this classic heritage-listed bar. I have never understood why, in the past, the management of such a grand dame of a bar would be so behind promoting flair competitions along with a long list of desperate happy hour focused promotions. It's just out of place and at odds with what makes this place so different and special. Tailoring the experience to be more in line with its appearance seems like the right path, especially considering it has more history than most bars in the country.
Tippling Club
8D Dempsey Road, Singapore
The Tippling Club is the most progressive bar I have ever seen! Set amidst lush rainforest in Dempsey Hills (a strong ex-pat district) this visit was to be a three hour mind-blowing sensory experience. The co-founder is our very own Matt Bax who also owns Der Raum cocktail bar in Richmond, Melbourne, which itself has won every award imaginable for its own drinks creativity and stellar service. Matt's partner in the Tippling Club is former head chef of three hated Melbourne restaurant Vue de Monde, British born and trained Mr Ryan Clift. These close friends have set out to redefine the dinning and drinking experience not only in Singapore, but internationally. These guys really are at the forefront of food and cocktail innovation.
I was lucky enough to be present for their local media presentation of their new drinks menu which ranged from cocktails inspired by jazz kings to MacDonald's. One that caught my eye was the Velvet Fog consisting of Gin, Crème de Violette, Champagne, Citrus and "Floral Violet Fog". Inspired by the flavours of the Blue Moon cocktail of 1917 (yes folks, that one) with their exciting 'flavour fog' technique (which makes use of liquid nitrogen) that rests on top of the drink.
I have nothing, but admiration for this venue, I only hope that Singapore is the right place for it. It's an extremely niche concept they are trying to push and I struggled to see the enthusiasm that you might find in London or New York. I don't see this working as a multi-venue idea and the boys have to be hands on in one venue for this concept to work. I just hope it's getting the support it deserves otherwise pack it up and head home! If you open it up here  I'm sure such talent would be appreciated in Australia.