This fruity number is anything but pedestrian
Photography by Rob Palmer
ADVERTISEMENT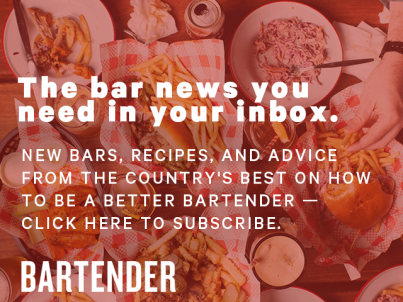 &nbsp
Presented by Dardan Shervashidze
Goldfish
111 Darlinghurst Road, Potts Point, Sydney
02 8354 6666
April's issue of Australian Bartender magazine saw a couple of bartenders submit variations on a superb 'forgotten classic' known as – you guessed it – The Avenue. Well Bartender magazine and 4bars.com.au thought it was high time that we breathe some life back into this concoction and rescue it the cocktail doldrums.
The drink comes from the well-regarded Café Royal Cocktail Book by William Tarling, first printed in 1937. The volume was the unofficial cocktail manual of the United Kingdom Bartenders' Guild (UKBG), who during Prohibition took up where their American counterparts left off. Reproductions of this book are now available online or you can even download electronic copies from websites like www.euvs.org – the French 'Exposition Universelle des Vins et Spiritueux'.
Whilst the book containing the original recipe for The Avenue cocktail isn't too hard to get hold of it is the trio of hard to find ingredients in this drink that are perhaps to blame for its lack of fame. Passionfruit juice, real pomegranate grenadine, and orange flower water are hardly the usual suspects to be found behind any bar.
Autumn, however, is a fantastic time for both passionfruit and pomegranate that for the majority of the year have prohibitive prices. Orange flower water can be found at any half decent deli and is in no danger of going off or out of season. It is the essential ingredient in a Ramos Gin Fizz and its distinctive perfume is worth experimenting with (sparingly) in your own cocktail creations.
If you plan on making your own grenadine try cutting it with some raspberry syrup (which you can make effectively from frozen raspberries – or fresh if money is no object). Pomegranate juice is available in most supermarkets too, but lacks that beautiful tartness and vibrant colour you'll get from the fresh fruit.
For passionfruit juice simply place the seedy pulp from the fruit into a blender. Pulse briefly then strain through a sieve. Once the price of passionfruit goes up again try giving frozen passionfruit pulp a go. Many of these pulps contain little or no sugar making them suitable for this cocktail which is not designed to be overly sweet.
"The Avenue has little ghostly touches of taste that flit across the palate and then disappear." – Paul Clarke, The Cocktail Chronicles
Paul Clarke, a Seattle-based cocktail enthusiast and creator of The Cocktail Chronicles (www.cocktailchronicles.com) gave this baby a whirl some years ago once he finally managed to find passionfruit juice – no mean feat in Seattle I'll wager. Clarke aptly describes the drink's ethereal qualities:
"Instead of a firmly rooted flavor, such as that in a Manhattan or a Martini or most other drinks, the Avenue has little ghostly touches of taste that flit across the palate and then disappear. While drinking it, I try to pin down the flavor in my mind, only to have it slip away like a puff of smoke in a gust of wind."
Before this ghost of cocktails past slips from your mind put aside your neutrona wand (you know that gun from Ghostbusters), pick up some passionfruit and get shaking. You won't be disappointed.
The Avenue
(Recipe adapted from Vintage Spirits and Forgotten Cocktails by Ted Haigh)
30ml Woodford Reserve bourbon whiskey
30ml Calvados
30ml Passionfruit juice
Dash real pomegranate grenadine
Dash orange flower water
Add all ingredients into a cocktail shaker. Add ice and shake briskly. Fine strain into a chilled cocktail glass and garnish with a carnation boutonnière.