Why this hot drink combo needs to be handled with extreme care
By David Spanton
Over the past year I have noticed a resurgence in the popularity of an old school way of enjoying a drink or two. It has even started creeping onto the drinks lists of influential bars nationwide. What I'm referring to is 'The Boilermaker' – is simply a beer served with a shot of your desired spirit.
In an ideal world the spirit is served in a separate glass and sipped responsibly with the beer. But more often the spirit is downed or even dropped into the beer and the two slammed together (as in the American 'bomb' tradition or the Aussie 'Depth Charger'). Now I know it can be argued that ordering a Boilermaker is just like any other time you order shots with your mate, but I genuinely think this drink is open to more abuse by customers than most drinks I can think of.  The key to this drink working responsibly in bars today is to sip on the spirit and savour the flavours rather than slam it down as a shot before drinking your beer.
Considering the current teetotalling climate we are facing. Many pubs, nightclubs and bars are already under heavy scrutiny from local councils and media for being the cause of all the nation's ills by not fulfilling their Responsible Service of Alcohol (RSA) duties. Given this, I wouldn't suggest adding The Boilermaker to your printed drinks list despite its regained cool factor. And I would absolutely warn against any nightclub or pub promoting Boilermakers.
ADVERTISEMENT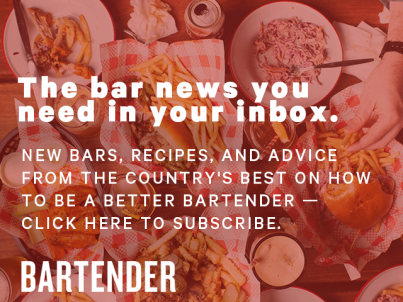 &nbsp
The only place I believe that a Boilermaker can work in today's hospitality industry without raising RSA issues is in a small bar or a very high end cocktail bar where the type of clientele would be more likely to sip and savour a spirit. A bar where professional bartenders use this drink as an opportunity to recommend good beer and spirit matches rather than racking up a line of shooters for rowdy punters. It should be about helping customers get a better appreciation of quality spirits in their non-mixed form. I'm not saying you should never do shots, but if you're choosing a good quality spirit don't you want to appreciate the flavours and craftsmanship of the product rather than slam it down?
"It should be about helping customers get a better appreciation of quality spirits in their non-mixed form."
The Bayswater Brassiere recently added a dedicated Boilermaker section onto their 2010 drinks list that I found interesting and new. They offered a handful of recommendations such as Hoegaarden with Partida Blanco and Little Creatures Pale Ale with Talisker. You know when something different like this makes it onto the influential list of The 'Bayz it's going to be noticed. Who knows if such offerings will be featured on the new list at The 'Bayz when they hopefully re-open soon? Fingers crossed this amazing venue can return to its former glory as God knows we need to hold onto bars with such history!
It's not just old timers like the 'Bayz – further south Match Bar & Grill also includes a Boilermaker section on their list with such offerings as Peroni and Maker's Mark Bourbon through to the creative offering of a  Mountain Goat Steam Ale matched with "a tiny navy strength Martini – aka the steam boat".
But back to the Boilermaker. Now before I come across as a complete kill-joy on this I would like to point out that most times when I'm enjoying a drink at home I don't mess about with making too many cocktails as I prefer to leave that to my bar visits. I do, however, love my beer and a nice nip or two and, if I have the time, a hand rolled cigar. What I'm enjoying at the moment is based on what's in my house from the beer that god gave us – Coopers Sparkling Ale with Ocho Reposado – to a fine Guinness and Mount Gay Extra Old or Havana Club Barrel Proof. Heaven!
At the end of the day we all – bars, suppliers and trade media – have to be very careful about how our industry is perceived in the public's eyes as well as the mainstream media. My suggestion would be, even if you feel your venue could make this drink work, to still not print it on your drinks list. For most venues my recommendation would be to let your bartenders suggest this drink to customers they think will appreciate its matching. But keep in mind that promoting it on your list you could attract the wrong kind of clientele, behaviour you don't want in your venue and in turn unwanted attention from the authorities.