4bars.com.au catches up Bacardi's Global Brand Ambassador before his visit to Sydney BarShow in September
Interview by Simon McGoram
ADVERTISEMENT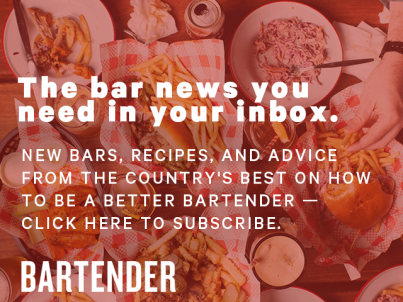 &nbsp
Will your visit in September be your first to Australian Shores?
"Yes, this is my first time in Australia and I'm looking forward to this trip. I have wanted to visit Australia for many years and now I have the great opportunity to be there and talk about rum and cocktails. I don't think it gets better than that."
What have you heard about the bar scene in Australia?
"I have worked with lots of Australian bartenders for many years and their experience and knowledge is outstanding. In my eyes the Australian bar scene grows enormously every year, thanks to the dedication and passion of my fellow colleagues. Australia is easily the most influential country in the Asia-pacific region."
When did you first get involved in bartending and how did it come about?
"That was years ago – too many years ago. I started bartending when I was in university like many bartenders, for easy money and an easy job, but slowly started to fall for this industry. One day I took the decision to follow my heart and not my university degree, since that moment I have been doing what I love to do – making drinks."
How did you manage to obtain a role as the global brand ambassador for Bacardi Superior Rum?
"Perseverance – that is the name of the game. It took me one year and almost 12 hours of interviews in five days to get the job. I really wanted it, and that was my most important motivation."
"One day I took the decision to follow my heart and not my university degree, since that moment I have been doing what I love to do – making drinks."
What is your favourite aspect of your job?
"Meeting people and telling them the stories I have a passion for – the Bacardi family story. It is amazing to recreate the legendary cocktails from many incredible bartenders and show my views about their legacy along with how I see the industry today. And of course, I particularly enjoy representing the fantastic Bacardi family around the world."
What has been the proudest moment in your career?
"The proudest moment in my career was representing Scotland in two international competitions. I lived in Scotland for almost eight years and sometimes I felt like I was Scottish."
Have you had any real mentors during your career?
"I've had a few people influence me enormously in my career, from my early days learning the craft of mixing drinks back in Argentina, to my current time in London. I can't mention them all, but here are some key names: Diego Calb (The Spot Bar, Buenos Aires); Nike Aikman and Jason Scott (Bramble Bar, Edinburgh); Tim Hawley (global marketing director), Enrique Comas (Bacardi family member and global marketing manager); Jose Sanchez Gavito (Maestro de Ron Bacardi), Salvatore Calabrese and Peter Dorelli. It is thanks to these people that my career has taken a different direction and thanks to their passion I'm here today."
What are you hoping to achieve from your visit to Australia?
"I want to have the opportunity to show Australian bartenders how incredible it is to use Bacardi Rum when you make cocktails by using and sharing the knowledge that I have acquired over many years mixing cocktails."
Do you have a favourite way to enjoy Bacardi Superior Rum?
"With lots of ice and soda and in Daiquiris. This is the best way for me."
Apart from rum what other drinks do you enjoy?
"Mmmmmm…  single malts and Tequila. But I'm a rum guy. I like to try everything but I'm always coming back to where my heart is – rum!"
I hear that you personally trained the bartenders in the 'True Originals' videos. How did you find the challenge of turning actors into such professional looking barkeeps?
"The most important aspect of this training was that the actors had the right attitude about the training – this was really important. There was a lot of repetition making the same drink many times and the actors had to get their mind set like a proper bartender. I talked to them about how the bartender acts behind the bar and I took them out to see some of the best bartenders in London – how they move and act behind the bar. This was really crucial for their training."
What do you love about the bar industry?
"That feeling of family or brotherhood – that feeling of always having a friend in every country in every bar."
What do you dislike about the bar industry?
"Vanity and ego."