Interview and introduction by Simon McGoram
This article was published in Bartender Magazine's November issue.
ADVERTISEMENT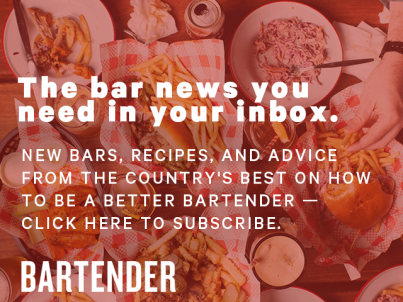 &nbsp
David Wondrich, the affable author of Imbibe!, visited Australia in September thanks to the team at Mixxit. Wondrich made a couple of his favourite cocktails and punches for bartenders lucky enough to get an invite in Sydney and Melbourne.
A true raconteur, Wondrich's sessions were spiced with anecdotes and laced with facts as he explained some of the content of his new book on punch entitled: Punch: The Delights (and Dangers) of the Flowing Bowl (available on Amazon now). The Mixxit team were also kind enough to organise copies of Imbibe! for all guests attending the session for Wondrich to sign. 
[nggallery id=59]
Bartender Magazine caught up with the Wondrich for a good chat about some cocktails past and plans anew.

How long have you been writing about drinks and cocktails?
I've been writing about cocktails for just a little bit over ten years. I started in December 1999.
How did a PHD in comparative literature become the world's foremost cocktail historian?
"Out of shear desperation. I was telling Jason yesterday that I hated my academic job. It was the worst job I ever had. I was willing to do anything!
I tried making a living as a jazz writer on the side, but that meant that you got to write an article about once every three weeks – which you can't feed a family on! And then I fell into this cocktail thing – the cocktail revolution was just starting. And there was a space for somebody who could kind of look at the stories and put them together and who had a little bit of training in the histories – which I did. And so I just kind of found myself in this wonderful place where people would pay me to does something fun."
What was it about cocktails in particular which piqued your interest?
"Well I always enjoyed a cocktail even going back to my teenage years. But what really I like most are the stories and the history because it's not just a cocktail. It's the people everybody who drank that cocktail, all the occasions – celebrations and desperation. You know – 'opps we've just lost Singapore to the Japanese I think that we need a Gimlet'. It can be as bad as that or as great as 'we've just gotten it back – we need a Gimlet'! There's just all kinds of reasons that people drink cocktails. It's that kind of accumulation of stories is that for me is the most fun part. I mean I like having a drink, but I'm happy just drinking good old Jim Beam basically – the cocktail just adds all that lore and fun and personality to it."
Your first book Imbibe! has been a massive hit amongst the cocktailian community. Were you expecting it to be such a hit?
"I wasn't. I thought that people would be interested because I looked around and saw that everybody had bought the few reasonably serious cocktail books out there and wanted someone to take it to the next level. I thought that it would be a steady seller, but I didn't know that it would get around the world and become such a staple. I didn't predict that this bartending community would explode quite so quickly as it has over the last three or four years."
You're obviously a big fan of Jerry Thomas. Do you think you could describe what sort of character he was from what you've gleaned from history?
"He was a piece of work. He was a sailor, a gambler, a minstrel show entrepreneur, he painted, he drew, he wrote – for all I know he probably tap danced and sang! He was just one of those larger than life characters who was a full member of what they called back then 'the sporting fraternity'. I mean, this was a man who tended bar in a bowler hat with a pair of white rats on his shoulders – live white rats named Tom and Jerry. So he was not an ordinary man! He was from that great age of Americans, which has long past unfortunately, when they were just do anything go ahead types that who just went out and took the world by storm. So ah he wasn't somebody to read actuarial tables and complain that his freedom of speech was being infringed on or whatever. He took his opportunities."
How do you think Jerry Thomas would react to his fame today and what would he think of bartenders today?
"That's a really good question. I think he'd be a little bit flattered and a little bit bemused. I think that he'd also tell some of those people to get out of the bar and go to racetrack for a while and have some fun. It's only cocktails!"
Can you tell us a little bit about you're soon to be released book on punch?
"It starts in the 1600s with a little bit looking before that. I'm trying to find when people started drinking mixed drinks with spirits in them. That's where punch comes out of – it fills a need. People needed the spirits because of sudden global travel. They're travelling to places like this and sailing immense distances from England and before they know it their beer has all gone bad the wine has run out so what do you drink? Spirits was the answer.
They could buy spirits locally in Indonesia and India – they just had to figure out a preparation to make them palatable rather than sitting and quaffing raw arrack all the time which is a little bit rough. It was a sailor's improvisation as far as I can tell.
So I tell that story and how it gets back into Europe and get transformed. The birth of modern bartending in England. Mixology coming in as they start taking this simple recipe and complicating it. Then you've got the French influence and the Germans and it sort links up to the beginning of American bartending. It's sort of a prequel to Imbibe I guess."
Professor Wondrich's Tips for the Budding Cocktail Writer

-"Well tip number one is accept that you probably won't get to the bottom of the history. The stories are contradictory and sketchy. Cocktail history is history that happens in a bar and you know what happens to people in bars – frequent blackouts, exaggeration, boasting, muddled thinking – all of that comes into play. So that's problem number one."

-"Problem number two is that people are unlikely to be as geeky as you are about it so you have to keep it funny or as light-hearted as possible. It's only a drink. It's not the greatest tragedy in western civilisation that we can't figure out who invented the Martini. But if you can find a funny way of pretending that it is – then you've got a story."

-"So don't take yourself too seriously, check your facts and don't lie. I think that's about it. The don't lie part is important I don't think that a lot of people have quite mastered that."