What better time than Sydney BarShow Week for Schweppes Tonic to put a new edge on an age old concoction and ramp up the creative juices that fizz and flow through every passionate bartender by inspiring them to create Australia's Best Gin & Tonic.
"The G&T is the iconic mixed drink and has a great and long history." Michael da Costa-Alves, from Schweppes Australia stated. "We wanted to give the G&T some profile and at the same time inspire Australia's professional bartenders to give the iconic mix a contemporary twist that would suit the evolving and modern day bar culture."
ADVERTISEMENT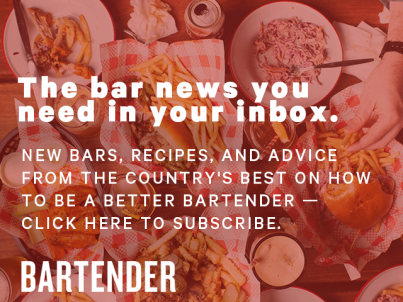 &nbsp
"We were overwhelmed by the number of entries we got from all over Australia – from Cairns in the north, to Hobart in the south and across to Margaret River in the west. The competition helped remind the trade of the importance of using quality ingredients and the role that premium mixers play in any drink."
Following a grueling selection process that turned out to be like splitting hairs with so many amazing entries the top contestants dueled on Day 2 of Sydney BarShow Week for the top prize. There was a fascinating array of drinks on show from Elle Wormald's (Eau-De-Vie, Sydney) Schweppes Tonic Water caviar to Chris Hysted's (Black Pearl, Melbourne) Gin and Tonic Spider. The judges, Dave Spanton Bartender Magazine, Michael da Costa-Alves, Schweppes Australia and international guest Philip Duff were hard pressed in their decision.
Click here to see more photos from the Grand Final.
Schweppes Best B&T Prize

The prize that Greening took away (apart from endless bragging rights) was a trip to London BarShow in 2011 with $5000 spending money to boot. Not a bad return for a healthy dash of botanicals and some fizz!
"We had such diversity, but what's more amazing is that in addition to the 5 finalists, there were probably 10 -20 other entries of similar quality. It really is a great credit to the creativity of Australia's bartending community," da Costa-Alves stated following the final, tumultuous round.
Tim Greening, Bootleg Bar in Sydney, took top place on the tonic podium with his Gin & Tonic sorbet creation (liquid nitrogen included). International MC Phillip Duff who presided with the other select judges observed that the entries were as good if not better than anything he had seen in his time judging many competitions around the world; "The Australian bar culture is among the world's best," said Duff, "I can't wait for 2011!"
Greening's drink consisted of a lemon and juniper infused ice sphere to reduce dilution with tonic on the side. As well as a juniper infused lemon spritz and he also created a gin and tonic sorbet with the use of liquid nitrogen which was designed to be eaten first as a palate cleanser.
With the usual humble attitude Greening also praised the other five finalist competitors; "I loved the creativity of all the drinks, pure genius! I would say that on the day any one of the 5 finalists could have won it. I guess it came down to how you presented and put your spin on it."
The top 5

Tim Greening, Bootleg Bar, NSW; Owen Colin, Chandelier, SA; Chris Hysted, Black Pearl, VIC; Elle Wormald, Eau-De-Vie, NSW; Barry Shaun Byrne, Gin Palace, VIC.