This article was featured in Bartender's December issue
By Naren Young
I'm certainly not old enough to have this piece come across as a "back in my day, we had it so tough" gospel speech. And I try never to be cynical about our industry and remain positive about where it's heading. We're heading in a very positive direction, to be sure. This article was actually inspired by a piece that my friend Gary Regan wrote recently in the San Francisco Chronicle, stating that 'Bar-Tweenies Need Lessons in Basic Mixology'. Many people commented on it and re-posted it (I did) and I believe this is a very important topic that needs addressing. Take from it what you will.
He went on to say: "Although the core chore of the bartender – to make people happy, welcome and cared for – will never vary, over the past decade the mixology side of the craft has changed completely. The cocktailian craft has been grossly mishandled of late, and it's time to rein in a few newcomers who seem to have missed the point. Lack of experience is a growing concern."
ADVERTISEMENT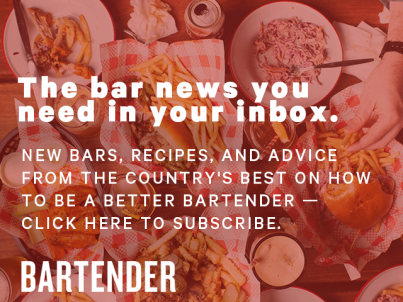 &nbsp
Ironically, a few of the people that commented on his article were actually the people that it was directed at. And that's the saddest part – that those that think they know it all, actually know very little about what it really means to tend bar. This had always been a craft that took years of training and experience to master, but now it's becoming evident that most young rookies are being fast tracked into senior roles.
Job titles like 'mentor', 'trainer', 'brand ambassador' and 'consultant' are being thrown around far too frivolously, especially by those that have only a couple of years under their belt. To me these have become overused and somewhat dirty words, unless genuinely practiced by those that have done their tour of duty, so to speak. We're breeding a generation of cocktail nerds who feel that academia is more important than human interaction and good old chit chat. Customers want your best joke, not who created the Blue Blazer.
"Customers want your best joke, not who created the Blue Blazer – the core chore of the bartender is to make people happy, welcome and cared for."
As the cocktail scene continues to spread around the world, so too is it moving outside of the major cities, which is very exciting indeed. Social media has spread this network far and wide and there are more great bartenders than ever before. What this has propagated, however, is a cut throat industry built on a desire for fame and fortune. The celebrity chef phenomenon will soon make way for the celebrity bartender and the race is on.
Despite the over-saturation of budding mixologists, spiritual advisors, drink smiths or whatever other moniker you choose to separate yourself from the pack (I'll take 'bartender' thanks), making a name for yourself in this industry is becoming easier and easier. Far too easy me thinks. The media and internet have made this possible. And so has the proliferation of cocktail competitions and their lucrative prizes.
This search for stardom is going to get worse (or better depending on your point of view). This newfound fame is not necessarily anyone's fault. It's a sign of the times, and often a good sign that we're finally being recognized for our dedication and passion. But at what cost? The young crew really needs to step back for a moment and look at the industry and their role within it. Most young rookies want to be famous and now dammit!
People will notice your work if it's good. Let me expose someone here who fits this ideal perfectly. Linden Pride, who runs the bar operations for Neil Perry's empire, is someone who I've always thought way above his years. A polite, knowledgeable and supremely talented professional who oozes hospitality from every pore. His demeanour should be a lesson to us all. He doesn't crave the limelight; he just does an amazing job.
"I've no wish for today's bartenders to stop pushing the envelope," continues Gary. "I'm pretty much insistent, though, that we take a hard look at the bartenders who have been trying to blind us with their mad-scientist-type potions while rendering cocktails reminiscent of an emperor's new clothes."
Always remember that what we do is not about the drink. We serve people first, above all else. Remembering 500 recipes, making your own bitters and foams, having your own blog and owning your own first edition of Jerry Thomas mean absolutely nothing unless you genuinely love serving other human beings. If you do, and do it with humility, then you are half way to being a great bartender already.