This article was featured in Bartender's December issue
By Grant Collins
Recently, myself and Gee from Barsolutions were flown to Beirut to create the drinks for the Intercontinental Phoenicia's new cocktail bar Amethyste. We were there to set up for the launch party of the new venue and create a bespoke cocktail list for the occasion. We were also committed to media events and filming interviews for some local TV stations – all this in 4 days, with 48 hours travel and a 10 hour time difference!
The Amethyste bar is a stunning venue with an outdoor Ibiza style vibe built around a swimming pool with 2 cocktail bars. Gee and I completed our photo shoots, TV interviews and all of our media commitments before we set the bar for the following days launch. With a crowd of up to 700 people expected we pre mixed around 4000 cocktails as we heard that Beirut's party scene had quite a thirst.
The next day would be an early start as the launch actually began with a 'day party' for around 100 select guests. Bikini clad babes wearing not much more than a pair of heels and a smile gathered around the pool sipping on our pre made Pina Coladas and Daiquiris and the warm up DJ's got the crowd ready for Ibiza DJ legend and ex Café Del Mar star José Padilla.
ADVERTISEMENT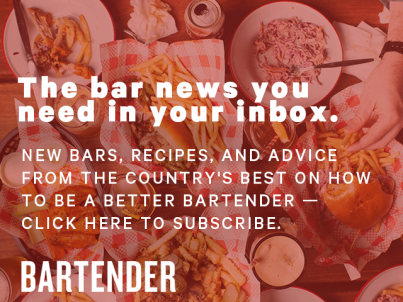 &nbsp
By the time Mr. Padilla jumped onto the decks the crowd had swelled to over 700 people. Acrobats and stilt walkers paraded around the party with mermaids and mermen (?!) adorning the pool. Our sources had been pretty spot on and the very cool crowd sipped and shimmied their way through our pre mixes with over 4000 cocktails enjoyed and the night a huge success.
Beirut Bar Hopping
After two long days Gee and I decided that we had worked up a pretty keen thirst and we were ready to check out Beirut's bar and club scene. The historic Gemmayzeh district is a buzzing precinct of bars and restaurants. Satine is a very cool bar with an interesting list featuring many contemporary classics and showcasing a good back bar. After enjoying a few local libations we walked around the corner to La Centrale (Place de L'Etoile, Gemmayzeh) an iconic bar and restaurant in Beirut. La Centrale is acclaimed for its world renowned restaurant and bar and the bar is accessed via a New York style elevator built in a suspended steel tube! A very cool bar indeed, with a real New York vibe rather than that of a Mediterranean one.
Beirut's Hotspots

Monnot is the area of the city most associated with nightlife. This is where you will find well-dressed locals dancing in mega-clubs with many international DJs gracing the local club scene.
Gemmayzeh another serious hot spot for those seeking a more bohemian/ underground experience. Some venues don't get going until after 2am.
Many bars in Beirut open just for the Summer season (May to September) and are situated outside and on rooftops of Hotels. The following night we headed to an opening of bar 360 at La Gray Hotel (Martyrs Square, Central Beirut District) close to the impressive Emir Assa Mosque. Situated on the 32nd floor, there are stunning panoramic views of Beirut. The crowed mainly drank classics and some interesting spiced pepper Daiquiris and Colada twists.
We dodged a few roadblocks and headed over to the renowned superclub B-018 Club (Lot 317, La Quarantaine). Housed in an air raid bunker this is a very cool club, regularly playing host to many of the World's best DJ's. The retractable roof opens at 2am on weekends and while by any means not a cocktail bar this place is a must visit. With the sun beginning to rise and with our flight leaving mid morning we decided that that the only way to end our Beirut trip was in true 'Brit' style by sampling some of Beirut's freshest and finest cuisine: The Kebab!
"Beirut has been described as the 'Paris of the Mediterranean.' If you ask me it really leaves the French capital for dust…" Grant Collins
After all, PDT did it by mixing hot dogs with Cocktails right? So why not give a Kebab a crack after a night of Cocktail indulgence…especially if you find yourself in Beirut.
Grant's Beirut Experience
Beirut ('Well' or 'Spring' in Arabic) is nestled between two Lebanese cities, Tripoli to its north and Tyre to its south. Beirut has recently been voted one of the 'ten liveliest cities in the World' by a number of publications including Lonely Planet.
Beirut suffered 15 years of civil war that saw the historic centre almost razed to the ground. Reconstruction efforts have revived much of the architecture and Beirut's reputation as being the 'Paris of the Middle East' is growing along with an emerging culture of eclectic cocktails, bars and inspirational nightlife. Mr Snoop Dog esquire himself even dubbed Beirut "the party capital of the world" after he partied hard there recently when in town, so that's pretty high praise.
Driving along the city corso we couldn't help but notice the lines of locals smoking Hookah pipes and selling their wares. From the higher ground of the hotel driveway we were able to see just how much of the city has been rebuilt in the years following the civil war, although right next to our hotel there was a bombed out house peppered with bullets holes and sporting two huge missile holes through its walls.
Beirut's Bars at a Glance


Beirut city has over 20 great bars and in our short stay we really only just scratched the surface. Some of the cool bars in Beirut which were highly recommended that we didn't have time to visit included;

AU Bar (Avenue de Paris, Beirut, 11-4021)
Element (Damascus Road, Achrafieh )
MYU (Rue St. Antoine, Beirut)