This bar profile was featured in Bartender's December issue
By Cat Strom
Address:
35 Oxford St
Darlinghurst
02 9283 1891
Memento of a Dark City
A little slice of New York has landed on Sydney's Oxford Street in the form of Gotham; a moody bar with an upstairs area available for functions and a downstairs area perfect for a post-dinner cocktail. Gotham is situated on the ground floor of a face brick art deco cinema building beneath what was the former DCM nightclub.
ADVERTISEMENT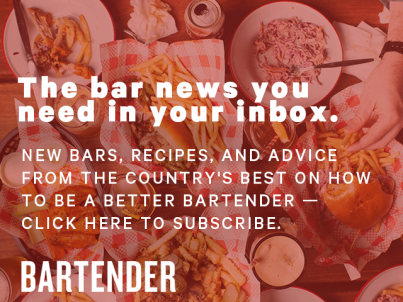 &nbsp
Award-winning architects Squillace Nicholas (whose previous credits include Manly Pavilion and Hugos Manly) have created a dramatic venue which is vintage but with a modern edge.
"The building is reminiscent of the art deco architecture of New York, as is the pedestrian action along Oxford Street with people watching a spectator sport!" remarked Patrick Nicholas, Director of Squillace Nicholas Architects. "It's a two storey space, clad in matt and gloss painted timber cladding, that welcomes patrons and presents a theatrical volume to the street."
There are intimate booths, exposed brick walls, old fireplaces, pressed metal walls, chesterfield sofas and marble tables. However it is the padded, crimson leather bar backed by an over sized black and white clock silhouette that craves attention.
"Five-metre long curtains hang from the loft above framing the red leather bar," described Patrick. "The composition of the granite bar top, wall-mounted fire hydrant and face sandstone brickwork is illuminated by a four-metre wide gothic clock face."
Moving through the venue, the black tile floor pixelates into a black and white checked floor which extends into the pressed metal lined lounge, flanked by booths and a fireplace.
"A little slice of New York has landed on Sydney's Oxford Street"
Access to the loft is via two staircases where the pressed metal lining is illuminated by crystal pendants and wall mounted wall washers. The loft bathrooms extend the deco theme with reused heritage basins, galvanized diamond pattern pressed metal wall lining and gloss black tiles. The loft is characterized by comfortable lounge furniture, a timber-paneled club bar, intimate timber ceiling and voyeuristic views of the bar below and passing trade on Oxford Street.
Sound Systems Are Go
Lots of Watts supplied the audio for the venue with simplicity the main focus of the design. The venue was divided into two zones, upstairs and downstairs. Five JBL Control 25T speakers were installed into the downstairs area and a further six installed upstairs. Two more were mounted into the entry patio. Four Australian Monitor QF6 speakers are used for the toilet areas. The speakers were powered by two Australian Monitor AMIS250P amplifiers.
Zone control is via the Cloud Z4mkII. The Cloud has a total of 6 source inputs as well as two microphone inputs. DJ points were installed in each of the two zones. Other source inputs include local CD, Ipod and provision for Foxtel Audio.
Each of the two zones is controlled remotely by Cloud RSL6 remote volume/source control panels. There is one panel installed in each of the two bar areas. The control panel can select any source for that area as well as control the volume level.
Design Features


Design by Squillace Nicholas
AV: Lots of Watts
Furniture: Matt Blatt, French Boutique, Thonet
Lighting: JSB
Carpet: Feltex
Tiles: Calibre Tiles, Academy Tiles