This story was featured in the January Issue of Bartender Magazine
By David Spanton
Bali is truly one of the most exciting and beautiful places on earth with something for everyone (as long as you can handle the heat and humidity of course!). Ever since the sixties Aussie's have been trekking to this tiny Indonesian island to surf the perfect wave or enjoy a cheap holiday. Over the past decade the 'land of the gods' has been transformed into a hub of luxury hotels, villas and truly spectacular restaurants and bars. The old saying 'anything goes in Bali' rings true and many entrepreneurs have been able to build their dream destinations for a fraction of what it would cost in more developed locations around the world.
Many international bar owners and award winning international chefs have fallen in love with the island and its relaxed lifestyle while doing contract work for a local international hotel or after a holiday and have decided to make Bali home. It is worth pointing out that Bali is still a relatively poor and congested island. The in-adequate transport and infrastructure can be a bit confronting for some but rest assured the people are genuinely friendly and appreciate you visiting to support the islands most important industry – tourism.
That in mind, here is a list of some of my favourite food & drink destinations in Bali:
ADVERTISEMENT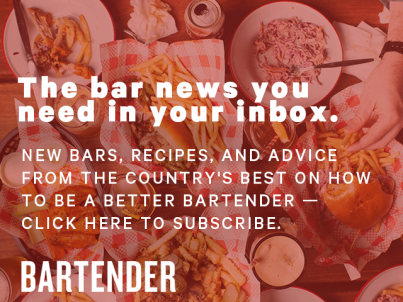 &nbsp
Ku De Ta
Jalan Laksmana, Seminyak
www.kudeta.net
Ku Da ta-Photos by Christopher Leggett

This place is the reason I fell in love with Bali. I can't think of a better place on this planet to sit back and unwind while enjoying a barmy sunset drink or two. Ever since opening their doors back in 2000 Ku De Ta has been the premier restaurant and bar destination catering to the non-budget traveller. Today you will find both Jonah Roberman and Jasper Manifold managing the restaurant and bar and both cut their teeth working in Sydney. The venue has recently expanded to include a second level rooftop cocktail bar that provides even greater views across the Indian Ocean. No trip to Bali is complete without doing sunset drinks at Ku De Ta.
Rock Bar, Ayana Resort
Ayana Resort and Spa, Jimbaran
www.ayanaresort.com
One of the new kids on the block, this open air bar overlooks the Indian Ocean and is truly breathtaking. From your cable car down the mountain the sight of this softly lit bar surrounded by rocks and crashing waves leaves visitors spell bound by its beauty and one can't stop thinking how the hell did they build this! Settings aside, this place does make a descent cocktail and the bar staff are well trained compared to most places on the island. This intimate bar is certainly a destination location so most people come in pairs making it best experienced come sunset time with that special person.
Sarong
Petitenget No. 19X,
Kerobokan
www.sarongbali.com
Since opening in 2008 Sarong has been a runaway success. One of the key reasons for this is the fact that it's owned by the talented chef Will Meyrick who has worked at the best hotels in Bali (but most notable is his work at Sydney's Longrain and founding head chef at Sydney's Jimmy Licks). The design is all dark woods and traditional Bali designs but their menu is an eclectic mix of Indian, Vietnamese, Chinese and Malay that all seems to work. Their drinks list has recently been refreshed by well know Sydney bar consultant Grant Collins (to be honest he has helped upgrade half the island's drinks lists) and well worth exploring. Keep in mind wine and spirits are very expensive in Bali due to importing restrictions but you can always enjoy their local non offensive beer called Bingtag which goes down very well with Bali's spicy food and hot climate.
SOS Rooftop Lounge & Bar
Anantara Seminyak Resort
www.bali.anantara.com/

This is another amazing rooftop cocktail bar with views that won't disappoint. Recently re-styled into three different 'zones' you have the rooftop bar with its daybeds and chill out tunes then zone two lifts the tempo guests are able to hit the dance floor, and on Bali's first suspended glass catwalk. Finally you can either end the night or begin activities in their third zone; the dinning section. Like most places in Bali they will stay open as long as it's busy and SOS is a reasonably early closer at 1am on weekends.
Cocoon Beach Club
Double Six,
Blue Ocean Terrace Seminyak
www.cocoon-beach.com
This latest development, from the owner of Double 6 and Ku De Ta, is set to be one of Bali's coolest new destinations. It's a 3,000sqm mix of swimming pool, day beds, VIP cabanas, dining areas and rooftop bars overlooking Legian beach. This place is busy day and night, offering showers and change rooms to freshen up after relaxing by the pool and listing to a line up of international DJs with a few mojitos. Their executive chef Stephen Moore has previously worked at Sydney's Icebergs and Rock pool and has created a Mediterranean influenced menu with a focus on food sharing.
Metis
Jl. Petitenget No 6, Kerobokan
www.metisbali.com
Chef Nicolas Doudou Tourneville who, for the past 13 years could be found running the Bali institution Kafe Warisan, opened the much anticipated Metis with his business partner in late 2009. 12 months on, this 350 seat French Mediterranean restaurant and bar has found its feet and enjoys a loyal following. If you feel like you could give a sunset drink a miss for a night then the bar at Metis with its sleek wooden lounges provides a relaxing view over dimly lit rice paddies. Considering how congested the main drinking and dining areas of Bali have become a view like this is very rare to find. Another plus is their extensive selection of brandies and fine cigars that you can still enjoy at your dinner table when you please.

Cire
Alila Villas Uluwatu
www.alilahotels.com
Don't even think about heading to Cire unless you have paid off your credit card or a have pockets full of American dollars (seriously everyone's pockets are full of Indo money – a cab ride is at least 10,000rp). This place has been winning award after award for both eco design and their food which is headed up by Dutch chef Stefan Zijta. What's amazing is the whole resort is situated right on top of a cliff face with a 40 metre drop to the ocean. Their drinks lounge is the highlight and not for the faint hearted as it's literally suspended right over this dramatic cliff face. It's another example of fantastic design that even with a location would never be allowed to see the light of day in Australia.
Nammos Beach Club
KARMA KANDARA, Jalan Wijaya Kusuma,
www.karmakandara.com

Only accessible by the resort's private inclinator that carries guests down over 100 meters to the Greek inspired Nammos Beach Club. The drinks selection is similar to most high end Bali bars but after an afternoon catching waves a few cold beers seemed the perfect (impossible to stuff up) choice. The food is typical '5 star hotel expensive', but how many places are there that once you have made your order your waiter will actually head out and catch your seafood selection (they have an adjoining farmed lagoon)? The venue's design is minimal and rustic that works not to distract you from relaxing at what is one of Bali's most beautiful and pristine beaches.