By Simon McGoram
Selected photography by Simon McGoram
Photography of Absinthe Brasserie & Bar by Ana Homonnay

ADVERTISEMENT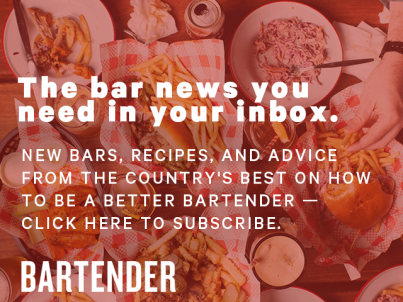 &nbsp
This was to be my first great American adventure. San Francisco, fog city, the city by the bay – whatever you want to call it – offers the libationary motivated traveller a great introduction into American drinks culture. I travelled to this fine city back in July 2010 – en route to the epic gathering of cocktailians that is The Tales of the Cocktail in New Orleans.
July, as you're well aware, is the height of summer in the US. Unfortunately, no one has ever bothered to tell this to San Francisco. Mark Twain had much to say about this city and not all flattering. In fact, Twain has been cited as saying: "The coldest winter I ever saw was the summer I spent in San Francisco".
An unimpressive summer aside, San Francisco's warmth comes from its generous hospitality, its refreshingly liberal minded people and no shortage of venues from which to enjoy a strong tipple to ward off the chill. The bars range from all-American sports bars to James Beard award winning oyster bars, from family run Mexican restaurants, through to swanky 'speakeasy' style whiskey bars. San Francisco is a haven for those in search of quality liquid refreshments.
Lefty O'Doul's
333 Geary Street, San Francisco
www.leftyodouls.biz
Our first stop ain't a venue you'll likely find on a mixologists hit list, but there was simply no way we could avoid entering a bar with such an absurd name. Ordering a couple of pints of Sierra Nevada Pale Ale, however, we quickly found that we were in error to ridicule. The joint is actually named after a local sporting hero – one Francis Joseph 'Lefty' O'Doul a legendary American Major League Baseball player.
Adorned with a tonne of vintage sports memorabilia this bar has character in spades and at midday the bar counter is already lined with patrons enjoying a stiff drink, their favourite game on the tele and a meal. We veer away from the carvery and bain-maries which don't look entirely appealing, but in all we're pleased we found this little piece of Americana.
Gold Dust Lounge
247 Powell Street, San Francisco
Just around the corner from O'Doul's and a stone throw from San Francisco's Union Square is the Gold Dust Lounge – one of the highlights of our visit to fog city. Founded 1933 this beer and shot joint has a a cult following though many locals see the place as a bit of a tourist trap. Sure enough we got trapped here more than once during our stay, but would gladly do so again.
"The bar attracts plenty of old timers during the day and not the drunken curmudgeonly sort, but real salt of the earth type characters."
San Francisco's local 'Speakeasy' craft brews are on tap and a favourite paring of ours was a pint of their Prohibition Pale Ale with a shot of Four Roses Bourbon. They do have cocktails and cocktail service dispensed through a nubile waitress with a slightly insouciant air, but don't expect high-end mixology.
The bar attracts plenty of old timers during the day and not the drunken curmudgeonly sort, but real salt of the earth type characters. This, in my mind, is the sign of successful bar. Upon an evening the bar gets busty with younger party goers mixing with tourists as they enjoy the live dixieland jazz and old-skool rock and roll. There's fun to be had here till late almost every evening – the perfect spot if you're over talking about some bartender's next crazy sous vide syrup or home made bitters.
NoPa
560 Divisadero Street, San Francisco
www.nopasf.com
NoPa (meaning North of the Panhandle) is easily one of San Francisco's most popular destinations. Famous for their 'urban rustic' cuisine the venue specialises in organic wood-fired fare. Expect a good wait if you haven't made a reservation – even for a seat in the busy bar. The good news is the kitchen is open fairly late with the reservations taken as late as midnight.
On our visit we grabbed a seat along the bar's huge share table and promptly made use of the venue's well stocked shelves. The cocktail list is succinct and offers a good range of sherry cocktails. Apart from being great pre-prandial beverages I guess the lower alcohol might be appealing to those that may need to drive home after their meal. Whilst a lover of sherry myself, we went for something with a little more bite – a Manhattan with High West 'Rendezvous' Rye and their delicious Pisco Sour finished with a couple of dashes of Amargo Cusco Peruvian bitters.
NoPa is famous for its Grass-fed Hamburger with pickles and fries. Order it medium rare with your choice of cheese and it won't disappoint – it's a symphony of juicy beef, soft bun and tangy pickle.
Absinthe Brasserie & Bar
398 Hayes Street, San Francisco
www.absinthe.com
Established in 1998, Absinthe Brasserie & Bar has become a benchmark of quality for the San Francisco scene. It wasn't reputation, highfaluting cocktails, or designer décor which made this venue a highlight of our trip, however, it was the unassuming and quite frankly, superlative service we received that made this place memorable. We were thoroughly entertained by the barkeep who introduced us to fellow patrons at bar, offered sage advice, had no shortage of quips and who ensured we would want for nothing during our stay. A classic bartender.
The joint has a classic feel to it too.  Nothing about the place is tricked up. The long bar services the restaurant as well as punters that prefer to dine at counter from the kitchen's simple, yet enticing, French and Northern Italian inspired brasserie fare.
The cocktails similarly aren't trying to break new ground, but are for the most part classically inspired. A Danish Mary with Akvavit and Absinthe's house-made horseradish spiked Mary mix went down a treat as too did their Wonderlust – a mix of Bols Genever, pineapple gum, crème de violette, lemon juice and a dash of Absinthe, served up and finished with a lemon twist.
The Absinthe team have recently opened Comstock Saloon, a venue that unfortunately we weren't able to visit, though we've heard many good reports. If they share similar service ethics it'll be on my list for a return visit for sure.
Tommy's Mexican Restaurant
<5929 Geary Boulevard, San Francisco
www.tommystequila.com
Nothing was going to keep us away from San Francisco's legendary home of Tequila. We were exited about our visit top this agave spirit Mecca long before we left Australian shores though we weren't entirely sure what to expect
Tommy's is a little off the beaten track – you'll need to jump in cab if you're staying in the city to get there. Don't be expecting designer décor and thumping tunes – this joint is a cracking family restaurant and has been proudly so since Tommy Bermejo and his wife Elmy opened the place in 1965. Tommy is still there to greet his guests and with a bit of luck his son Julio will be there too.
They serve authentic Mexican and Yucatecan cuisine which is superb because you'll need it to soak up all the 100 percent agave Tequila's you'll be sampling if Julio is on hand. Julio is the Tequila Ambassador for the US and there is simply no end to the passion he has for this product.
"What exact Margarita Dave and I voted number one is a little hazy – I think it was number seven or eight…"
Tommy's is of course the birth place of a modern classic – the Tommy's Margarita. It's served invariably with 100 percent agave Tequila, lime juice which is squeezed to order and agave syrup.  There's definitely no salt rim, but I did see it served both up and on the rocks. On our visit, Julio took us through a Margarita flight so we could decide for ourselves the best Tequila for this tasty mix. The difference between each was pronounced testament to the wonderful variety in quality Tequila. What exact Margarita Dave and I voted number one is a little hazy – I think it was number seven or eight…
Julio's hospitality was nothing short of amazing. They do get a few international visitors, but don't be too shy to drop them line if you planning on a trip to San Francisco. I've no doubt that the team there will take good care of you.
Swan Oyster Depot
1517 Polk Street, San Francisco
Swan Oyster Depot was without doubt the culinary highlight of my entire trip. Despite feeling less than Olympian after enjoying a night of the city's hospitality I managed to join the line here at midday to wait for a seat. The are only 20 stools along the counter in this diminutive little sea food bar but that hasn't topped the place from gaining a stellar reputation. They must be doing something right as the joint has been here for nigh on 100 years and has received a James Beard Award (America's 'food Ocsars') to boot.
The family run spot is a buzz of activity and I'm immediately given the handle of 'pal' as a pew is pulled out for me whilst I wait for
Julio Bermejo and local bartender Robert Gonzales who I'd met the night before. The place is famous for its deliciously creamy clam chowder, freshly shucked oysters, its crab salad, and all manner fresh seafood. We were lucky that some Albacore tuna was waiting for us on our visit. We enjoyed slices of this delicacy sashimi-style. It was melt in your mouth and simply out of this world.
There's only beer and wine on offer but Julio tells me there's a little cask behind the bar containing Tequila for when his visits with friends. I stick to my glass of Champagne knowing that my tippling tour of States has only just begun.
Bars and Burgers in Brief
Redwood Room
495 Geary Street, San Francisco
www.clifthotel.com
The Redwood Room is the legendary bar at the Clift Hotel which was originally built in 1915. The Morgans Hotel Group purchased the Hotel in 1996 and venue has undergone a massive transformation. The Philipe Starck designed space has managed to maintain a lot of the original redwood paneling and redwood bar top. The place thumps like a nightclub during the weekends, but is perfect for a quiet Fernet Branca and cola earlier on in the week.
Bourbon & Branch
501 Jones Street, San Francisco
www.bourbonandbranch.com
I heard a lot about this 'speakeasy' before my trip and highly anticipated my visit. You need to book online for a seat and read through the set of house rules – the same
set of rules which are repeated to you before you take your seat.
After being made to feel like a miscreant child be prepared for further unfriendly service. The drinks list and cocktails are nothing short of amazing, but there's no bar food – not so much as a peanut – so dine before you get there. Despite the no mobile phone rule for patrons expect to see bartenders messaging their friends from behind the bar.
Rickhouse
246 Kearny Street, San Francisco
This bar is owned by the Bourbon and Branch team, but is fortunately a much more relaxed and friendlier affair. The backbar is exhaustive and the service attentive. Visiting this venue straight after the ordeal at Bourbon an Branch my faith was in these bars was somewhat restored. I'd come back here for sure.
Pearls Deluxe Burgers
708 Post Street, San Francisco
www.pearlsdiner.com
A must try when in town. This place is arguably home to San Fran's best takeaway burger. You can upgrade your burger to wagyu or buffalo (seriously) and the pickles on the counter are free! The perfect remedy to a evening of excess.
Pinecrest Diner
401 Geary Street, San Francisco
www.pinecrestdiner.com
This 24 hour diner saved me a couple times on my three day San Francisco bar binge. It's the real deal as far as American diners go – the service and food are both no frills. Grab a pew at the counter and buy a cold brew to wash down your excellent burger with over sized pickle in tow or go for the house chilli.
Aw Thanks!
Special thanks must go to the Clift Hotel (www.clifthotel.com) – a fabulous boutique hotel just a couple of minutes walk from Union Square. Thanks to David Spanton whose idea it was to visit Tales of the Cocktail in the first place. Also a big shout out must go to bartender extraordinaire Robert Gonzales who despite trying to educate us on some of San Francisco's finer establishments still ended up drinking Boilermakers with us at Gold Dust in the wee hours of the morning. Last but not least huge thank you must be given to the host with the most Mr Julio Bermejo. We hope to return your incredibly generous hospitality down under soon!