Bartender magazine and 4bars are proud to announce an all new partnership for the Australian Bar Awards top award – the Bartender Magazine Bartender of the Year. In 2011, Diageo's Reserve, have thrown their support behind Australia's toughest bartending challenge and most coveted title.
Diageo Australia's Reserve Brand Manager, Nick Mills, explains how excited they are about the new sponsorship arrangement: "Reserve has been running bartending competitions in Australia for three years now through Ketel One and the World Class global bartending competition, but we have always seen Bartender of the Year as the title to win in Australia which is why we are thrilled to enter into this partnership."
"It gives us a chance to meet more of the industry and for more of the industry to meet us," continues Mills. "And above all we're just really excited about seeing Australia's top bartenders fight it out using our brands – from Tanqueray No. Ten gin, Ketel One and Ciroc vodka, Zacapa rum, Talisker, Lagavulin, Johnnie Walker Gold Label Reserve and the entire Cuervo and Don Julio Tequila range."
ADVERTISEMENT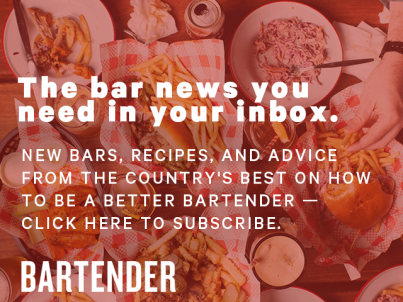 &nbsp
David Spanton, Bartender magazine's Editor & Publisher, says: "We are extremely excited to have Reserve on board as our new partner for what we believe is the most prestigious bartending competition staged in Australia over the past decade."
"With Reserve's outstanding portfolio of luxury brands we have no doubt that this competition can continue to raise the bar for bartender education in this country. A special thank you to our former sponsor Suntory Australia who were instrumental in building this competition into the number one competition it is today."
The Prize

Our sponsors, Reserve, are upping the ante this in 2011. Apart from national bragging rights the winner of this year's Bartender of the Year Competition will gain automatic entry into the Australian national World Class final in 2012. In addition to this the lucky winner will also win a trip for two to a Reserve brand home of their choice, choosing from Jose Cuervo in Mexico, the Malts Advocates Course in Scotland, Zacapa in Guatemala or a Tanqueray No Ten visit in England combined with Ketel One tour in Holland.

A full round-up on the 2011 Bartender Magazine Bartender of the Year Competition sponsored by Reserve, including this year's prizes and rules & regulations, was included in the April edition of Bartender magazine.
How to Enter and Top Tips

Nominate yourself.

Visit barshow.com.au to vote. Like any competition you have to enter it to stand a chance at winning. And ask you bartending buddies vote for you while you're at it.

Get reading.

While knowledge isn't the be all and end of the bartending trade you have to score highly in the written test to show off your other skills.

Be prepared.

Don't leave your study or your cocktails for the final round until the last minute. Everyone gets nervous. But you can save a lot of stress with just a little preparation.

Get drinking (responsibly).

Sharpen your palate by tasting everything in sight. You will need to know your Guatemalan from your Martinique, Islay from your Speyside and Chardonnay from your Semillon. There is always a tasting component of some description and it's intended to be tough!
Voting for the 2011, Bartender Magazine Australian Bar Awards including the Bartender of the Year award is open until May 29. Click here to cast your votes now.