With such a fantastic response to the voting for Bartender magazine's Most Influential List it has certainly shown that Australia's bartending fraternity is proud to get behind the people they think are doing a great job.
With more than 650 votes from trade professionals the results have revealed a good mix of bartenders, operators, brand managers and trainers, among others. Beginning in 2009 and running every second year this wonderful industry focused initiative really rewards those people who help make the bartending and hospitality industry a great place to be.
Listed below is the Top 50 for 2011. This exclusive list was also featured in the recently released March edition of Bartender magazine.
The Top 10 will be announced at another bumper celebration, this year to be held at one of Sydney's trendiest new venues, The Norfolk Hotel, Monday April 11, from 6:30pm.
ADVERTISEMENT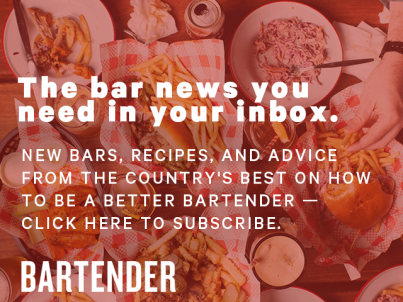 &nbsp
To attend this event RSVP is essential by Monday March 28. Contact smcgoram@spantonmedia.com
And so without further delay here is the Bartender magazine's Most Influential List Top 50 for 2011 (in alphabetical order by first name). Congratulations to all nominated.
Adam Brewer, Cross Town Eating House
Amy Cooper, S and Parched March
Andy Freeman, Luxe and bamBOO
Andy Penney, Duke/Flinders
Anthony Kapalan, Corner House Bondi
Anton Forte, Shady Pines Saloon
Barry Chalmers, Glenfiddich Ambassador Asia Pacific
Ben Davidson, Pernod Ricard Spirits Ambassador
Ben Shipley, Everyday Drinking
Ben Walsh, Goldfish
Dan Kauffman, Bar Zine and Sydney Morning Herald
Dave Evans, Hugos Group
Dean Lucas, 666 Vodka and Spice Market
Dylan Howarth, Mixxit
Eile Moubarak, Lychee Lounge, Laruche
Fraser Short, Keystone
Gary Beadle, 399 and Five in Perth
Grant Collins, Bar Solutions
Greg Sanderson, Black Pearl and Alchemy
James Wirth, Norfolk/Duke/Flinders
Jason Chan, Greenhouse, Batch Esspresso, Tradewinds Gin
Jason Crawley, Mixxit
Jason Williams, Keystone Group Cocktail Manager
John Duncan, Keystone
Alex Ross, Order of Melbourne
Julian Tobias, The Island and The Club
Justin Hemmes, Merivale
Karl Schlothauer, Pocket Bar
Lee Potter Cavanagh, The Victoria Room
Linden Pride, Rockpool Group
Marco Faraone, The Island Bar and Flavour
Marco Nunes, Canvas
Martin O'Sullivan, Grasshopper/ Small Bars Association
Natasha Conte, Black Pearl
Matthew Bax, Der Raum
Merlin Jerebine, Agave Society and Orchestra bar at 1806
Michael Delany-Korabelnikova, Creative Director at The Prince, Designer Norfolk, Duke and Flinders
Mike Enright, Merivale Group Bars Manager
Myffy Rigby, Timeout
Pat Nourse, Gourmet Traveller
Paul Schulte, The Gazebos/ Keystone
Perry Scott, The Lark
Petr Dvoracek, Lotus and Ms G's
Phil Bayly, Café Pacifico
Sebastian Reaburn, 666 Vodka Ambassador and Author
Shaun Pattison, Chusdy
Simon Chalmers, Kudu Lounge and Beach Haus
Steve Jeffares, Local Taphouse
Sven Almenning, Behind Bars and Eau De Vie
Vernon Chalker, Collins Quarter, Gin Palace, Madame Brussels, Order of Melbourne
ARE YOU ATTENDING THE TOP 50 MOST INFLUENTIAL PARTY?

The Most Influential List Party and Top 10 Announcement

Come and join Bartender magazine to raise a toast to the Top 50 bar industry personalities in Australia and be there as we announce the Top 10.

When: Monday 11 April, 6:30pm
Where: The Norfolk Hotel, 305 Cleveland Street, Surry Hills

RSVP: Send your RSVP to smcgoram@spantonmedia.com by Monday March 28.