An alluring almond syrup for your potent potables
By Simon McGoram
Photography by Rob Palmer
Presented by Jonothan Carr
ADVERTISEMENT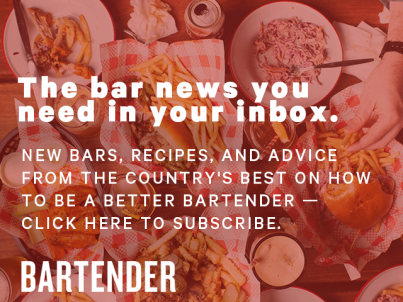 &nbsp
490 Crown Street, Surry Hills, Sydney
toko.com.au
The name Jerry Thomas is a bonafide bartending celebrity. Thomas' name is hallowed in the barkeep's hall of fame due to his pre-eminent, though rather long winded, 1862 work The Bar Tender's Guide, How to Mix Drinks or The Bon Vivant's Companion. The first cocktail book and bartending manual ever published. What often gets forgotten is that appended to this landmark tome (in fact, it makes up most of the bulk of the book) is the fascinating work; A Manual for the Manufacture of Cordials, Liquors, Fancy Syrups, &c., &c., by Christian Schultz.
There is perhaps very good reason as to why the appendix to the world's most famous cocktail book has remained in relative obscurity – you need a chemistry degree to read the majority of the recipes. Indeed Schultz was a Swizz professor of chemistry and a practicing apothecary. That and the fact that these days all manner of syrups, liquors and cordials are made readily available through international brands like Monin and Giffards.
"Schultz… calls for bitter almonds in his orgeat which have long been forsaken in culinary practice due to their toxicity – each pit can contain 4–9 mg of hydrogen cyanide!"
In the 18th century recipes for imitation spirits, 'Spruce Beer' and 'Wax Putty for Leaky Casks, Bungs, Corks &c.' would have been indispensible for the average saloon keeper who didn't have an iPhone 4 to Google the necessary supplier. Even today recipes from this work are worth a road test. One that we've decided to give a whirl in this month's How To is Schultz's formula for Orgeat Syrup – a cordial made from almonds, sugar and orange blossom water as useful to mixologists now as it was in the 1800s.  
If you are looking to re-create cordials, tinctures and the like from old texts you are likely to come across a few stumbling blocks when it comes to sourcing the ingredients. Even something as simple sounding as orgeat has defunct ingredients in its formula. Schultz, for example, calls for bitter almonds in his orgeat which have long been forsaken in culinary practice due to their toxicity – each pit can contain 4-9 mg of hydrogen cyanide! With this little kernel of knowledge I decided that we'd better find a substitute.
Mahlab is what we eventually went for on and it's an aromatic spice made from the pits of the St Lucie Cherry. Used mainly in baking in the Middle East it has a strong floral/cherry aroma and a bitter almond flavour. Go to a good spice store to get hold of some or do what Jerry Thomas wasn't able to do and Google the heck out of it.
Orgeat (or Almond) Syrup
4 ¼ ounces blanched sweet almonds (approximately 120 grams)
½ ounce mahlab* (approximately 15 grams)
¾ pint fresh water (approximately 350ml)
1 lb. of sugar (approximately 500grams) cooked with 1 cup water until almost caramelised
Juice of 1/2 lemon
A few drops of orange blossom water
[nggallery id=63]
Useful Orgeat Cocktails
Mai Tai
45ml Appleton Estate 'V/X' Jamaican Rum
15ml Cointreau
15ml Orgeat Syrup
30ml Lime juice
15ml Wray & Nephew White Overproof Rum
Shake and strain into a double Old Fashioned glass with a couple of big rocks in it. Float a little overproof rum on top and garnish extravagantly.
Adapted from The Essential Ingredient by Dale De Groff
The Fog Cutter
60ml Bacardi Superior Puerto Rican Rum
30ml St Agnes Brandy
15ml Tanqueray Gin
60ml fresh lemon juice
30ml orange juice
15ml orgeat syrup
Shake with ice and strain over ice into a Tiki Mug. Float ½ ounce sweet sherry on top. Garnish with pineapple and cherry.
Adapted from Beachbum Berry's Grog Log
Japanese Cocktail
60ml Remy Martin VS Cognac
15ml Orgeat syrup
½ teaspoon Boker's Bitters (or Fee Brother's Aromatic bitters in a pinch)
Stir with ice and strain into a chilled cocktail glass. Garnish with lemon peel.
Adapted from Jerry Thomas' How to Mix Drinks