The Very Best: The Return of Australia's Ultimate Bartending Challenge
By Simon McGoram
ADVERTISEMENT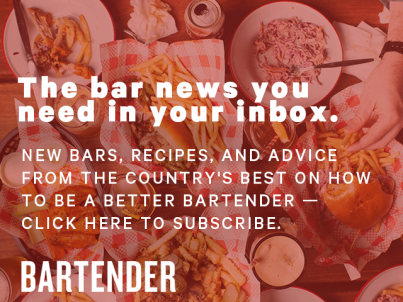 &nbsp
Photography by Dave McKelvey
It's that time of year again where we ask bartenders who think they're worthy of their spiced Bloody Mary salt to step up to the plate and put themselves forward for Australia's ultimate bartending challenge: The Bartender Magazine Bartender of the Year Competition. For years this comp has been building a fierce reputation as a real challenge for the nation's top barkeeps. In 2011, with the valued support of our new sponsors – Diageo's Reserve, we're in no doubt that we'll find a winner worthy of this now hallowed title. Nominations are now open online so head to barshow.com.au to start your bid for bartending glory.
Every year, this competition grows to give more Aussie bartenders a crack at the title. Last years' comp was no exception with more than 140 bartenders being asked to compete during Sydney BarShow Week in September. Last year's Top 10 saw a great mix of competition veterans and new faces grace the Mixology stage at the show and, after his fifth crack at the comp and including three previous Top 10 placings, Jason Williams finally took out the number one spot.
"Wow! What a feeling and what a moment," said Williams after winning his award. "The Love that I felt around the room was amazing – it really felt like I'd won Bartender of the Year with everyone."
"The competition gets harder and harder," continues Williams. "The passion and and dedication demonstrated by the professional bartenders is astounding. The girls and guys who put the study in, got creative with drink ideas and generally honed their craft are an inspiration – especially for someone like me who has done it five times now."
Putting on a event of this standard requires a dedicated sponsor and it has been Bartender magazine's absolute pleasure to announce that Reserve has come on board as our official sponsor for 2011. Reserve's extensive portfolio of luxury brands means we can look forward to some cracking cocktails at the Mixology stage final and their dedicated team has also offered to host a series of work-shops and training sessions aimed at helping bartenders prepare for the competition. Anyone who wants to get involved in these trainings is more than welcome to attend.
Get your Bartender Magazine Bartender of the Year Competition bid underway today. Visit barshow.com.au to nominate yourself today!
How to Enter and Top Tips
Nominate yourself. Visit barshow.com.au to vote. Like any competition you have to enter it to stand a chance at winning. And ask you bartending buddies vote for you while you're at it.

Get reading. While knowledge isn't the be all and end of the bartending trade you have to score highly in the written test to show off your other skills.

Be prepared. Don't leave your study or your cocktails for the final round until the last minute. Everyone gets nervous. But you can save a lot of stress with just a little preparation.

Get drinking (responsibly). Sharpen your palate by tasting everything in sight. You will need to know your Guatemalan from your Martinique, Islay from your Speyside and Chardonnay from your Semillon. There is always a tasting component of some description and it's intended to be tough!
For more information please email: smcgoram@spatonmedia.com
The Prize
Our sponsors, Reserve, are upping the ante in 2011. Apart from national bragging rights the winner of this year's Bartender of the Year Competition will gain automatic entry into the Australian national World Class final in 2012. In addition to this the lucky winner will also win a trip for two to a Reserve brand home of their choice, choosing from Jose Cuervo in Mexico, the Malts Advocates Course in Scotland, Zacapa in Guatemala or a Tanqueray No Ten visit in England combined with Ketel One tour in Holland.