Check out these top Tequila tipples from the May issue of Bartender magazine.
Cocktails shot at The White Hart, Neutral Bay, Sydney
Photography by Rob Palmer
La Rosa de la Familia
50ml Reposado Tequila
15ml Aperol
20ml blood orange juice
5ml Agave nectar (1:1)
Rose foam*
ADVERTISEMENT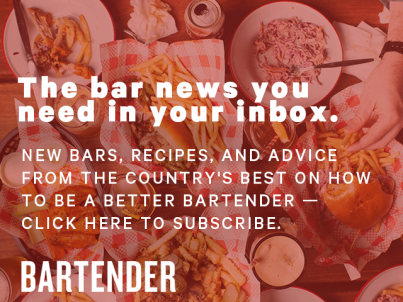 &nbsp
Add first four ingredients into a shaker. Shake and double strain into a coupette. Garnish with a layer of rose foam sprinkled with dehydrated edible roses.
*Rose foam – add 15ml Chandon Rosé sparkling wine, 10ml Monin rose syrup, 20ml egg white into a shaker and dry shake with Hawthorne strainer spring.
Quyhn Nguyen, White Hart, Sydney
The Orange Agave
35ml Blanco Tequila
10ml Antica Formula vermouth
10ml Lillet Blanc
10ml Aperol
10ml Agave nectar (1:1)
2 dashes of orange bitters
Stir down and served up in a coupette. Garnish with a lemon peel.
Enrico Gaddoni, The Galley Room, Melbourne
The White Hart Margarita
45ml Blanco Tequila
20ml Agave nectar (1:1)
20ml Lime Juice
10ml Ginger juice
Shake and strain into a chilled coupette. Serve on a platter with a sea salt air, lime wedges and ginger crisps.
The White Hart, Sydney
Lagerita
25ml Anejo Tequila
20ml Agave nectar (1:1)
4-5 Lime wedges
Zamkowe Polish lager to top
Butter salt
Squeeze in lime wedges and build in a tankard over hand-chipped ice. Sprinkle a little butter slat on top.
The White Hart, Sydney
Pink Sazerac
60ml Pasiòn Blanco Rosas Tequila
10ml Agave nectar (1:1)
2 Dashes Peychaud's Bitters
2 Dashes Lemercier Abisinthe [sic] 72
Lemon twist
Chill down a Riedel O Burgundy glass with crushed ice and dash in the absinthe. Combine other ingredients in mixing glass and stir down till chilled. Discard ice from prepared glass and pour in chilled mixture. Garnish with a lemon twist.
Nielsen Braid, Porteño, Sydney
La Veuve Noire (The Black Widow)
45ml Reposado Tequila
10ml The Bitter Truth Apricot Brandy
20ml Lime Juice
20ml Ruby red grapefruit juice
10ml Sugar Syrup
3 Dashes of Peychaud's Bitters
Shake and fine strain in to a sugar crusted vintage sherry copita, finish with a splash of Veuve Clicquot Champagne. Garnish with a twist of ruby red grapefruit.
Adam Brewer, The Uptown Drink Lounge, Brisbane