A home-made apple brew for your bar
By Simon McGoram
Photography by Rob Palmer

Presented by Lachlan Beange
ADVERTISEMENT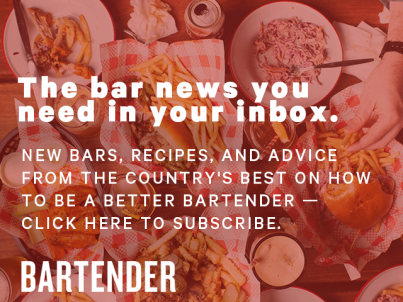 &nbsp
Some bars go to extraordinary lengths to produce bespoke ingredients for their drinks list and cocktail hungry clientele. Few, however, go to the lengths of Neutral Bay's White Hart – a bar that makes its own mead, tonic, ginger beer, and cider amongst others house made goodies. It's a great point of difference and hugely popular amongst their clientele. At present demand means that their cider is just used in cocktails and has the team constantly brewing – but it's well worth asking for a taste on your visit.
We thought we'd pay White Hart a visit ourselves to check out how it's all done. Of course you will need some specialist equipment to get you started. At the very least you will need and air tight fermenting drum that comes complete with and airlock 's-bend bubbler' – this system allows the build up of CO2 produced during the fermentation process to escape without letting in nasty bacteria.
Fresh pressed apple juice is also an important, in fact crucial, ingredient for your brew. Pasteurised juice has had its flavour and aroma cooked out of it and juice put through a centrifugal juicer also gets a little 'cooked' due to the friction as it gets juiced. A special cider press, like the one used in this feature, is a great way to go though you'll have to purchase one online if you're that serious. Cider kits from brewing stores also work and will give you a steady result but without the aroma and flavour attainable by doing it from scratch.
Brewing Tips

Sterilisation of all equipment used in brewing is essential. The last thing you want is for your hard work to yield undrinkable goop. Visit a home brew specialist for sterilising powder.

A steady temperature is optimal for fermentation and cider works best with a low fermenting temperature of 4-16° Celsius. It takes longer but helps retain those fresh apple aromas. Too much variance in temperature can stop the fermentation process.

Different types of yeast will produce different results. Speak to a home brew specialist about what you should go for.

If you want to get serious about your brewing buy a hydrometer. A saccharometer is a type hydrometer used to measure the specific gravity (or relative density) of liquids and is specially calibrated to measure the amount of sugar in a solution. This will help you determine if your brew is ready and calculate alcohol content.

Adding brewing sugar will help raise the alcohol content. Also if putting in bottles you can prime the bottle then seal it to create a secondary fermentation that will give you a sparkling cider.
Bespoke Cider
Ingredients: You'll need 10kg ripe green apples (cider apples are better if you can get hold of them from a grower), water and 1 tsp brewing yeast.
[nggallery id=65]