This Behind Bars story featured in the May issue of Australian Bartender magazine.
By Naren Young
I remember a time when there weren't a lot of positives about the Tequila industry. There were very few brands available and those that were you probably know well – perhaps too well.
ADVERTISEMENT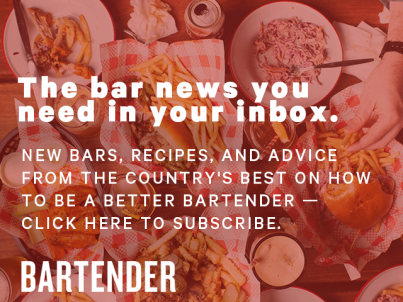 &nbsp
Sitting on the bathroom floor, pale as a ghost, and hoping, yearning, for the end of the world. Hands up who's guilty here? While Armageddon has never come, the days of finely crafted 100% agave Tequila flooding the market thankfully has. For too long, the dirty word 'mixto' was all we had. I shudder at the thought of it
The mixto style of Tequila (made up of a minimum 51% pure agave) is still the dominant category worldwide because they're cheap and bar owners want house pours that help the bottom line even though the quality of them is so poor that I wouldn't feed them to a dying horse in the Simpson Desert. Even many prominent 'Tequila bars' here in New York use such rocket fuel with clichéd names like Montezuma and Pepe Lopez as their house pour. Shame on them.
Well folks, the times they are a changin' and there's been no better time in history to be a Tequila drinker – and indeed educate those that have a had a similar experience to the one mentioned above – than right now. There is a Tequila price war going on that has been fuelled by the glut of agave juice that exists in Mexico and has seen the rise of an exorbitant amount of new brands hitting the market.
"There is a Tequila price war going on that has been fuelled by the glut of agave juice that exists in Mexico." Naren Young
Most Tequilas don't have a romantic story to tell like the Cuervos, Herraduras or El Tesoros of the world. Many are just trying to get rich and many are succeeding at that. Look at Patron's rise to glory since the late 1980s. The company is now selling over two million cases a year and growing. But Patron (and many others) is extremely overpriced which is not the point of this article.
What's most exciting (and is my point) is that there are now many amazing brands of Tequila that are all aggressively competing for the speed rail. And most importantly, they're all 100% agave, well, only the ones I'm referring to are and this is only what we should be drinking anyway, right?
Only two years ago, it was hard to get any 100% agave Tequila for under $30-40 a bottle, so I can certainly see why mixtos have ruled the roost for so long. A bar needs to turn a profit, to be sure but now it's easy to get a bottle of 100% agave for between $14-$20, with respected names such as; Milagro, El Jimador, Herradura, Pueblo Viejo, Espolon, Cuervo Tradicional and Corralejo to name a few.
This price war is set to trickle around the world and it's a nice change from only a decade ago when there was a serious agave shortage. Distributors in Australia, take note, as we have always been one of the most expensive markets in the world for Tequila and there is an opportunity to bring in some great stuff at competitive price points.
Our tax laws will always prevent us from competing with other international markets in terms of pricing. This is none more evident than with Tequila, which by its very nature of production, is one of the most expensive spirits in the world (but without the cache of Cognac and single malt).
There will always be room for that hand crafted bottled of Reserva de la Familia on your back bar at $40 for a 30ml shot (we charge $18 for a 60ml pour at my bar in New York!). But you should be making more room for these wonderful (and cheaper) house pours, and as long as they're 100% agave there will be no shame in recommending something out of your rail.
The very notion of 'top shelf' started in America because most bars were (and still are) serving God awful spirits as their 'house'. I'm talking everything: vodka, Gin, Tequila, whisky – whatever. People soon bought into this whole 'super premium', 'ultra premium' and 'deluxe' nonsense and now said bars charge a fortune for that experience because people thought they were getting a better product. They were.
But those days are diminishing fast (well they are for bars that truly care about serving a quality product) as we see the continued rise of cheap 100% agave Tequila. Don't settle for anything inferior in your venue. The world will be a better place for it.