By Edward Washington
Cocktails created and styled by the teams at Sling and Salon Lounge, Brisbane and photographed onsite.
Address:
Salon Lounge
Shop 5a, 110 Macquarie St
Teneriffe, Queensland
salonlounge.net
After last month's success with the cocktail experiment over in Western Australia, we thought we'd look to save our frequent flyer points and get the teams from Sling and Salon Lounge (Brisbane) to take care of this one! Seriously though, it still takes a bit of work to organise from interstate, but this month's gin-mad experiment couldn't have been managed without the all round help and support of Matthew Colliard, Salon's General Manager.
ADVERTISEMENT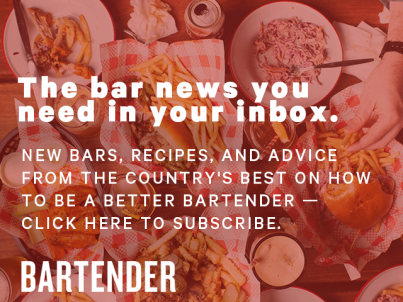 &nbsp
Super keen to get his crew involved, Matt was the driving force, and he and the team have managed to put together some great gin drinks to enjoy in the final moments of sunshine (although by the time this comes to print we'll be firmly heading into the depths of a dark, dark winter I'd say).
Gin cocktails can be the simplest of treats and the trickiest of creations, and when you're working with such a powerful and noticeable spirit, sometimes it's all about not trying to develop more flavours, but rather, letting the spirit take the lead by keeping the surrounding ingredients quite simple.
So sit back, relax and enjoy the challenges that were thrown to our budding Brisbane bartenders and draw some inspiration from their creations. Thanks once again to all the bar staff who took part, it was a great opportunity to get you involved.
If your bar has a staff member who's pretty handy with a digital camera (c'mon all you art students) and you'd like to get involved in a Bartender Magazine Cocktail Experiment like this one, drop me a line at edward@spantonmedia.com and we'll see if there are any opportunities – after all guys and girls, it's all about you and your drinks!
Steven Hubbard

Cocktail name: Hey Man, That's Cold

50ml Hayman's Old Tom Gin
10ml Lillet Blanc
7.5ml TMD Quandong & Gentian Bitters Liqueur
5ml Amaro Montenegro
60ml Pink grapefruit
15ml Lemon Juice
1 dash Scrappy's Grapefruit Bitters
1 dash Peychaud's Bitters
Liquid Nitrogen

*Served as a sorbet, in crystal stemware and garnish with rose petals.

Method: Combine all ingredients into an appropriate mixing vessel and use liquid nitrogen to convert to a sorbet.

What Steven Says:

"After first swilling an entire bottle of this delightful product and being tantalized by the smooth yet citrusy enticing texture as it made its way both down and then up my throat. I decided to first balance with the old and excite with the new, by combining traditional ingredients such as Montenegro and Lillet Blanc as a tribute to the past and modern ingredients such as Australia's own Tamborine Mountain Distillery bitters liquor and Liquid Nitrogen – life is great as a bartender!"
Lauren Besse

Cocktail name: It's Peary Nice to Meet You

50ml Tanqueray 10 Gin
10ml TMD Apricot Eau de Vie
30ml White Grapefruit Juice
15ml Spiced Agave Syrup10ml Lemon Juice
Top with 15ml Soda Water and 15ml Fever Tree Ginger Beer

*Serve in a re-capped 150ml soda bottle.

Method: Add all ingredients to a Boston shaker with ice. Shake hard and strain.

What Lauren Says:
"This delightful combination of Tanqueray 10, Apricot Eau de Vie, Poached Pear, Grapefruit juice, the ever present Lemon juice topped with soda and Ginger Beer. The Ultimate RTD is both your best friend and your worst enemy."
Ewen Davies


Cocktail name: London Blazers Burning Down


60ml Beefeater 24 Gin
Barspoon House Green Tea Blend
Barspoon Orange Blossom Honey
1 bunch Fresh Thyme
2 Lemon Zests
1 dash Lemon Juice
DOM Benedictine Rinse

*Serve in a glass tea pot.

Method: Add ingredients to a vessel and heat. Blaze and serve in a glass tea pot.

What Ewen Says:
"I found a lot of my inspiration from William turners painting 'The Burning of the Houses of Parliament'; a powerful image and therefore hard to forget. Serving this cocktail in a tea pot is simply a reflection of High Tea Fashion. Wrap your hand around the vessel when you're drinking, it feels nice and intimate. Lemon zest and thyme were used to compliment the gin while the tea was specifically blended to enhance its already complex flavours. Orange blossom honey was used to add a natural sweetness."
Matthew Colliard

Cocktail name: Autumns Way

45ml Monopolowa Gin
30ml Lemon Juice
15ml Ginger infused sugar syrup
2 bar spoon of chamomile tea
1 Barspoon Orange Marmalade
1 Dashes of peach bitters

*Serve in a Champagne Coupet, garnish with a lemon crust and mint sprig.

Method: Add all ingredients to a Boston shaker and shake with good quality ice. Double strain for a touch of finesse.

What Matthew Says:
"My favourite part of the day has always been morning and breakfast, especially after a night on the receiving end. What better way to celebrate it than with a combination of all my favourite breakfast treats combined into one drink?  Monopolowa gin was a pleasure to work with, combining its flavours with both sweet and sour, and adding that element of ginger provided a kick to the drink and enhanced the rich flavours already there. The name was inspired by those colours that can easily be associated with autumn and the fall."
Jasper Widowson-Kidd

Cocktail name: White Noise

40ml TMD Lilliy Pilly Gin
20ml White Crème de Cacao
1 Dash of Aperol
1 Dash citrus
30ml lychee glaze infuse with vanilla, cinnamon and cloves.
Top with high end champagne – Ruinart Blanc de Blanc would suit.

*Garnish with a rose petal.

Method: Add ingredients to a Boston shaker and shake hard. Strain into a elegant flute and garnish.

What Jasper Says:
"I love the name and the finesse behind the drink. Lychees are always a crowd pleaser and infused with vanilla and spices makes for  a sexy combination. Champagne is the drink of choice for moments of intimacy, celebration and a sense of occasion; it is remarkably versatile in Cocktails. A sweet drink that will definitely keep the fat lady singing. TMD's Lilly Pilly gin is a beautiful product that I found worked remarkably well with chocolate and fruit due to its fragrance and effervescence."