Creating bespoke cocktail ingredients for your bar
By Simon McGoram
Photography by Steve Brown
Some bars go to extraordinary lengths to craft the perfect cocktail. Sometimes it will be by using hand-chipped ice in frozen glassware like at Sydney's Duke Bar & Bistro. Others will hand craft their own bespoke bitters or perfectly control the dilution of their Martinis by chilling them in liquid nitrogen 'baths' like the good folks at Brisbane's Canvas. For others though, like Sydney's Sam Bygrave, making your own vermouth is a grand way to add a little something special to your next mixological masterpiece.
ADVERTISEMENT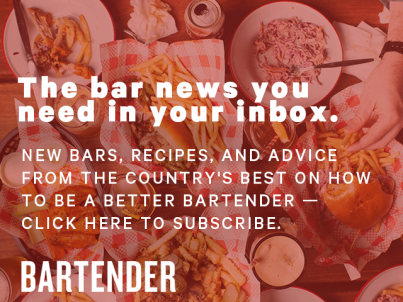 &nbsp
Sam has kindly shared his recipe for a rosso vermouth. He has also shared with us his thoughts on bespoke vermouth and its application in your bar.
SM: Why would a bar want to make its own vermouth?
SB: "Making your own vermouth, you get a wonderful freshness to the herbs and spices that leaps out of cocktails. It also opens up countless possibilities for experimenting with different flavours in classic cocktails."
SM: Have you had customers ask to drink this vermouth on its own?
SB: "I used to offer a tasting flight [at Neutral Bay's Garden Brasserie] that was popular with the punters. It's something a bit unusual, and they're great aperitif drinks, but the hard part is countering most people's perception that vermouth is something that should be thrown out of your drink! I've found that they like to try the more inventive vermouths as a curio, and it changes the way customers think about vermouth."
SM: What are some of the other styles of vermouth you've made and worked with?
SB: "My favourite is an 'Islay vermouth'. I used it for a 'Martinez on the Seashore', and it had great aromas of smoke and iodine, citrus notes, good acidity, and a subdued herb background to it. I've also experimented with a sake vermouth, using sake, shochu, green tea, and jasmine along with wormwood and other herbs."
SM: What are some great cocktails to use with this recipe?
SB: "A brilliant way is in a simple duo of vermouth and gin, chilled on ice. This rosso works great in a perfect Manhattan, your Negronis, and the Bronx. But remember to taste and adjust the proportions, because your own vermouth won't behave like the commercial brands."
SM: If you can't make your own what brands would you go for?
SB: "Dolin vermouths are great – particularly the dry. It deserves to be drunk by itself. Lillet is fantastic, and other wine-based aperitifs like Dubonnet."
"Hard part is countering most people's perception that vermouth is something that should be thrown out of your drink!" – Sam Bygrave
Ingredients:
1.      750ml Red Wine (a youthful, cheap wine low in tannins works best)
2.      175ml Pedro Ximenez
3.      0.5g wormwood
4.      0.5g orris root
5.      0.5g oregano
6.      1g vanilla
7.      2g dried mandarin peel
8.      0.2g sage
9.      0.2g thyme
10.  0.2g bay leaf
11.  0.2g liquorice root
12.  0.5g dried black lime
13.  2g rosehip and hibiscus tisane (found in the supermarket)
14.  0.5g caraway seeds
15.  0.5g juniper
16.  0.9g cinnamon
17.  150g sugar
18.  50ml apple brandy
19.  250ml Floc de Gascogne
20.  1/8 zest of lemon
Notes on ingredients:

Wormwood and orris root can be purchased online at herbcottage.com.au.
Herbie's Spices (herbies.com.au) have both retail and online stores.
Mandarin peel can be purchased at good Asian grocers or you can make it yourself by drying it in an oven on a low heat for a couple of hours.
Floc De Gascogne is a regional apéritif from the Côtes de Gascogne and Armagnac regions of Sud-Ouest wine region of France. It is available through Cerabco.
With these small quantities a micro-scale is essential.
[nggallery id=66]
Handy Vermouth Cocktails
Hanky Panky Cocktail
30ml Bespoke Rosso Vermouth 30ml Plymouth Gin 2 Dashes Fernet Branca
Stir down and serve up. Garnish with an orange twist.
Ada 'Coley' Coleman, The Savoy Hotel, London, circa 1920s
Martinez
60ml Bespoke Rosso Vermouth 30ml Hayman Old Tom Gin 2 dashes Bols Maraschino Liqueur 2 dashes of Bob's Abbots Bitters
Stir down and serve up. Garnish with a lemon twist.
Adapted from Jerry Thomas's Bar-Tenders Guide, 1887
The Liberal
30ml 100 proof Wild Turkey Bourbon 30ml Bespoke Rosso Vermouth 3 dashes Amer Picon or Torani Amer 2 dashes orange bitters
Stir down and serve up. Garnish with a cocktail cherry.
Adapted from Vintage Spirits and Forgotten Cocktails (Deluxe Edition) by Ted Haigh