VENUE:
X&Y
ADDRESS:
648 Ann Street, Fortitude Valley, Brisbane
PHONE:
07 3257 1259
In 2010 Gerald Faundez (X&Y Bar, Brisbane) made the Top 10 at the Bartender Magazine Bartender of the Year Competition, dazzling the judges with a charismatic display in the finals.
ADVERTISEMENT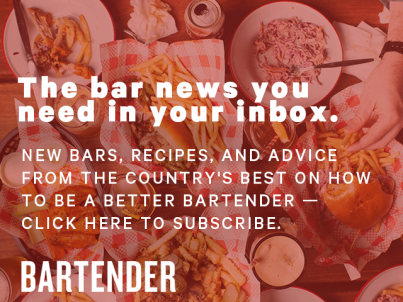 &nbsp
After travelling through South America where he was inspired by the local Pisco and the chilled out drinking culture, we caught up with him for a chat about his career, his hobbies and his love for trashy martial arts movies.
"Ask a lot of questions and research the answers that are given to you. There are a lot of half truths and misconceptions out there." Gerald Faundez
Career:

Before you were bartending what were you doing with yourself?

I was working as a croupier at Treasury Casino.

How long have you been bartending?

Around 10 years. Seriously for the past five years. I fell in love with the profession and just couldn't leave.

How did you prepare yourself for the Bartender of the Year competition?

I read the Australian Bartender magazine religiously and anything else related to bartending that I could get my hands on.  I also had to try a lot of different spirits, wines and beers for the competition. That was the fun part.

Where have you worked previously?

I have worked at One Degree, Little Jumbo, Emporium Hotel and Zuri. Currently I'm working at x&y in Brisbane.

What is your proudest moment behind the bar?

Reaching the final stage for last year's the Bartender of the Year competition. I had watched the competition for years and had always wanted to make drinks on the stage in front of my peers. It was an honour to be up there and see a lot of people I respect in the industry watching me.

And most embarrassing?

Juicing a lime in front of a customer and having most of it go into my eye.  I pretended that it didn't happen but they noticed.

What's your advice for a young aspiring bartender?

I would have two things to say. Firstly, always look confident when making drinks. Secondly, ask a lot of questions and research the answers that are given to you. There are a lot of half truths and misconceptions out there.
Favourites:

What's been your favourite bar to work in?

It is hard to pinpoint one so I will pick two. One degree (Brisbane), because it is where I became part of a team (including Lucy George and Chris Denman) that went on to work at several other bars together.  We had a lot fun, learnt a lot and challenged each other to become better bartenders – thanks guys.

And X&Y would have to be the other bar. We all got matching tattoos on our one year anniversary. Need I say more?

What's your favourite bar gadget?

I would have to say the good old Boston shaker. I use it all night long and it doesn't fail me.

What's your favourite city to visit?

This is an unexpected answer but, Townsville. I spent some time there studying marine biology and met a lot of great people.  The bars there have a character of their own.

What's your favourite movie?

Ip man! I love Asian kung fu movies!

What's your favourite song?

¨SHOTS¨ by LMFAO & Lil Jon, it's my personal anthem when I go out.

What's your favourite sport?

Kung Fu. It helps balance out my life.

Can you tell us some of your favourite bars to visit?

I would have to say Sky Room and Kerbside in Brisbane. I usually make it to both on my break from work.
Drink:

What's your favourite cocktail?

The Pisco Sour

Recipe:

Chilean Pisco from Fundo Los Nichos (40% abv.), Limón de pica (similar to a lime but smaller in size, it is also a little bit more acidic than the standard lime), sugar and egg white. Shaken and strained into a sour glass. Delicious!!!

Describe your fantasy bar.

One that is always at capacity with the bar five deep.

What is your favourite product to work with at the moment and why?

Pisco (Peruvian or Chilean). For years I basically only used this product for Pìsco sours, but on a recent trip to Chile and Peru I discovered that it was more versatile than I had expected.

What products do you think will be hot over the coming year?

I think ciders will continue to be popular as the masses now expect to see this product on tap at most venues and are more willing to try more boutique brands.  I think sales of Rye Whiskey will also rise

This month's feature is Scotch whisky; what's your favourite Scottish tipple?

Highland Park 25 Year Old Single Malt Scotch, from the Orkney Islands

What do you drink to…

Quench your thirst?

A Tom Collins. It can't be beat on a hot summer afternoon.

Impress a lady?

Depends on the type of lady, but shots of tequila always go down well.

Unwind after a long shift?

This is boring, but cider.

If you could have a drink with one person (alive or dead) who would it be and why?

Bruce Lee, to discover the secret of the one inch punch!
Other Stuff:

Can you juggle, perform any magic tricks or have any other unusual talents?

I started off my bartending career as a flair bartender. I dust off the cobwebs from the plastic bottles every so often and flair up a storm.

What was the last book you bought?

A book on how to play the Charango (similar to a lute). Don't ask me why.

Who's your hero?

Ip man! No one messes with him!

If you could have a superhuman power what would it be – why?

Touching a book and memorising it. It would save a lot of time.

If you were to be something other than a bartender, what would it be and why?

A dolphin trainer. It sounds different and interesting

You've been travelling recently; where have you been, and what's the drinking culture like?

While on my travels throughout Chile and Peru, I've noticed that people drink more slowly and savour their drinks more than they do in Australia – a standard shot in Chile is around 100ml so that might explain it.

Any exciting plans for the future in the hospitality industry?

I'm excited about putting together a new cocktail list for X bar. Our last list took the form of a comic book, but now with our new team we are planning on being even more adventurous.