By Edward Washington
Photography by Steve Brown
Drinks shot at:
ADVERTISEMENT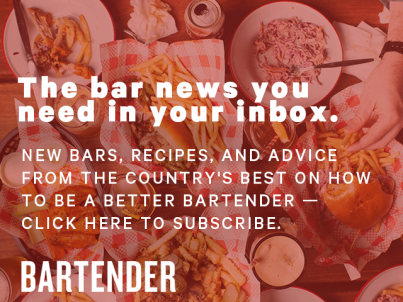 &nbsp
The contemporary popularity of one of the world's most sought after grape based spirits has often been levelled squarely at the 21st century hip-hop movement. Avoiding some of the more inflammatory social aspects of this shift in popular culture, the move saw Cognac rise from the veritable ashes after a sharp economic decline owing to the Asian financial crisis in the late 1990s. A renewed passion for expensive Cognac was, by 2009, once again evident when a bottle dating from 1788 sold for over $40,000.
Brandy, a spirit distilled from a base of fermented grape juice has been in existence since around the year 800 according to The Ultimate Guide to Spirits and Cocktails. In 1250 noted Italian doctor Arnaldus de Valencia was 'experimenting with the spirit of wine' and in the same year Bologna's Florentinus wrote his De virtutibus aqua vite et eius operationibus publication. The work outlined the principles and practices of wine distillation and by the end of the 13th century brandy was a popular and well known beverage that was only just beginning to get a reputation.
Today Cognac sits atop the head of a fine list of distinguished brandies, but the region owes a lot of its success to both the Dutch traders and some Irish speculators. First and foremost the Dutch are credited with opening France's Charante region to the idea of a distilled export market. With the Dutch beginning to trade in wines throughout the 13th century, the areas around Cognac developed quite a good reputation for their wines.
Unfortunately, owing to the poor conditions under which wine was transported during this period, much of the wine that reach its destination was spoiled becoming unpalatable and worthless – as a table wine that is.  Once the cargo was landed it was suitable only to be distilled into 'bradewijn' (burnt wine) and soon the wine from the Charente was specifically bought by the Dutch to be distilled.
With this new item of trade growing in popularity it was only a matter of time until the distillation began to happen at the point of export, rather than the destination. 1549 marks the first time that casks of distilled wine are recorded as having been shipped from the port of La Rochelle and so began the long history of export for the region's distilled wines.
"The contemporary popularity of one of the world's most sought after grape based spirits has often been levelled squarely at the 21st century hip-hop movement."
With the industry's continued growth came opportunities for enterprising people to make big fortunes and the main players on today's international Cognac market; Remy Martin, Martell, Hennessey and Courvoisier have planted their roots since the early 1700s.
In 1759 James Delamain was the first noted Irishman to chance his hand in the Cognac industry when he partnered with a Charente local. Six years later the lure of the spirit's riches led Richard Hennessey to establish his Cognac house and following the 1789 revolution the house of Hennessey and the house of Martell were able to dominate the Cognac trade for 150 years.
While there were large players who commanded much of the industry glory, a number of smaller companies were established throughout the 19th century. These smaller firms offered a distinctly different product to those of the industry captains. Not in terms of spirit (for that was bound by law) but in terms of house style, price and size share of the Cognac market.
Today, while the market is still clearly driven by a small number of large Cognac corporations, those in the bar trade go to exceptional lengths to locate and procure Cognacs from these so called 'small time producers'. There seems more kudos in today's consumer-educated market for a bar to be holding a prize bottle of Cognac from some relatively unknown (if at all) producer than that of one of the big players.
Check out these brandy cocktails from the July issue of Bartender:
Ciao Charlie
30ml Plum Pisco
15ml Martell VS Cognac
15ml TMD Apricot Brandy
25ml fresh lime juice
3 dashes Fee Bros Whisky Barrel Bitters
Add all ingredients into a cocktail shaker, fill with ice and shake for 8-10 seconds. Double strain into a pre-chilled cocktail glass of your choice, garnish with a lime zest and serve.
James Connolly, Defectors, Perth
Corvette
50ml Hennessy VSOP Cognac
10ml Amaro Averna,
10ml fresh lemon juice
4 fresh cherries
Muddle cherries, add all other ingredients and shake like you're formerly known as. Strain into a Martini glass and garnish with a lemon twist.
Lee Potter Cavanagh, Victoria Room, Sydney
Ticket to the Alps
45ml Remy Martin VS Cognac
20ml Punt e Mes Italian vermouth
10ml Amaro Averna
1 Dash of Orange bitters
Stir with a fresh red chilli tip on double frozen ice chunks and strain into a coupette. Garnish with lemon zest and chilli slice.
Matteo Fabbris, Stitch, Sydney
Up Periscope
50ml Chilean Pisco
15ml house made pear and cinnamon syrup*
15ml fresh lime juice
2 large dashes of angostura bitters
1 dash egg white
Dry shake, shake again with ice, strain into chilled coupette glass, garnish with dehydrated pear chip.
*To make syrup, peel and core 2 pears, poach in water with 3 cinnamon sticks and an equal amount of sugar, stir till dissolved and let cool to infuse.
Paul Ramsay, The Galley Room, Melbourne
The Passenger
45ml Pisco
1 small teaspoon of cinnamon sugar
One fresh chunk of orange
1 dash of bookers bitter
5ml Mandarine Napoleon.
Shaken and fine strained on ice ball or ice diamond. Garnish with an orange peel and a cinnamon stick.
Matteo Fabbris, Stitch, Sydney
FIG JAMon
45ml Bas Armagnac Delord 1996
15ml lemon juice
2 heaped barspoons Beerenberg Fig and Almond Jam
2 dashes Fee Brothers Rhubarb Bitters
Shake hard all ingredients and double strain into a coupette and garnish with a lemon twist.
Monnie Place, Cushdy, Adelaide