Written and styled by Simon McGoram, photography by Steve Brown.
ADVERTISEMENT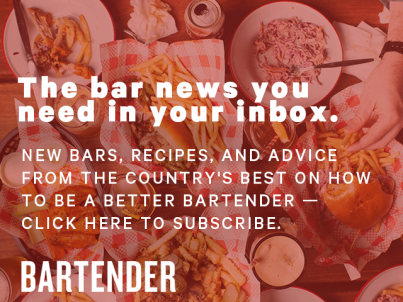 &nbsp
Presented Daniel Gregory from Eau De Vie
Address
229 Darlinghurst Rd, Darlinghurst, Sydney
www.eaudevie.com.au
A rambunctious rum liqueur
Forget variety – spice is the spice of life. And when it comes to spices pimento, aka allspice, must surely be king. Combing the flavours of nutmeg, cinnamon and clove, this valued Caribbean spice takes its name from the Spanish for pepper – pimiento – due to the dried berry's peppercorn-like appearance. Also know as Jamaican pepper or myrtle pepper it's not under any circumstance to be mistaken for the stuffing in your bar's olives.
Despite its warming Christmas pudding spice flavour profile poor old pimento is rarely found in bars these days – though it seems as if the tides may be turning. Pimento Dram, a fiery allspice flavoured rum liqueur, that traces it origins back to the West Indies, is gradually working its way into international bar rooms. Brands like Germany's The Bitter Truth and USA's St. Elizabeth Allspice Dram are championing the cause and whilst these aren't readily available in Australia an affable substitute can quite easily be compounded.
Before we get bogged down in how to actually make the stuff you might be wondering about the whys and wherefores. Well pimento dram as you will soon find after giving this recipe a crack is mighty versatile in dashes or even jiggers in your favourite cocktails. This warming liqueur is a simpatico partner to rum, brandy, bourbon or Scotch and works wonders in punches, blazers, and bittered slings. It richness, however, doesn't make this liqueur exempt from taking part in cooling summer drinks – it's a wonderfully eccentric ingredient to throw into a Zombie, Navy Grog or any other Tiki beverage. A couple of recipes to get your creative juices flowing have been included over leaf.
When choosing your base rums for this liqueur it's wise to go for full-flavoured, robust and high ester rums – fortunately a style Australia specialises in! Getting your hands on a bottle of Bundaberg O.P. or a similar overproof rum will aid flavour extraction and an off-dry dark rum like Bermuda's Golsings will marry perfectly with the sweet dessert spices used in this recipe.
Ingredients:
250ml (1 cup) Bundaberg O.P. Rum 57.7% ABV
250ml (1 cup) Goslings Black Seal Rum 40% ABV
100g Fresh root ginger sliced
½ cup dried allspice berries
6 cloves
1 vanilla pod split and scraped
250ml (1 cup) rich raw sugar syrup (2:1 ratio)
Notes on Ingredients:
Be sure to select only fresh whole spices. Ground allspice has a shorter shelf life and much less aroma that the whole dried berries.
Your vanilla pods too should be moist and fresh.
Take it easy on the cloves. The 6 listed in the recipe is more than enough.
Step One: Slice you ginger and split vanilla pod scraping out the flavoursome seeds
Step Two: Add your spices to a large sealable jar including the vanilla pod seeds
Step Three: Add your Bundaberg O.P Rum
Step Four: Add your Goslings Black Seal Rum
Step Five: Seal and give the mixture a shake. Leave to infuse for at least 72 hours shaking every once per day.
Step Six: Add sugar to your mix. Fine strain and bottle.